Live Reviews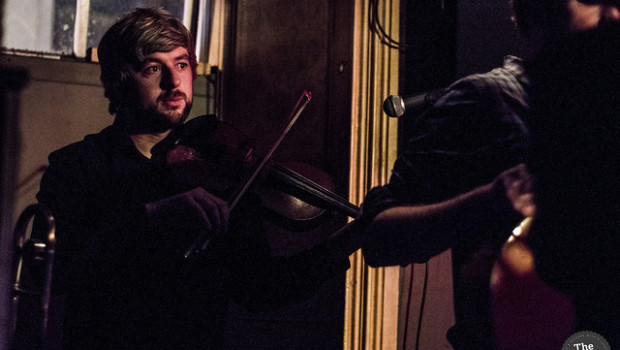 Published on September 29th, 2015 | by Eoin Murray
0
A Band Called Wanda w/ New Pope & Liam Doherty @ Roisin Dubh, Galway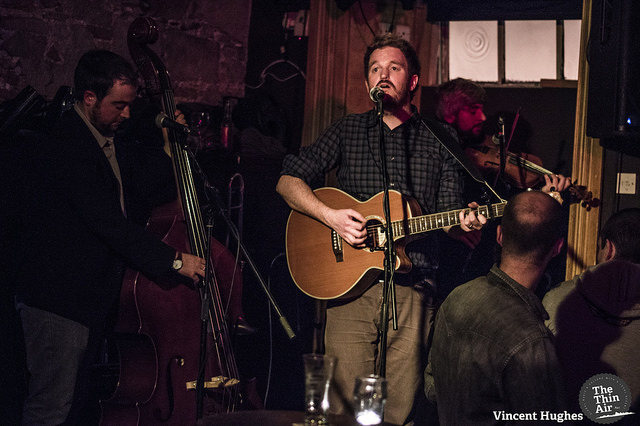 Thursday the 24th of September saw the first of a new monthly event being held in the upstairs venue of Galway's Roisín Dubh. Run by local songwriter and musical institution Steven Sharpe, the first installment – "What's Dubh Got To Do With It?" – aimed to create an atmosphere of cosiness, warmth, friendliness and ease and succeeded in doing so with what seemed like total ease.
The room is warmed by warm candlelight and the seats are already nearly filled by the time the first act of the night, local songwriter Liam Doherty (below). Being this his first solo show, normally acting as frontman of Little Shakers, Doherty's set is still an ideal warm up for the evening. Playing five originals and a cover of Simon and Garfunkel's 'Punky's Dilemma' the feeling created in the room is that we're all being transported to the sentimental parts of our heads. The lyrics and simple chord progressions leaving those in attendance with nothing to clutch onto other than the universally familiar emotions being laid before us. And luckily those sentiments are presented with wit and bashfulness, each line crafted to balance cleverness and honesty. Think the music of Damien Rice minus Damien Rice the individual.  So much music now relies on countless pieces of hardware, texture and volume to impress us but sometimes it really can be the most raw, stripped back deliveries that hit us the hardest. When a man who appears so comfortably uncomfortable can tell us stories of love, fear, friendship and the appreciation of what one has without cliché or platitude, you know you're onto a winner.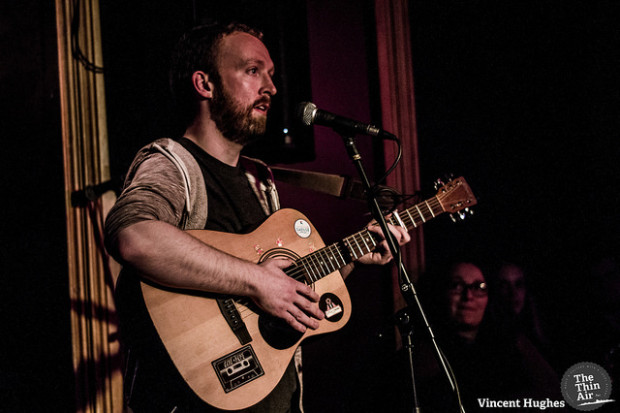 The exact same can be said for the second act of the evening; another local institution and organiser of the weekly Citóg sessions, Dave Boland and his recent moniker New Pope (below).  Performing songs from his new Youth EP, Boland maintains the resonating feeling of comfort mixed with dry humour and brittle emotion that is still washing over the room. Gentle nylon stringed guitar melodies coupled with breezy resonant keys make for a sound reminiscent of a beach campfire. Overall comparisons with Fionn Regan or even very early Noah and the Whale would not be too far off the mark. Lyrics about friendship, youth and not being ashamed for loving someone share plenty of thematic value to that of Doherty and the storytelling format of the songs seamlessly manages to avoid washed up metaphors or lazy symbolism. New Pope is a treat that has left a now totally full yet utterly silent room entranced.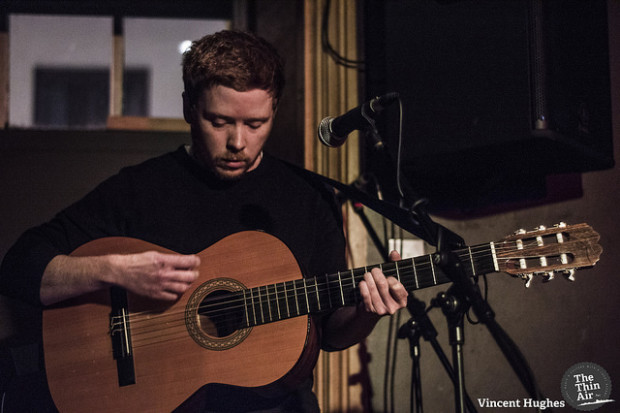 The final act of the evening, A Band Called Wanda (pictured, top) have been plugging away for years, crafting witty, charming folk music with plenty of chirpy layers of brass, violin, double bass and flute. Their set this evening is a mix of brand new songs and ones that date as far back as 2003. The sounds picks up on the fragility of the previous two acts and creates a more chirpy brand of folk while keeping the emotive blanket comfortably over the audience as best they can. This is made slightly more difficult for them however owing to the passage of time and the rest of the venue starting to fill considerably, leading to a chattering overspill of new arrivals and noise leaking in from outside. The Spiddal trio don't seem phased however and the smiles on their faces and consistent between song jokes ensure that the last set of the evening is largely untarnished and full of quirk and good songwriting, highlight being 'Spanish Flu'.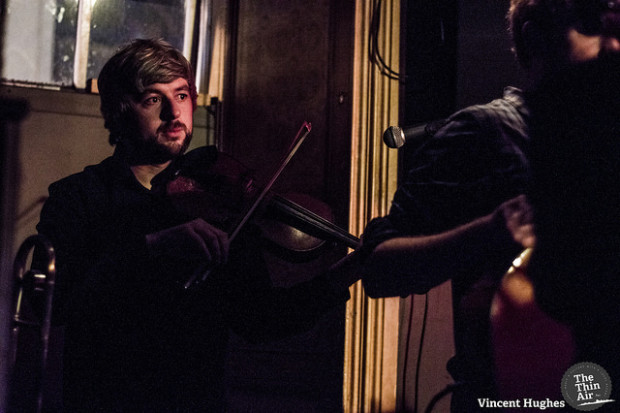 If this first of dose of folky, warm, intimate shows is anything to go by, then the last Thursday of each month is going to act as an ideal refuge from the real world where it's all so loud, if only for a couple of hours. Eoin Murray