Culture Night Belfast 2015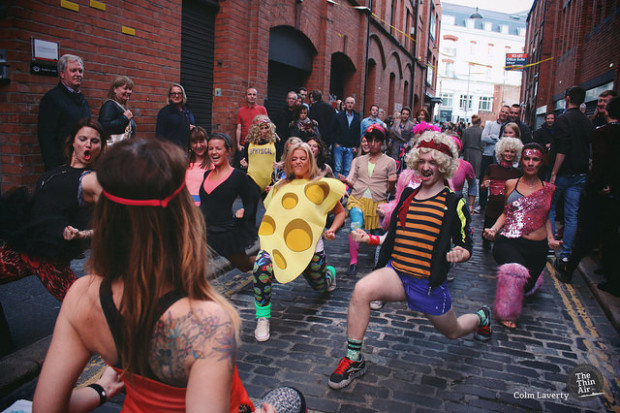 How does one even begin to contemplate an itinerary for this most varied and enormous of occasions? Not being one to shy away from a well-rounded plan of attack and in desperate need of some form of structure, The John Hewitt beckons and who are we to abstain?  After all, it seems to be an ideal location for some planning and imbibing. Planbibing, we'll call it.
Considering too that the Guinness is good, the bar is stacked tall with the official guidebooks to this evening's proceedings, and the mellow harp-plucks are soothing our party from the stage, we're set up well and it dawns on us that we're currently and ideally centred in the cultural heartland. After some rigorous circling of our literature, it's eastbound and down to The Assembly Rooms where the staunch techno breaks of Guerrilla Shout lure us inside.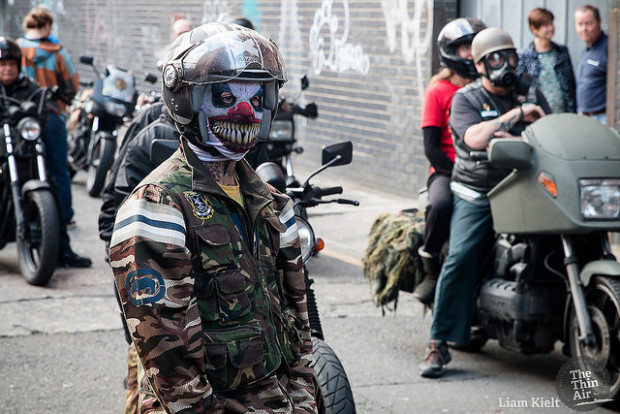 It's early and the few that we join are similarly bemused by the seemingly empty nature of this historic (and wildly underused) space. But, being the good sports we all appear to be, we ride it out and it clicks. The hypnotic, looping electronica is hard and heavy; reflected ably in the responsive lighting that dips and weaves beams across our faces. The monolithic projection as centrepiece is smoggy and cold, echoed sonically in the thrash of 808's and 303's. Oddly, the patrons who seem to be getting the most out of this junket are the toddlers crashing around the floor aside their fretting parents, undoubtedly concerned by the growing crowd and the soaring decibels.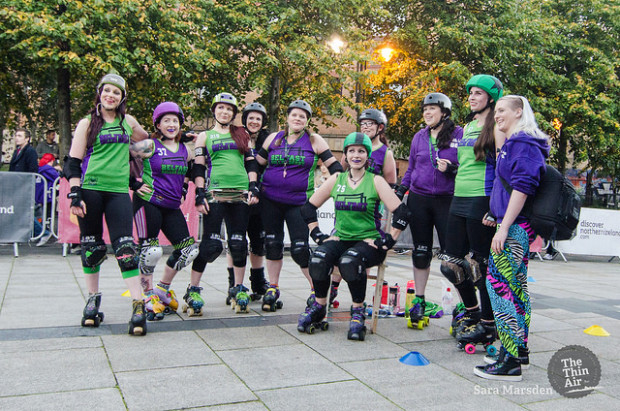 Alas, there is too much to be missed to stay put, so it's off into the early evening alongside a cavalcade of booming motorcycles. The noise propels us towards Writers Sq where most of tonight's main magic is destined to happen. It's busy, thronging and utterly impossible to pinpoint what is actually happening, but it's too colourful and energetic to be ignored. So as we stroll, we breathe in the flamboyance of the ballroom dancing and the circling velocity of the Roller-Derby ring before the cacophony of guitars and screeches call us towards Dawson's Music. The small stage, propped up outside the shop features some angry young men with angry noise to make. Good enough, we reckon, but Kent St has had us distracted.
Unfortunately, it hasn't kicked off and as disappointed as we are, we make it our mission to return later. For now, Talbot St and Explosion Soundsystem are on the menu, as well as a swift burger en route. Filled and thrilled, we land on bass-heavy ground and watch as the crowd, quickly becoming very sizeable, skank along to some choice cuts of reggae, root and dub. Familiar faces, grinning and passing the obligatory Buckfast like it's the last artefact of an historic relay, swoon to the sounds from the DIY stage and the boom of the dance is enormous and full of life.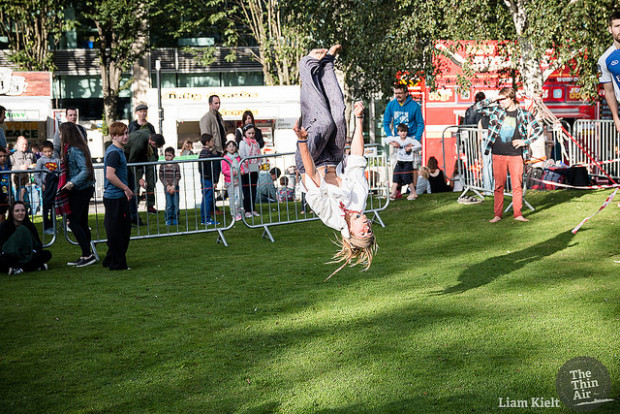 After being shaken to the core by the rattling sub-frequencies, a respite is in order and we hear there's a nice wee bar on Skipper St. There's also a few thousand culture-vultures to fight through, but as we reach the stage nestled between The Spaniard and The Merchant Hotel, the jazzy pop covers dominating the breathing room are more than satisfying. Ah, blissful rest… is what somebody might say who didn't have the rest of the evening ahead of them.
And so, it's off to St. Anne's Cathedral for some big band jazz. Fighting our way through the door and emerging into one of our most beautiful buildings is, pardon the pun, a religious experience. Although the music can't exactly be heard clearly (we can't blame a crowd as enthusiastic as we are), there is a sense of pride tonight that is summed up perfectly at this point of the evening. Having given us so much to choose from and more, the team behind Culture Night have done this city a massive favour again. The only negative one might take away from this experience is that it's difficult to go and see everything that is planned for. Therein lies the beauty of this night, though – it wouldn't be well to complain about having choices, now, would it?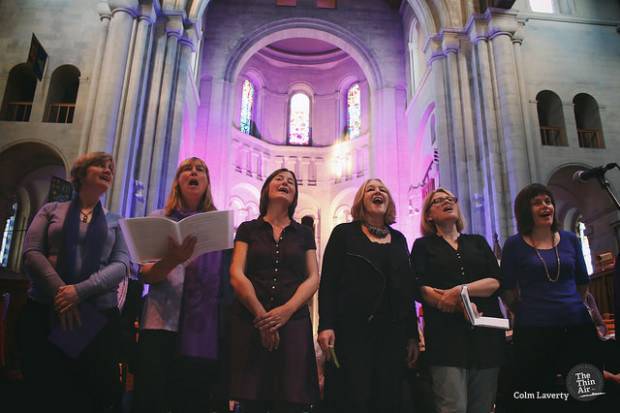 Kent St is close, we agree. Arriving with butterflies flapping in our stomachs, the scene is immensely fulfilling. Hundreds of revellers of all ages are now in unison to the selections and productions of Chris Hanna. The atmosphere is saturated in good vibes and good tunes and as we get deeper into the crowd, there is nothing left to do but dance or be danced on. Choosing the former, we spend the next thirty minutes or so taking it in, slapping each other's backs and lapping it up. A splendid party with a splendid crowd.
Of course, we can't stay here all night and as much as we'd like to there is one more item on our list: The Oh Yeah! Centre for a bit more of the good ol' live music. We're not disappointed. The streets that lead us there are alive with the technicolour hues of dressed-up performers weird and wonderful, and the sights, sounds and smells of this massive, annual party are a testament to Belfast. We're not all bad, eh? Performing with gusto are The Wood Burning Savages, The Couth, Autumns and Thee Dirt Byrds and we're treated to punk, rock, indie, noise and every conceivable sound that lies in between. Stepping out into the cool air of this now dark evening, we reflect on what a successful adventure we've had and it's a pain to agree on a definitive highlight, although the one thing we can agree on is that if every Friday night was Culture Night, we'd probably be better for it. Aaron Drain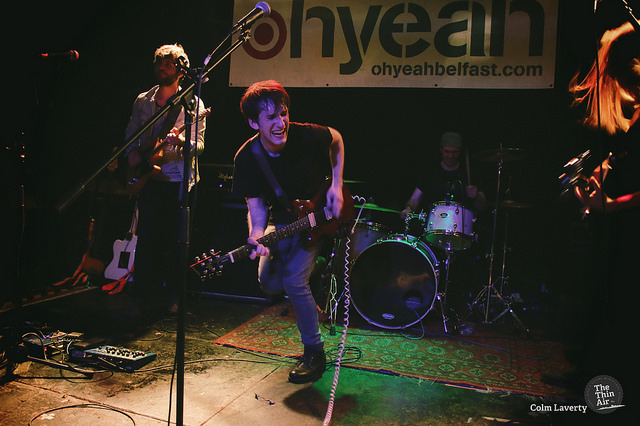 Gallery by Colm Laverty
Gallery by Liam Kielt
Gallery by Sara Marsden