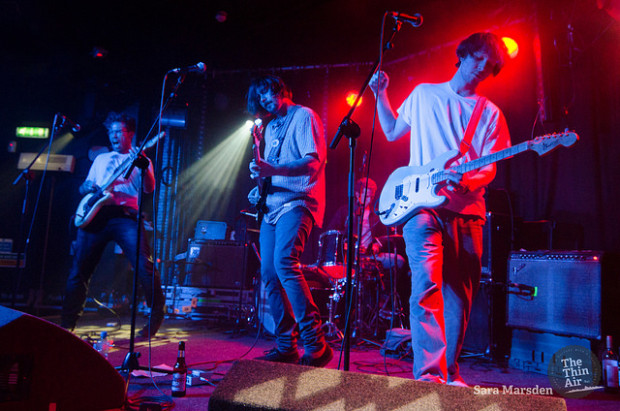 It would be a surprise if Parquet Courts play a gig of this size in Belfast again. The Brooklyn-via-Texas quartet are squeezing in this trip up north after gigs in Galway and Limerick, and before an appearance down at Electric Picnic the next night. Not very practical perhaps, but for a band in thrall to the pre-internet era of following your own muse free from promotional "practicalities," it makes perfect sense.
This is an early show at the Limelight. Good news for Parquet Courts fans who want an early night, bad news for any staff with the difficult task of keeping the floor mopped clean throughout the gig in preparation for the club night afterwards. This isn't the first Friday night where the "pre-club" atmosphere rubs off on the headlining band. To their credit they swiftly take the stage following support act Cian Nugent and the Cosmos (below) to deliver a thrillingly intense set filled with the best of their last three major releases, but their disappointment at the half-filled venue and somewhat preoccupied crowd is still evident.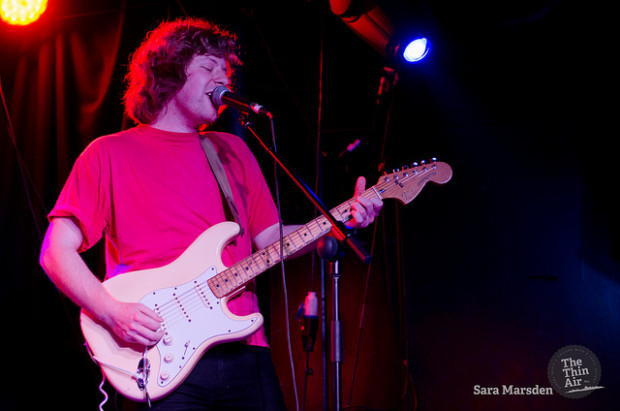 Vocals are shared between Richard Savage and Austin Brown. Positioned either side of the rhythm section, both frontmen periodically burst from beside their amps like Jack-in-a-boxes, alternating between skittery guitar interplay and frenetic strumming while they take to the mic. Savage exudes an intense, studied seriousness, contrasting yet complementing Austin Brown's slightly brattish, Thurston Moore-influenced demeanour.
In a recent interview the band name-checks bands they look up that have figured out how to exist in changing times: Wilco, Guided by Voices, Sonic Youth; and while the band's sound is firmly grounded in eighties/nineties garage rock, their live application of this is impressively polished, implying that maybe they intend to exist in changing times with an unchanging sound. However, lyrics like "Pretty machines/Expensive routines/Butted and obstructed quite a number of things/Believe me, it's harder to feel" reveal a band capable of articulating how the world is changing at the cost of human interaction.
Many of the band's songs are delivered in short, sharp aggressive bursts but tracks like 'Bodies Made 'Of from 2014's Sunbathing Animal are still packed with detail, breaking down in tempo before juddering to an abrupt halt. Breakthrough album Light-up Gold's opening salvo of 'Master of My Craft' followed by 'Borrowed Time' is recreated with breathless effect, proving that sometimes there's no greater live thrill than hearing music exactly as sequenced on record.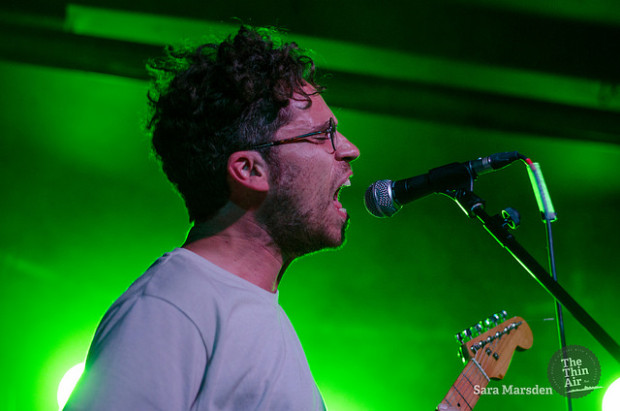 Other songs are expanded upon, such as midway through 'Yr No Stoner' where Brown and Savage retreat to their amps for several feedback-drenched minutes before finally returning to the song's fidgety main riff. Final song 'Uncast Shadow of a Southern Myth' is a sprawling chorus-less gothic tale, unfurling with a mid-paced grandeur. Just as the song is at risk of being lost in the growing chatter as the gig curfew approaches, its screaming coda brings the set to a ear-ringing conclusion. The house lights and music come on immediately as the band step off stage.
A highlight of the evening is the title track from last year's surprise album Content Nausea. Upon first listen on record it's tempting to dismiss its urban wordiness as Dylan-meets-Velvet Underground pastiche but the vocals are crystal clear in the mix this evening: "Harder and harder to remember/Meeting a friend, writing a letter/Being lost, antique ritual/All lost to the ceremony of progress." As the girl with the mop sweeps through the crowd it's hard to disagree. Jonny Currie
Photos by Sara Marsden