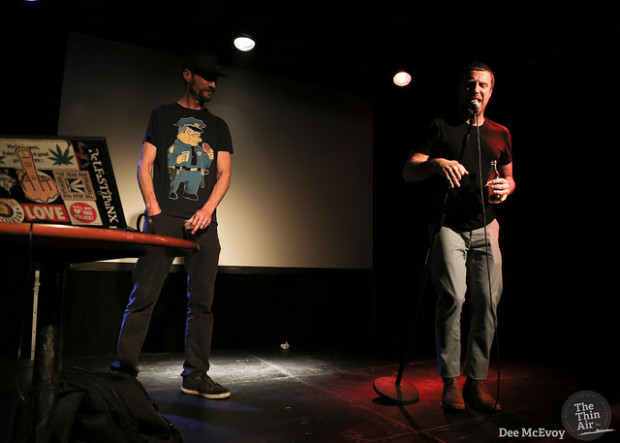 Culture Night has been washed away.  The Cathedral Quarter's cobbled streets that welcomed all ages two nights ago are now a soaking slip hazard on a subdued Sunday evening. You've no chance of taking shelter from the rain in the Black Box without a ticket either as tonight's Sleaford Mods gig is a sell-out. In the words of 'Bronx in a Six' – "What culture? Fuck culture."
The mood in the venue is chilled but expectant. One half of the duo Andrew Fearn can be found casually chatting to people in the crowd before setting up on stage. This venue is usually home to more sedate performances, but when Jason Williamson makes his way from the back to join Fearn the crowd surges to the front, eager for the onslaught.
Sleaford Mods have been lauded, patronised, and faced a backlash over the eighteen months since the release of Divide and Exit, to the extent that it's felt like they've been around for much longer. In reality they have been in existence since 2007, but that album's reception garnered the buzz of a debut release. Tracks from this year's Key Markets make up the majority of tonight's set and comfortably build on their earlier material.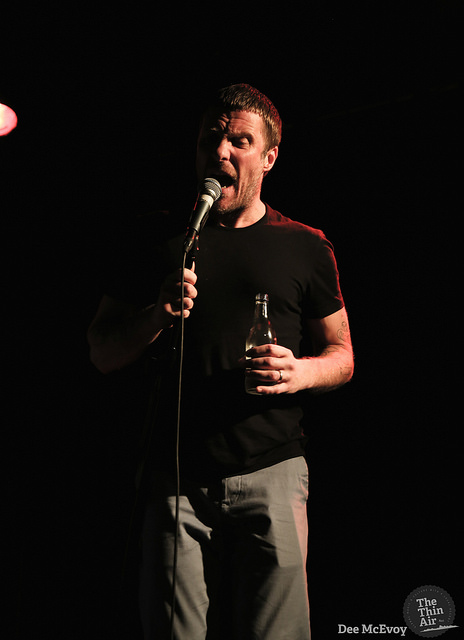 Williamson spits angry tales of isolation, resignation and envy that flit between the personal and the political with ease. Key to this is the sense of humour in his writing, which can be easily missed in the angry delivery. A little bit of the worst in all of us can be found in the characters on the receiving end of Sleaford Mods' three minute salvos, which might ultimately be what draws so many people to this band.
The stage set-up is sparse. Andrew Fearn sets things off from his laptop before mimicking each beat himself like a human metronome. He looks like he cannot believe his luck, and seems to search out every individual member of the crowd with a smile, repeated lyric or bemused look. Minimal beats but maximum content, but on songs like 'Giddy on the Ciggies' Williamson's delivery appears to out-manoeuvre the backing track to the extent that you don't know quite who's in control. It is giddy, and utterly enthralling.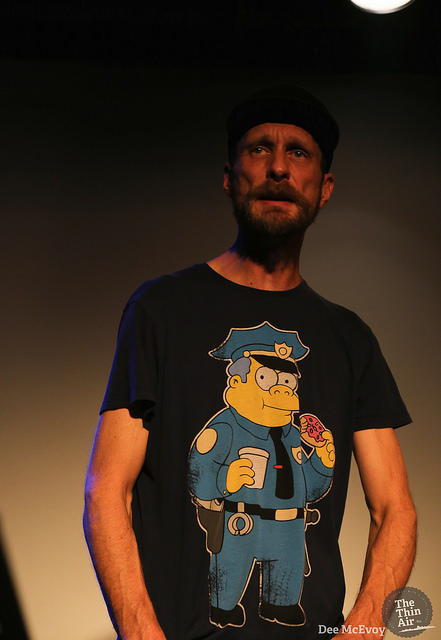 In between songs Williamson muses on the life-completing power of a sculpted six-pack and the pointlessness of leaving the stage for encores. He is the witty and slightly scary-looking guy you've always overheard in the pub but were too intimidated to go over and talk to. That's what makes this gig seem so intimate at times. The anger comes from a place of frustration that 'No-one's Bothered' about the reality that "there really is no future for a lot of people out there."

An encore that includes 'Tweet Tweet Tweet' and 'Jobseeker' is a reminder that Sleaford Mods are a band for the times we live in: delivering uncomfortable home truths with no easy answers. Jonny Currie
Photos by Dee McEvoy