Live Reviews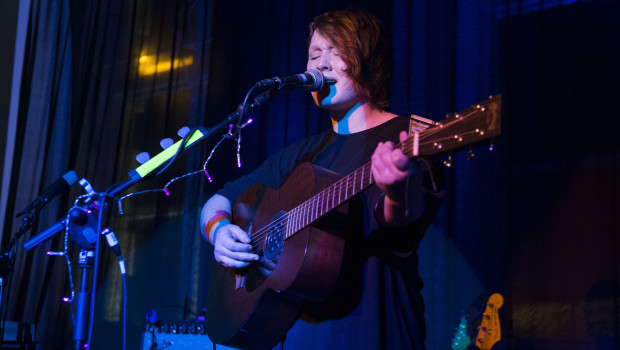 Published on September 20th, 2015 | by Simon Fallaha
0
SOAK w/ Sea Legs & Jessica Doherty @ Playhouse, Derry
Small in physical stature but massive in national and international impact, Bridie Monds-Watson, the artist otherwise known as SOAK, has established herself as a confident and chameleonic performer – casually costumed yet commanding, modestly mannered yet musically masterful.
These are not words one uses lightly, but they are well earned in the Derry chanteuse's case; her meteoric rise and the reception of debut album Before We Forgot How To Dream are testament to this.
And she expectedly, deservedly returns to loud applause at a packed out homecoming gig in Derry's Playhouse Theatre, accompanied by a worthy pair of support acts that complement both the headliner and the tone of the night's entertainment.
First on stage is Derry-based girl-and-her-guitar Jessica Doherty, whose set gives off a delicate, affecting fragility, a calming ambience akin to a sea breeze. It's solid, rather than spectacular, but Doherty's delivery is clear and confident, and given time, she will find the presence and projection she is looking for. She already has the poise.
From sea breeze to Sea Legs, as a growing audience are treated to two more remarkable talents – NI Music Prize nominees Ryan Vail and Ciaran Lavery. The mood is identical, but pairing Vail's keys and Lavery's vocals results in an entirely different musical beast: a veneer of various emotions alongside experimental, almost orchestral effects. This melange of funk, balladry, sounds from the sea and spoken word poetry (courtesy of Conor O'Kane) is frankly bizarre, but works incredibly well. Most surprising is their impromptu cover of 'Sea Creatures', which goes down a treat.
'Sea Creatures' is, of course, SOAK's signature song. Needless to say, her own set list has the song – and also a varied collection of tunes (including one cover) that successfully project and express her ethereal quality and reassuring modesty. The intimacy of the venue, complete with ocean blue lighting, is the ideal for Monds-Watson to impress.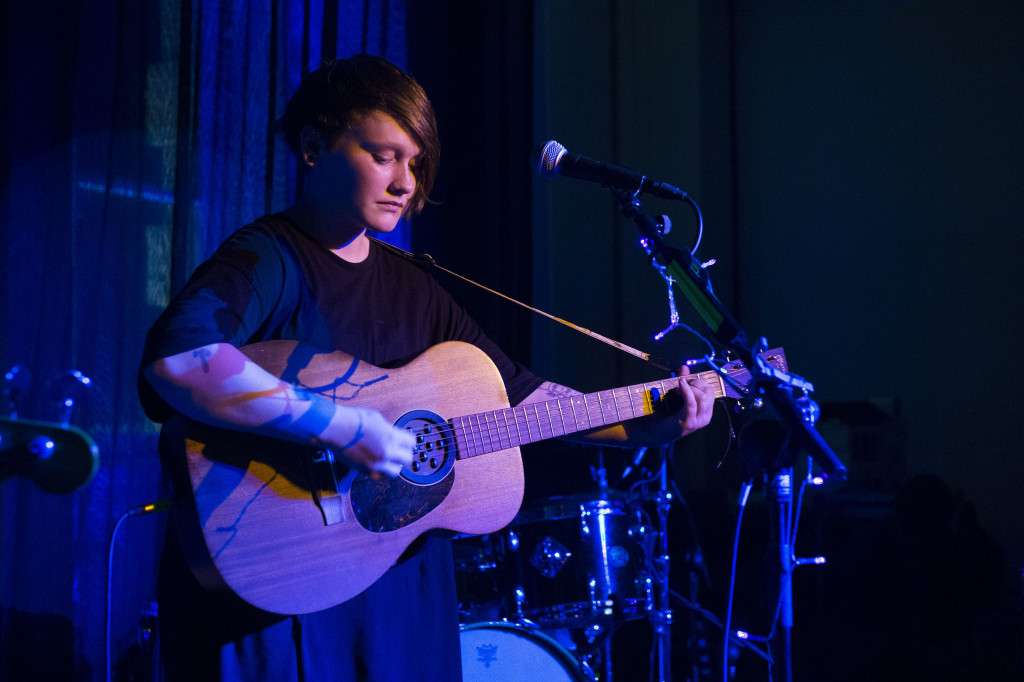 And, following truncated applause and hurried "shushes" from a clearly spellbound audience, she gets right to it. A couple of acoustic numbers exhibit the clarity of her remarkably distinctive and mature tones before bass, drums and keys come right in to back her on 'Blud', following a brief pause – and there aren't too many of these – in which she acknowledges the home crowd's strong reception.
It does, admittedly, take a matter of seconds to get used to the initially out-of-keeping heaviness of the backing instruments. But credit SOAK's commensurate ability to adapt – this is someone who has looked equally at home on her own, with a backing band, or with the Ulster Orchestra. Hence the battle between vocals and instruments is brief; it's not long before feet, on stage and in the crowd, begin to stomp, and bodies begin to casually sway.
Swiftly and snappily, SOAK switches between electric and acoustic guitar, delivering popular tunes like 'B A Nobody' and much more with the requisite focus and relaxed air that one has come to expect from her. Knowing exactly what this crowd recognises and wants, she does not let them down.
A mixture of the passively mesmeric and passionate power play, SOAK's soulful folk enraptures and excites in equal measure, leaving everyone in the venue alive with appreciation and admiration by the early hours of the morning. Simon Fallaha
Photos by Carrie Davenport