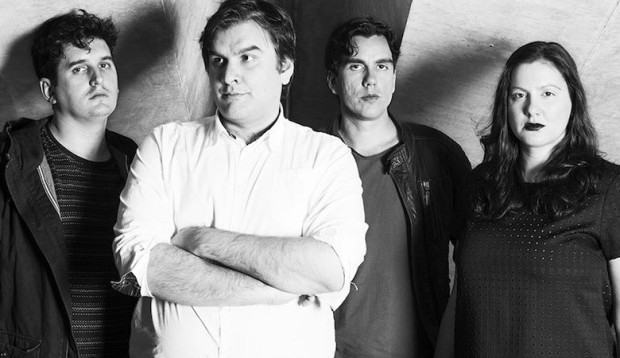 It's fair to say that Australian four piece Blank Realm may not be a name that rings a bell to most folk on this side of the world right now. The band began its life in the Brisbane suburb of Westlake in 2005 and is made up of siblings Daniel, Sarah and Luke Spencer, with Luke Walsh completing the line-up. In recent years the UK based independent label Fire Records has been distributing the band's last few albums, including 2014's well-received Grassed Inn and this year's storming follow up Illegals in Heaven.
Having started off as more of an experimental, avant-garde and improvisational noise act, the members of Blank Realm decided to dip their collective toes into the more solid foundations of rock while also incorporating various pop and psyche influences into their sound. As a result it's not surprising to hear hints of The Velvet Underground and Sonic Youth mixed with Big Star and The Posies and echoes of the the always inspirational Flying Nun label, when one listens to Blank Realm for the first time.
With it being a Sunday night and a rather unknown – to some – band headlining, the Workman's Club isn't exactly overflowing with punters. Instead roughly three dozen decide to meander down and bare witness to Blank Realm's debut Irish performance.
Ripping straight into the fast and furious 'No Views', from their latest offering Illegals in Heaven, the foursome lay down more than just a solid marker from the off. With the shredding guitar playing of Walsh, the Richard Hell-esque vocals of Daniel adding to his rather relaxed drumming style and Sarah's pounding keyboards and boundless energy mixed with Luke's heavy bass licks, everything comes together in a glorified yet cacophonous psychedelic mess.
The Cure-like heavy keyboard sounds of 'River of Longing' kick off yet another upbeat track, with Sarah and the two Luke's constantly moving about the stage. A bit of crowd banter follows after Daniel mentions it was their first time in Ireland and after being asked "Where'd you go?", they mention Wicklow, Newgrange and Dublin the night before, all of which received resounding boos and laughs.
'Bulldozer Love' and 'Reach You on the Phone' from last year's Grassed Inn follow suit, both of which incorporate a lot of reverb, crashing cymbals and an 80's-cum-sci-fi/space-like vibe. It seems as though the room is overtaken by an outpouring of melodious-fuelled joy during the indie-pop sensibilities of the mesmeric 'Palace of Love' and joyful 'Back to the Flood', with Daniel's shirt looking like it had been used to wipe up a spillage near the bar.
With Sarah taking over drumming duties, Daniel stands front and centre during 'Dream Date' and 2012 number 'Go Easy', both tracks a fair bit slower than their predecessors which allows the band some time to take a badly needed breather before finishing on 'Falling Down the Stars Tonight', a song highlighting everything that is exciting yet decidedly different about Blank Realm's exquisite musical stylings. Check them out. Conor Callanan