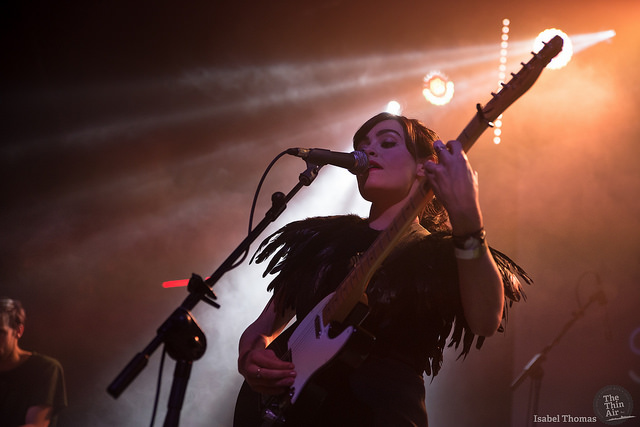 Fast forward through your own boring life and the cycle starts again. Another night of wall to wall quality music with the criminal schedule clashes an unfortunate reminder of the standard for the night. By 8pm the Mercantile is host to its first few shuffling visitors and Lie Ins fuzzy pop-rock. It's comprehensive, bouncy stuff but maybe a little unexciting. However the room slowly fills and by the time Staring at Lakes overcome what seems to be a host of technical difficulties the place could almost be called busy. Despite the Mercantile venues shit wedding party charm, half a song in and Staring At Lakes conjure up a world of new age baroque disco; think Versailles reimagined by Frank Herbert. The troupe have the spatial, temporal awareness of acts like alt-J and The xx and though there's some unattractive indie tropes, it's forgivable considering the overall quality on show here.
Soon after, and over at The Academy, Joni's hybrid of garage, electro and drum and bass is clean, pumping and crystalline and all paired with some sparkling vocals. The two woman performance may struggle to fill the stage but the biggest problem by far is the volume which drops off a foot away from the barrier. It's disconcerting for the performers who are clearly drowned in sound, and worse for the punters who are only catching a facet of the product.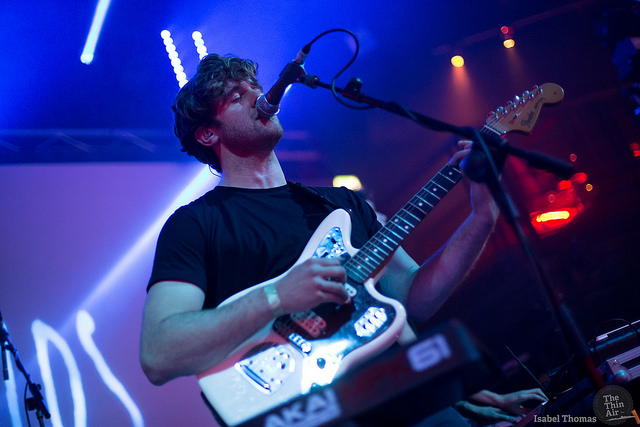 Later Talos' lofty set up leads to a neon suffused dreamscape that may just be a bit too delicate for the noisy banter coming from the corner of the seated area. Thankfully their ignorance leads to a full bustle at centre stage where a few die-hard fans treat the act like bona fide stars. Musically they bridge the gap between the introspection of Soosh and the increasing demand for sparse, soulful electronica. There's even a heart-warming singalong prompted by a microphone break.
They're then followed by Slow Skies whose alternative, synthy folk and pointedly lavish approach to their slow burning songs jostles for attention with the louder, equally synthy, earnestness of Dear Desert. The latter strafe the line of kitsch but are saved by an honest enthusiasm; playing eighties music without any of the ugly self-consciousness that usually comes with it.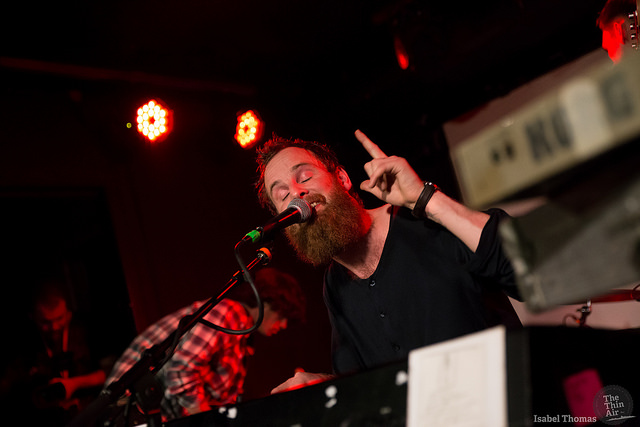 Luckily, since instantaneous teleportation hasn't been invented yet, I Have A Tribe are over twenty minutes late in The Workmans. That also means more people have had time to make the trek and the venue is rightly packed. As Mr. O'Laoghaire and his group take to the stage there's an open war of shushes and innate chatter which proceeds, painfully, through the whole set. But for those able to listen this is the poetry of Destroyer mixed with an expanded musical discourse utilised so well by the likes of Bon Iver. It's wrought, impassioned and moving, especially the solo finisher that highlights I Have A Tribe's beautifully idiosyncratic singing. Thematically the performance recalls those most intimate and exposed from John Martyn. It's a real moment for the festival and for Irish music. Here's a genre that's over exposed; folk, alt-folk, singer-songwriter, alternative, whatever you want to call it. Yet here's someone doing it in such a way that it's all new and all engrossing. And for many people this will be a new discovery thanks to HWCH. Eoghain Meakin
Photos by Isabel Thomas