Live Reviews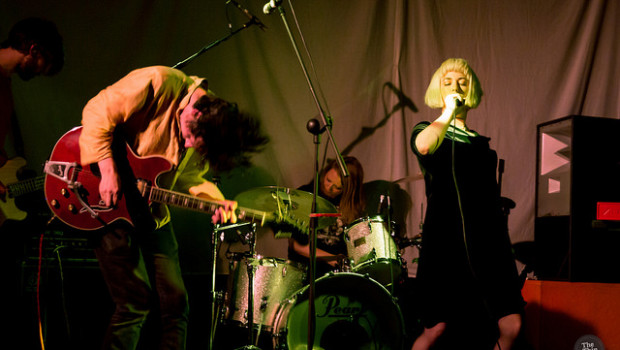 Published on October 5th, 2015 | by Eoghain Meakin
0
Hard Working Class Heroes 2015 – Thursday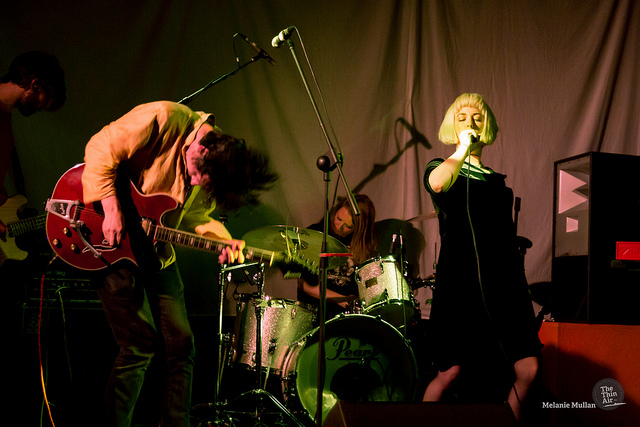 This is no normal weekend in the city. Thanks to the hard work of those at First Music Contact and their team and associates Dublin has one to really be proud of. This is Hard Working Class Heroes 2015: when several venues across Town host a proliferation, a bevy, a frothing mass of musical talent. For some the draw of HWCH will be its robust dissemination of the industry; its talks with heavyweight performers, journalists and industry figures. Yet for many more it's the music that does the talking. Luckily HWCH 2015 may just be the best line up yet. Whether its grunge or rock, hip-hop or electro, this year is a kaleidoscope of talent to check out.
And with so much to choose from it's no wonder it starts slow. In the Academy's Green Room Nature play out to a sparse room of shuffling but appreciative inhabitants. It's jazz that doesn't mind nicking a disco beat, and is instantly reminiscent of the echo-ey fretwork of Jeff Beck and the more clearly academic chapters of Yes. There's the cool jam vibes of eighties blues and the occasional jangle-jangle of Costelloe and his contemporaries. But with an empty room the sound may be a bit too booming, especially when the vocals sit uncomfortably between Sinead O'Connor and Bjork. In truth there probably isn't enough skatting in modern music but the deployment is weaker than the skill here. But when it's good it is great, even with the occasional slip into incohesion.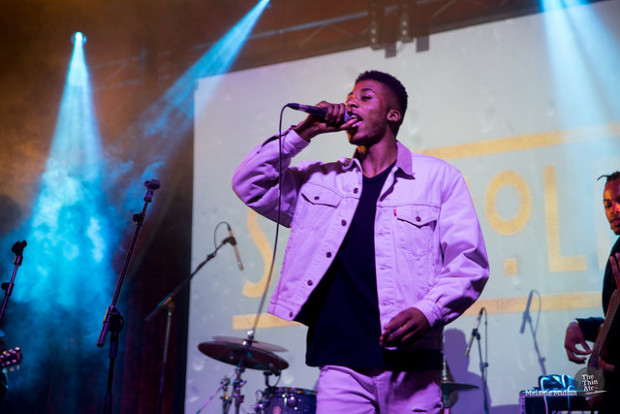 Upstairs Stay Gold (above) have the same capacity problems but still offer up a veteran presentation only mildly mired by humming bass and a poor wash on the vocals. Yet even with that the kick of earnest, nineties, feel-good revival is undeniable. An insanely complete package considering it's their first show.
Shuffling across venues and genres but sticking to the same musical decade we end up at Altered Hours (pictured, top) who comprehensively conjure up the soul and very art-grunge chic of bands like Sonic Youth and Mudhoney.  Finally a band to make the Hangar feel like the resurrected Factory it always wanted to be. The music is full of driving, hypnotic moments of sustained melodic noise. And the closer of 'Dig Early' is just a sustained wave of genius.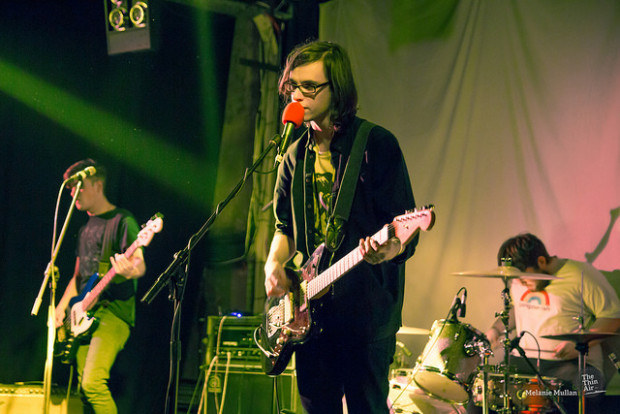 They're followed by Hot Cops (above) who start like a liberated and unpolished Placebo, with the reserve of a Gary Numan performance, but as the set goes on they unfurl their pretty impressive plumage. This includes a rich vein of straight up but intelligent song writing, filling up a genre of post-grunge that seemed sated. The vocals hover around a nonplussed Jack Steadman and a special note must go for the magnetic and enthusiastic drumming style. It's been a long time since a band have got it so simply right.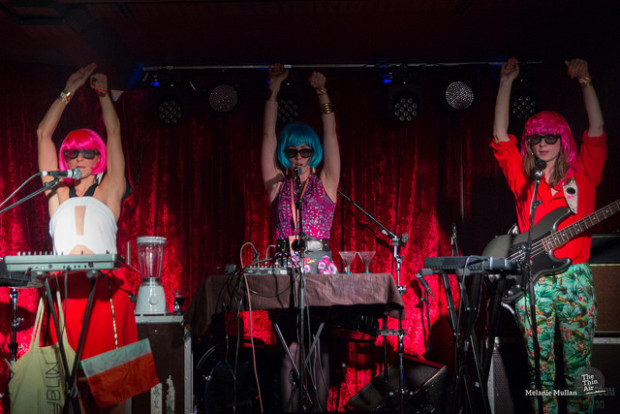 But just as you think you're safe here's Everything Shook (above) doing their avant-garde thing. Tonight back at the Academy their art-electro performance is complimented immeasurably by the Lynch-esque red curtain behind them. A strong visual prompt to expect the unexpected. Because this is a performance which includes dance routines, the national anthem, a blender, pink wigs and a horse mask. If it is a little unnerving it is equally fascinating. But not everyone thinks so; at one point the room is nearly emptied and it's not clear whether it's the theatrics of the band in front or the alluring boom-bap of Hare Squead upstairs. The real problem may be that under all the nonsense the music is lacking punch, an issue maybe down to the sound engineer but certainly not helped by being secondary in the whole process. It's a shame considering what Everything Shook have to offer, but still a group that everyone should see, if only once. Eoghain Meakin
Photos by Melanie Mullan