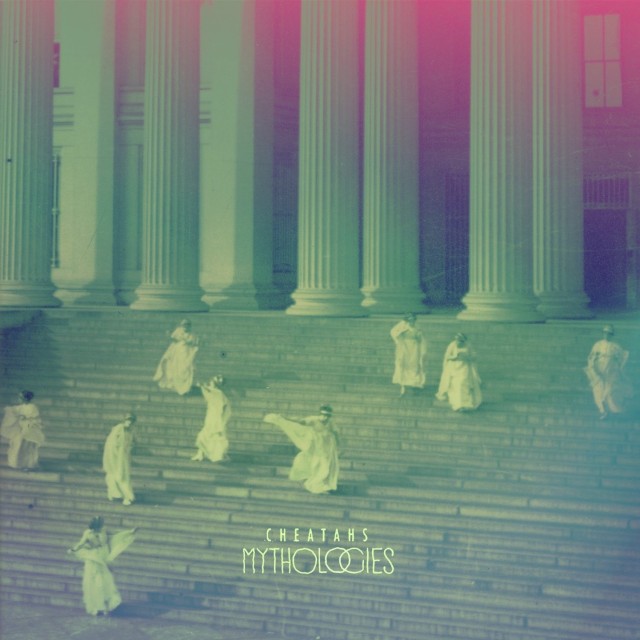 Mythologies is an appropriate name, with the London-formed Americo-Germanic-Canadian quartet Cheatahs once more harking back to subgenre worship of their indie rock, psych, Krautrock and, most prominently, shoegaze forefathers. Not even two years removed from the last record, things are getting more ethereal, with the emphasis on the psych and Krautrock, drastically reducing their tendency towards the more straightforward rockers.
Mythologies' level of gratification, as opposed to the instantaneity of their eponymous 2014 debut, comes in – appropriately enough – gushing waves. A lush production with a greater grasp on dynamics, it's a record as much about textures as songs, even moreso than their first album's indie pop-rock leanings. The LP never quite captures the sheer concision and energy of their first, but what Cheatahs have went for this time around is a hazy trek through their self-contained world, with swollen, layered passages in a Cocteau Twins vein instead of resting on Dinosaur Jr. signature moves. The comparisons don't end there either, as the quasi-glossolalic vocals drop in and out of coherence when needed as they're backmasked, distorted and stripped of literal meaning – allowing for their use as a texture that's best described as 'tripping J Mascis' – and that's completely fine, especially when it leads to album highlight, 'Murasaki', sung completely in Japanese and also released in April as part of its titular EP.
Psychedelic and Kraut precedents haven't been forgotten, with the ubiquity of tight, motorik drumming and technicolour organ and synth drones offering a solid foundation for each song to take on its own life. The entire arse-end of the album is where many of its treasures lie, from the bubbling, incandescent 'Supra' onwards to its gothic and most singular track, the literal and logical spiritual closer 'Reverie Bravo', which boats harmonies Alt-J and Django Django would envy. Unfortunately, and perhaps intentionally due to their accessibility, some early, shallower cuts don't quite achieve this as they blend into homogeny, even risking dipping into psych-muzak territory in terms of its mood-setting. This, of course, isn't a bad thing when you're making increasingly panoramic music – God forbid it be criticised too heavily for being listenable, but when offered glimpses of the Northern Lights in the middle of a desert, one wouldn't want the view obscured by clouds.
The band's ambition and scope has evidently been growing, really opening itself to the sonic possibilities of space, time and scale, all the while still remaining cohesive and distinctively Cheatahs. It's less concise, more artistically exploratory, and a step in the right direction. Stevie Lennox