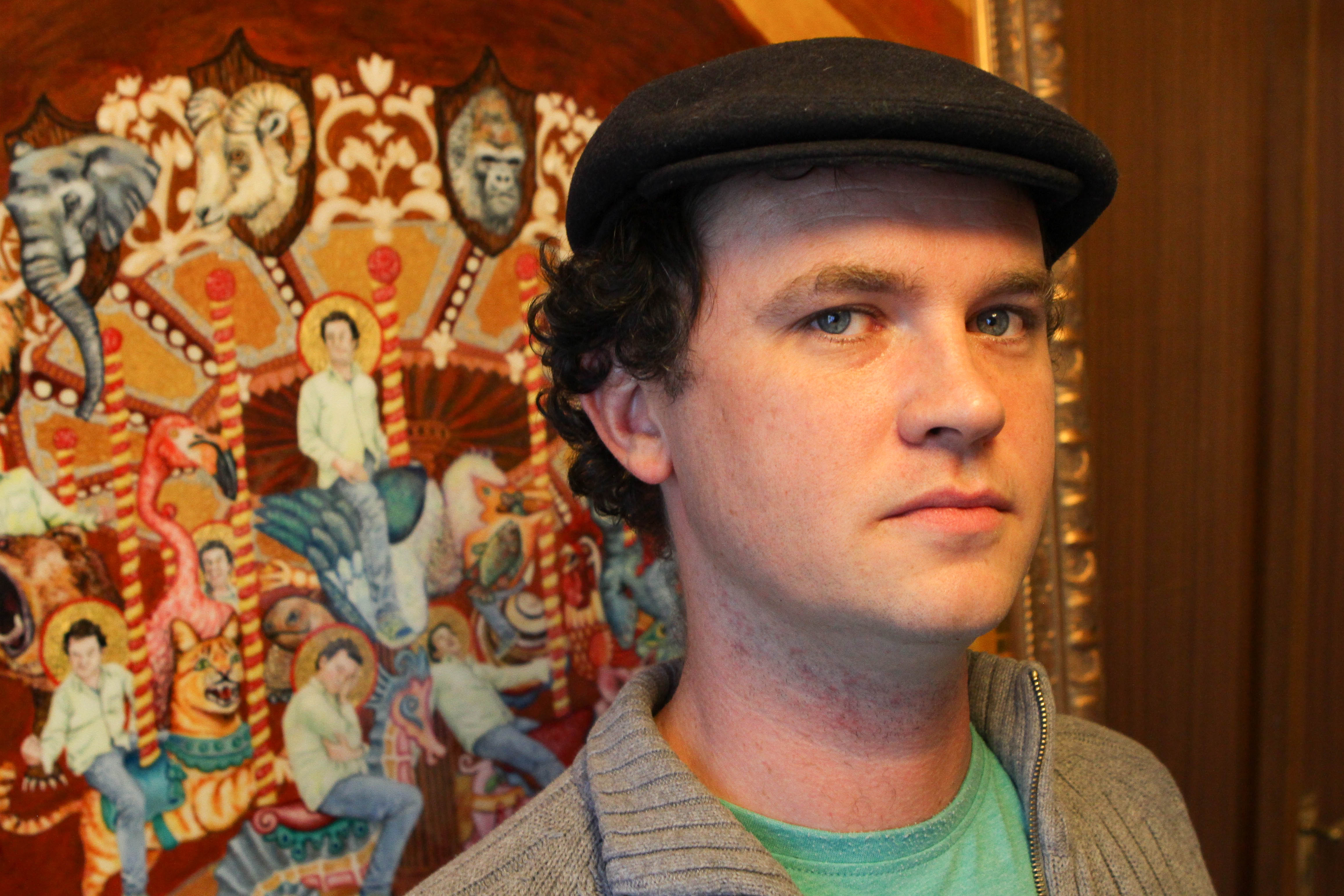 In this installment of Primer, Alexander Reilly invites us over to his studio to give us some insight into how his colourful character laden work comes to life through his applications of paint. Photos and interview by Mark Earley.
Hi Alex! When did you first realise were an artist and in turn, that your career would be in art?
I remember in my first year of school when I was four or five, all the kids in my class wanting me to draw them dinosaurs. I was never very academic or good at sports, so being the best at drawing became an important part of my identity when I was very young. I was fourteen when I realized it was a career I could actually pursue, and that's when I took up painting with acrylics and oils. I was accepted into adults painting classes in my local arts centre in my early teens.
Describe to us the process you go through to create one of your large paintings? How much does the process change from one creation to the next?
If you asked me the same question a few years ago, my answer would be very different. I'd have told you that I draw the design for the painting onto the canvas with a pencil. That I might have some stock photos on my computer as points of reference, and that when the painting was finished that I would pay for it to be framed. Now most the photos I use I take myself. I design the painting first in Photoshop using a graphic tablet. I transfer the design onto the canvas, and when the oil painting is complete that I now frame them myself. I'm always trying to learn new skills.
What materials do you use for your work? How much have they changed since you first started?
Applying oil paint to canvas is a life long obsession. It's one of the few constants in my life. The paint I use now is of a much higher quality than it used to be, but mostly what changes is how I share my work with the outside world.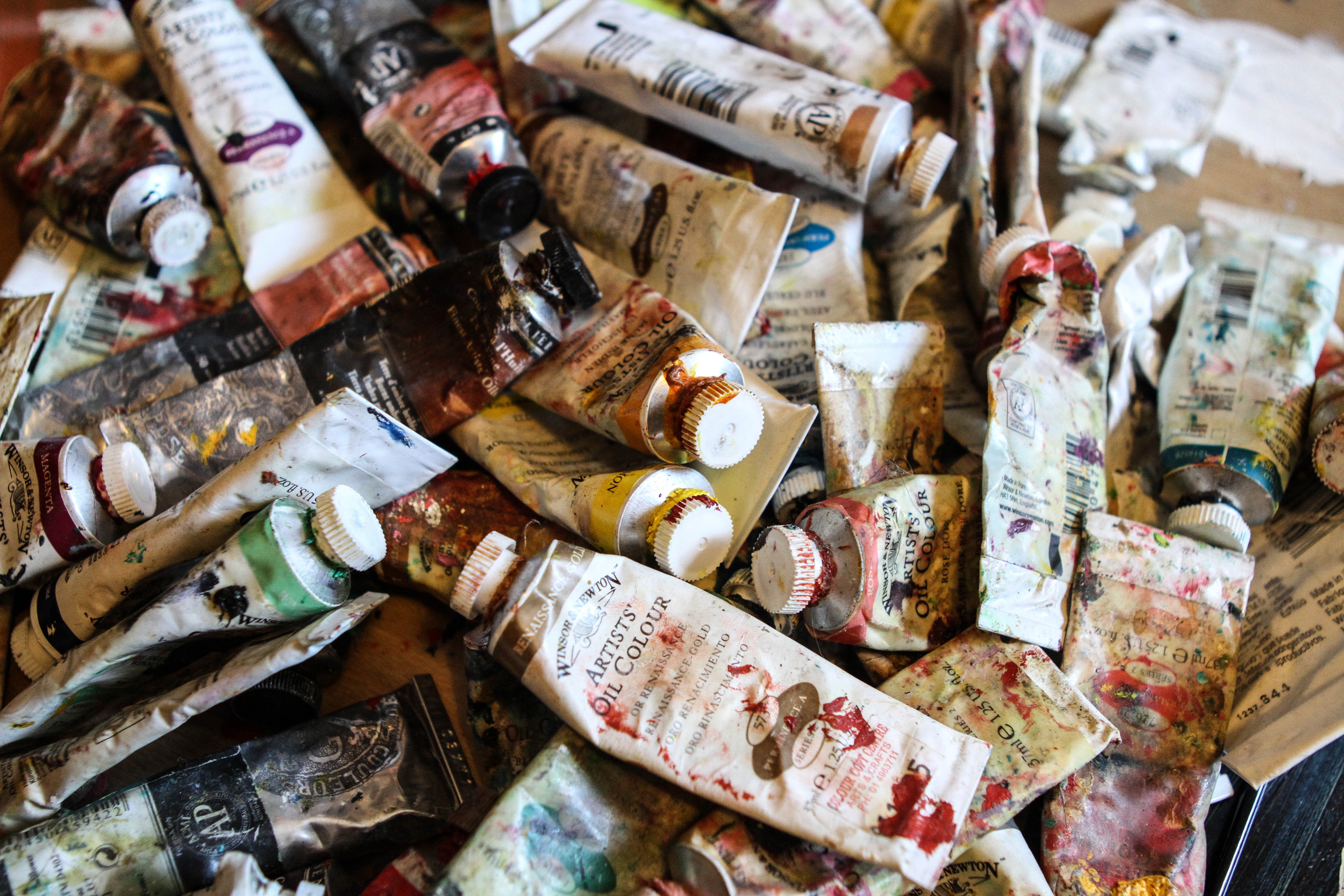 On your website you talk about not relating to other painters. Can you expand on that for us?
It's not that I don't, it's just that it's rare that I meet one that I think is on the same path as me. Very few of the artists that I started out with are still making work full time, and most of the ones that are have emigrated. I have all my eggs in one basket, so I like artist's that like me are all in, who's style is uniquely there own. It's more common to find likeminded people that are writers, musicians etc.
What projects are you currently working on?  And are there any upcoming plans you want to let us in on?
I have a solo show Friday the 26th of February in the Eight Gallery Dublin. It will run for a week and my friend Tony Strickland is the curator. Plus I've realized how crucial it is to try and share who you are as a person instead of just being an anonymous painter. I'm starting to post youtube videos of me working in my studio, so people can get a sense of just how much work actually goes into one of my paintings.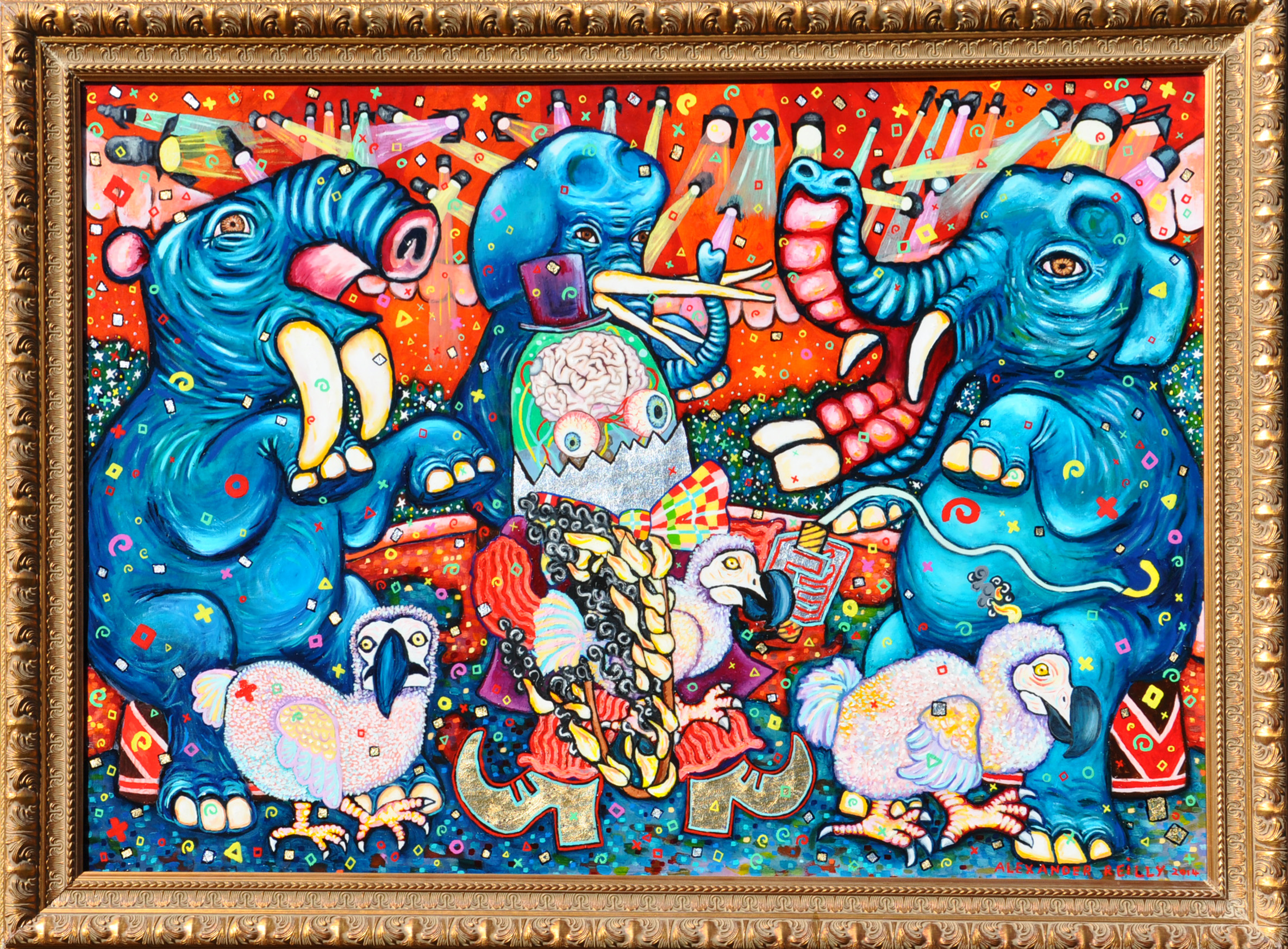 You've included one of your recent pieces above. Can you tell us about it?
"Robot Circus Master!" Is a mishmash of things I like to paint: robots, circus's elephants. I like it because it seems like a scene in a larger story. Most paintings we see are still, nudes, portraits, landscapes and still life all lack movement or action. I want my paintings to leave the viewer with a story to complete with their own imagination.
Where do you get ideas for your paintings from?
With years of experience there comes a stage were one painting naturally leads to the next. When working on a painting, I'm thinking about the elements I feel are working well, then those new elements become the starting point for the next painting. I have a queue of paintings in my head, I'll never have time to paint.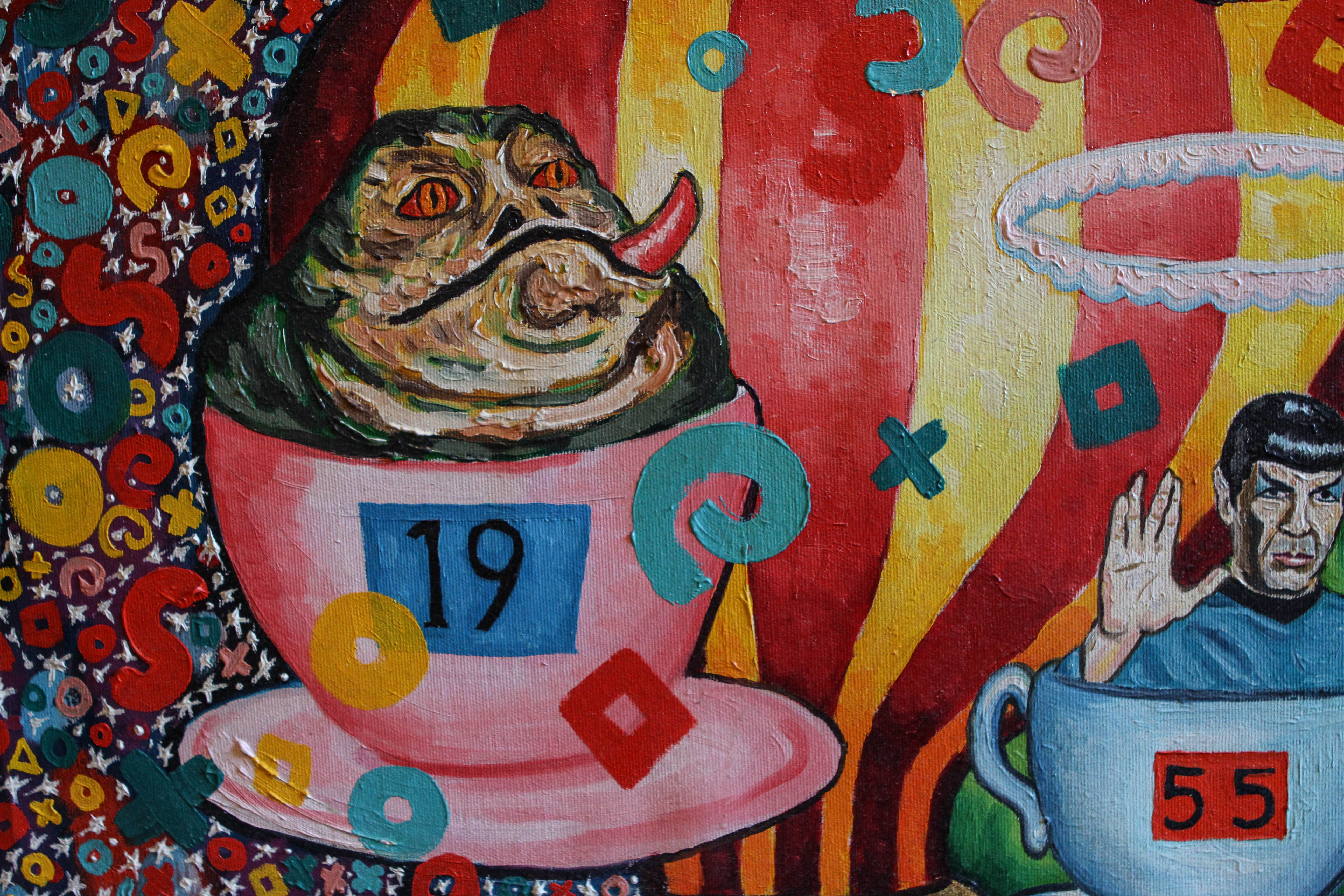 Away from painting you've worked at many careers, travelled a lot, written a children's book and much more. Does all of that other activity help your work? How much does your painting dominate your life?
The experiences we've had in life make us who we are. The many varied jobs I've had outside of painting help me to relate to people outside of my own art bubble. The time I spent in India studying Rajastani minuture painting helped in making my oil paintings more colourful and detailed. The experience I had in writing a book massively increased my ability to concentrate over long hours.
"Dominating my life" that maybe sounds a little negative, I certainly feel like that sometimes. I think painting "fills my life" might be a better way to look at it. I see painting as something intertwined through every aspect of my life. Painting is my primary form of communication with the outside world, more than language even. I think you'll find out more about me by looking at my paintings for five minutes, than you will by talking to me for five hours. Whenever there is a new person in my life, like when a close friend has a new boyfriend or girlfriend, I can never really relax around that new person until they've visited my studio at least once.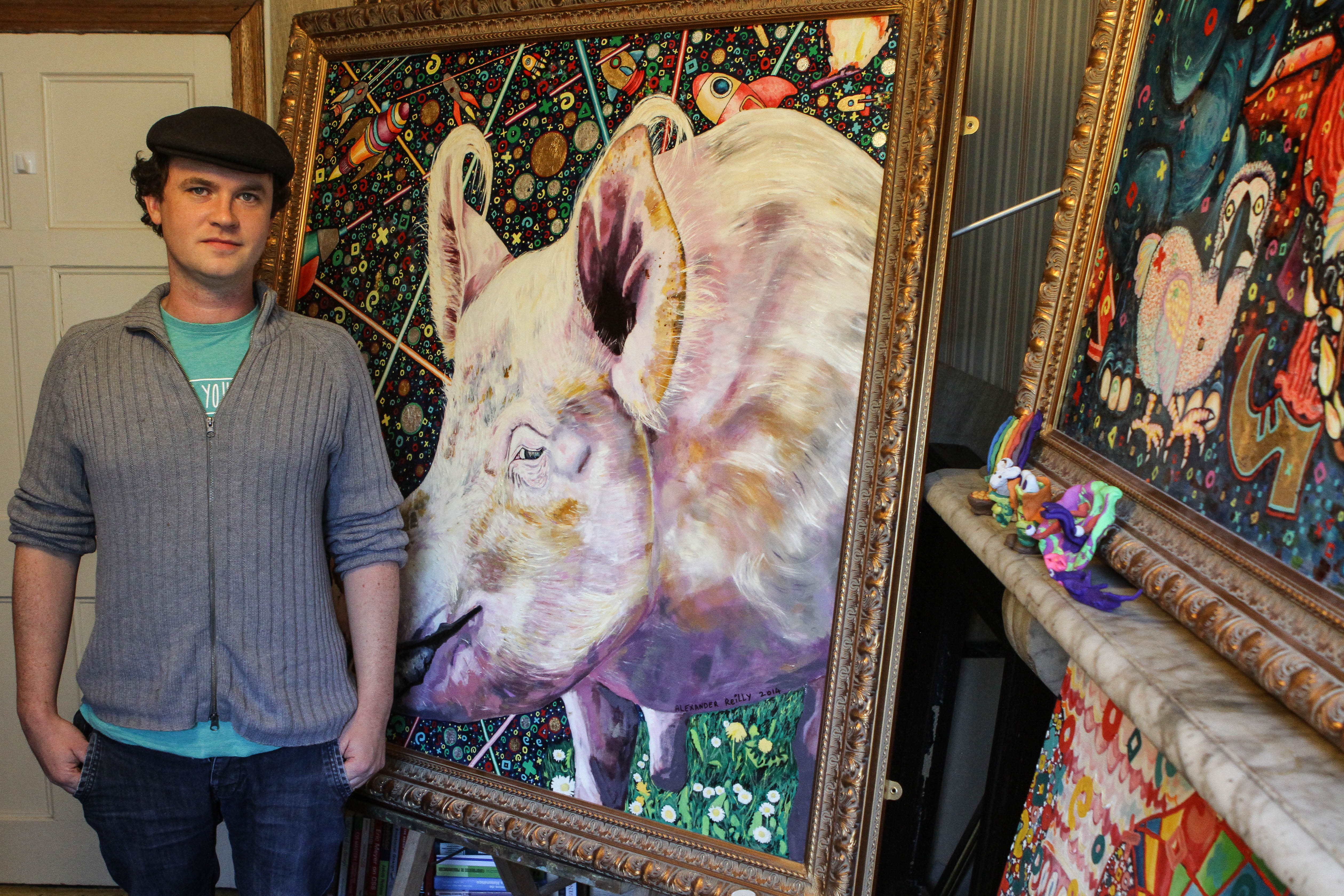 How long does it take you to produce one of your large pieces of work? And once completed, is there a sense of loss if you sell it?
The only way I can produce my large pieces is by painting very long hours, day in day out until they are finished. It actually makes little sense to make such big pieces. They are harder to sell than small or medium work. They cost much more money but if I work out an actual hourly rate then I make a lot more for a painting that cost hundreds than one that costs thousands. They are a labour of love.
I feel incredible joy when I know a painting of mine is going to a good home where it will be loved. They are little parts of me, I think of them as living things. I want them to be seen, to leave home. Selling them is the beginning not the end. I would refuse to sell a painting to someone I didn't like, or if I thought they were buying the piece for the wrong reasons.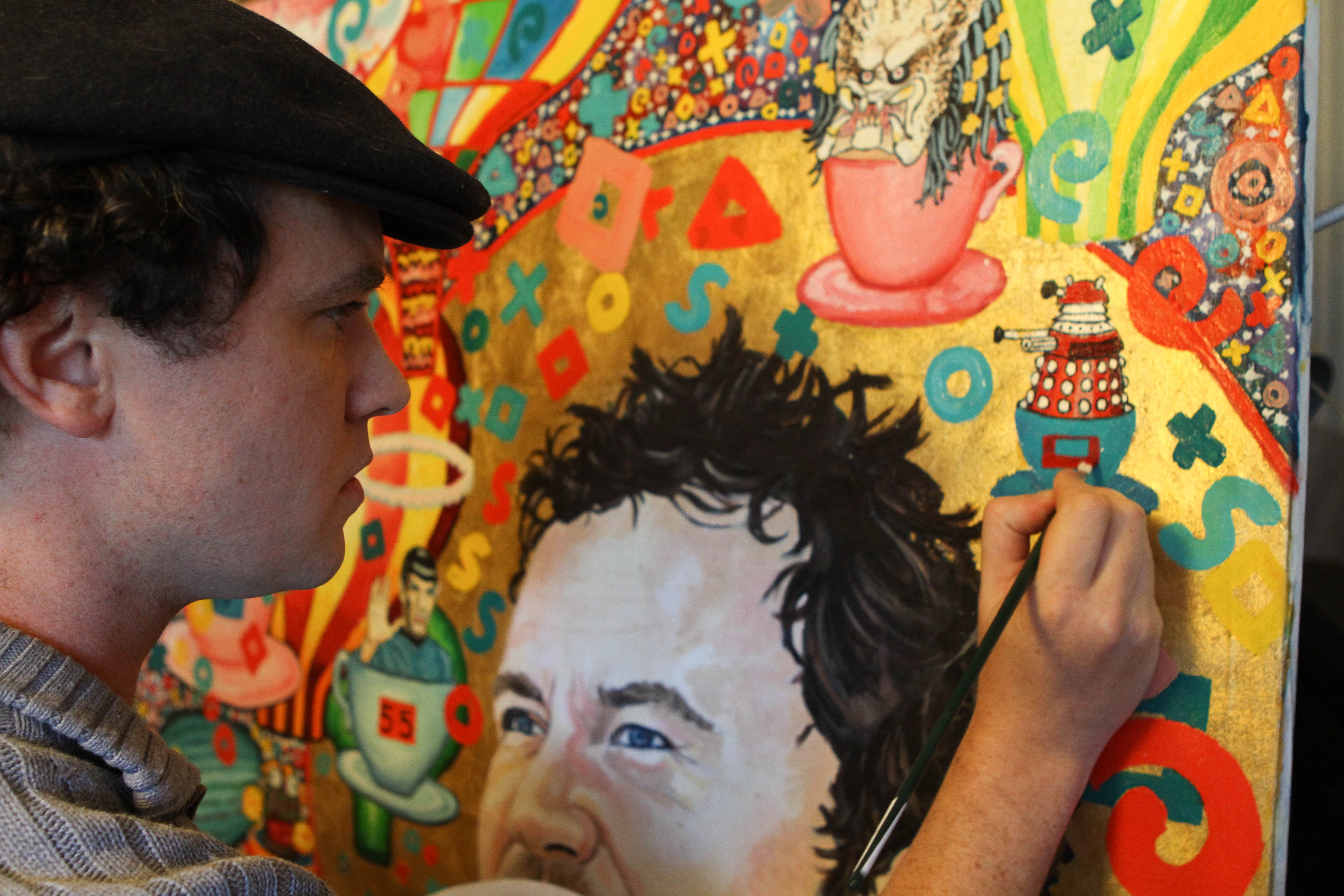 Are there any contemporary Irish artists who excite you or who's work you look at and feel entertained?
Most of my favorite Irish artists live abroad. Two Irish painters whose work I like and that you can see regularly exhibited around Dublin are: Stephen Johnston and Jimmy Lawlor. I don't know either of them personally, but I enjoy both their work for the same reasons. They are masterful painters, they know how to paint. Even rarer they know what to paint. They have their own unique styles, their own voice. Their work is funny, interesting and full of imagination. They are not in factory mode, painting the same painting hundreds of time with only slight variations. Each of their paintings is different from their last. I feel excited to see what they will make next.   
You've mentioned before that you see yourself as an entertainer. What do you mean by that?
I believe in art for arts sake. If you come to a show of mine, you won't see any art jargon written on the wall. There will be no cause or agenda, just a hope that these paintings make you happy when you look at them. If I can make people smile or laugh then I've succeeded. I don't think that's a small thing, I thinks it's a big thing and a worthwhile goal.
Finally, what would make 2016 a year to remember for you as an artist?
Just to be a more prolific, knowledgeable, happier painter than I was in 2015, and for more people to see, enjoy and share in my work!   
For more information on Alexander, check out the following links below: 
Website: http://reillyalexander.com
Youtube: https://www.youtube.com/user/reillyalexander
Twitter: https://twitter.com/AlexanderReilly?lang=en