Irish Tour: Ash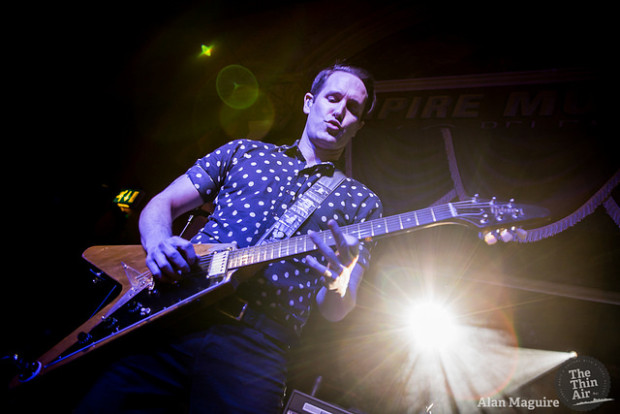 In the latest installment of Irish Tour, we go on the road to capture NI alt-rock royalty Ash in Dublin, Galway and Belfast. Words by Conor Callanan, photos by Isabel Thomas, Sean McCormack and Alan Maguire.
Olympia Theatre, Dublin

It's hard to believe that Downpatrick's favourite sons Ash have reached the twenty-third year of their career. It doesn't seem all that long ago when the teenage trio of Tim Wheeler, Rick McMurray and Mark Hamilton appeared on Top of the Pops, had some of their earliest tracks appear in US movies, and got to record a live album in one of Australia's largest alternative radio stations Triple J.
Fast forward to this evening and it's abundantly clear from the reactions of the tightly packed crowd, be that the older or younger generations in attendance that Ash have managed to maintain a rather fanatical fanbase. Having released their sixth long-player Kablammo! earlier in the year, the three piece are back in Dublin for their second headline show of 2015.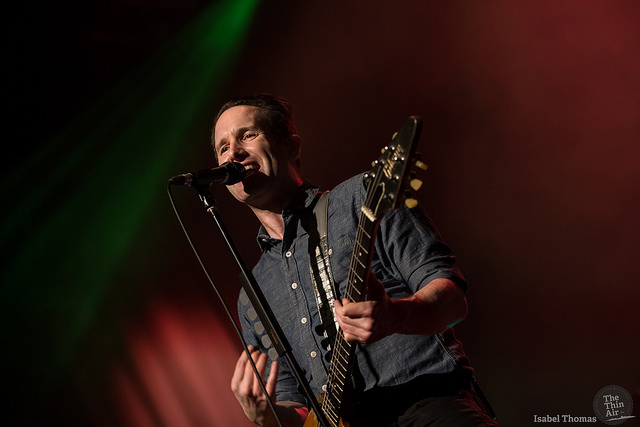 Somewhat alarmingly Wheeler still possesses that seemingly constant youthful look, and as ever is beaming from ear to ear. They launch into Kablammo's! 'Go! Fight! Win!' which sees McMurray thump his way to throughout, with Hamilton slinging his bass and mop of hair around with reckless abandon, while Wheeler's power-pop chords getting the crowd's heads bopping in unison.
Up next is a fast and furious triple whammy of old favourites; 'A Life Less Ordinary', 'Jack Names the Planets' and 'Goldfinger', which gets the crowd whipped up into a frenzy. It does allow oneself to be transported back to a time when these tunes were guaranteed to be played at every single houseparty you attended during your teenage years! The highly energetic 'Kung Fu' sees Wheeler pulling out some slide guitar moves while the audience bark the words back, as separate pockets of pogoers begin to appear around the ground floor.
New track 'Let's Ride'- which includes a bluesy/HWOBHM style solo from the frontman – proves that Ash is still more than capable of penning addictive pop-rock numbers in this day and age. The familiar opening notes of sing-a-long anthem 'Oh Yeah' sees the band rolling back the years, while Meltdown's 'Orpheus' sees the pace picked up yet another notch, however Wheeler's vocals do get lost in the mix more than once!
With it being the season of goodwill and all, 'Zombie Christmas' from Wheeler's 2012 collaboration record with Emmy the Great is given an airing and is followed up with a cover of The Undertones' stone-wall classic 'Teenage Kicks'.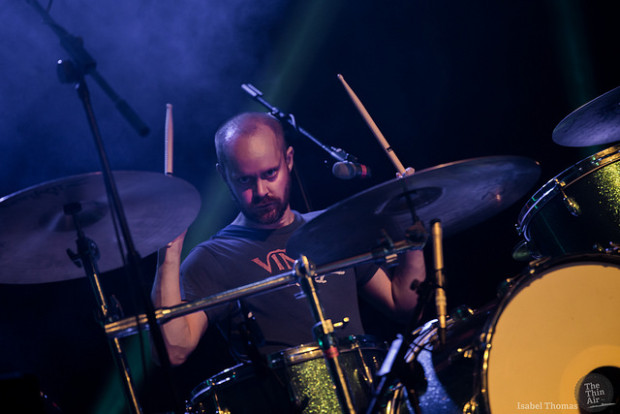 An uplifting 'Shining Light' and a full-throttle 'Girl From Mars' bring proceedings to a head after an energy sapping 70 minute performance. As the group leave for a very short but well deserved break one realizes just how impressive this group's back catalogue well and truly is. And just in case the initial set list wasn't enough to back up my last point, they return and ask if it's ok to fill the remaining time with as many songs as they can before the curfew. There was only going to be one answer there.
Free All Angels' Walking Barefoot' and 'Angel Interceptor' – which sees Hamilton fly into the crowd bass in hand – breathes new life into an already zapped audience, while a rocking version of John William's 'Cantina Band' (from Star Wars) sees a few confused looking faces, but those in the know possess a wry smile! Wheeler then asks the crowd to choose between 'Petrol' and 'Uncle Pat', with the latter winning out, and finally it's time to bid farewell  as Wheeler introduces the exceedingly catchy 'Burn Baby Burn', which asks just that little bit more from an audience who are more than willing to commit to this pop-punk cause they're absorbed by. Conor Callanan
Photos by Isabel Thomas
Roisin Dubh, Galway
Photos by Sean McCormack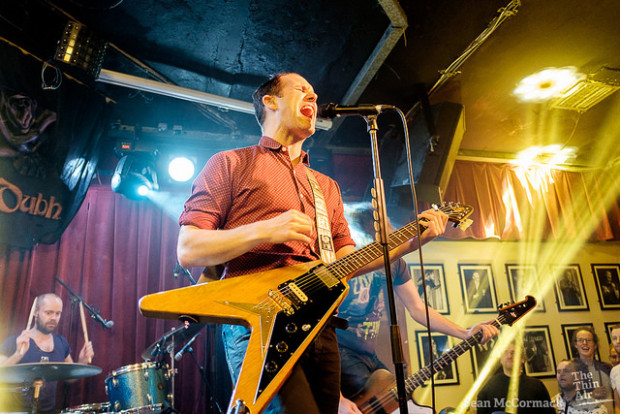 Empire Music Hall, Belfast
Photos by Alan Maguire