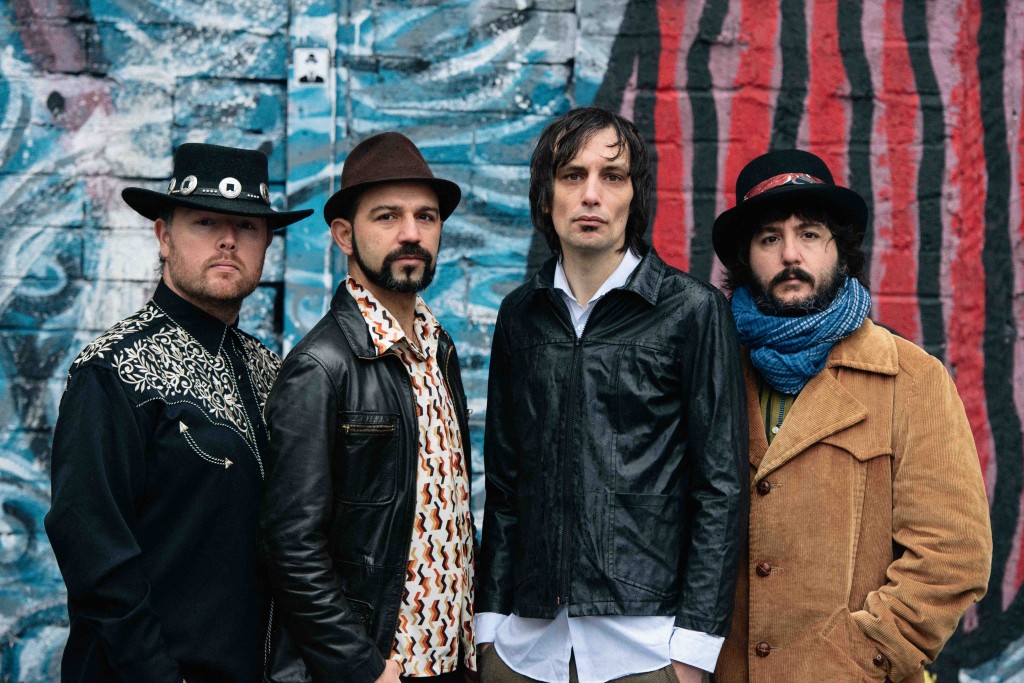 Ahead of the launch of their their debut album, Mestizo, at Dublin's Whelan's on Saturday, January 30, we get the lowdown on Dublin-based Americana-tinged rockers Mongrel State.
Photos by Brian Mulligan.
Hi guys, first off, for the unacquainted: when did you form how did the band come about? Was it destiny? Compromise? Start off as a Boney M cover band and decide to keep it going with original material?
Darren Flynn (bass/vocals): Hah! No, not Boney M! Claudio (Mercante; guitar/vocals) and I originally met when he joined a cover band I was in – more old school rock n' roll though (lots of Stones stuff, for example). But we both realized we really loved really old school stuff – like Sun Records era stuff, and crazy old Rockabilly records. So when the band folded we decided to do something original ourselves.
You're set to launch your debut album on at Whelan's on January 30. You've said it was borne from "an untoward amount of blood, sweat, tears, heartache, headache, driving, fighting, laughing, vacillating, humming and hawing." Sounds fun but was it really that hectic a process?
Darren: By times, yes! Living as a musician can be hectic, and full of energy and crazy events, while at the same time some parts of the whole process can be so sloowww! Like the old Blondie line: "Hurry up and wait!".
Claudio Mercante: Recording an album is definitely hectic when you get to the final part of the process.  But initially it has also intimate and slow moments, when you are writing a song in your bedroom or on the beach or when you are listening back to a demo, trying different arrangements in your mind. You can keep going for days doing nothing but thinking about the right words for a line.
Your music incorporates a wide variety of genres and sub-genres, rockabilly, rock, Latin-American sounds and Western Scores. Do you all bring something to the table – something different that contributes to what makes your music your own?
Darren: Yes, you can say that. We're all from quite diverse backgrounds, and we've all played a lot of music, so we have quite a store of different ideas to throw around. Rehearsals can be quite headmelting at times, with the randomness of what is being floated in them. It's great though, we can cherrypick the best of what comes up and throw the rest back in the pot.
Claudio: On paper it could be tricky sometimes, but we have a clear idea of the identity of our songwriting. Therefore it's easy for us to introduce diverse elements into the sound without losing our identity.
Whilst based in Dublin, Claudio is Italian, Sebastian is Argentinian and Guillermo is Spanish. This very obviously creates a decidedly international advantage to your sound. Do you feel this is something that sets you apart in the capital and further afield?
Claudio: Of course it's something that easily stands out, when someone approaches the band. Our focus is on the music though, without hiding ourselves either: for example, in the album we have a short speech in Spanish and two lines in the single 'Stray Dogs' are in South Italian dialect. It's fun for us to leave some hints here and there.
Darren: Yeah, I'd have to agree with Claudio – It's always a handy icebreaker if we're chatting to someone new about us, and there definitely is a strong identity within the band about who we are, which comes from the guys all having a slightly different perspective on living in Ireland,  but what sets us apart really though is the music.
You worked with producer Gavin Glass on the album. How was it working with him and what was the recording process like in general? Was it straightforward from start to finish or did you have to overcome any unforeseen difficulties?
Darren: We loved working with Gavin. We had done quite a lot of preproduction in our own studio before we went in, so we were very confident of what we wanted. Even so, the man has such a wide knowledge that he was able to take what we had and tighten it up, or let it breathe in all the right places. Like a diamond cutter, knowing where to pinpoint exactly where to strike to cut the stone perfectly.
Claudio: it was educational, inspirational and great craic to work with a great artist like Gavin. He was straight and honest on everything, which is one of the things we loved the most. During all the recording days I had the feeling that the album and the band were growing, which is the best you can ask to a producer.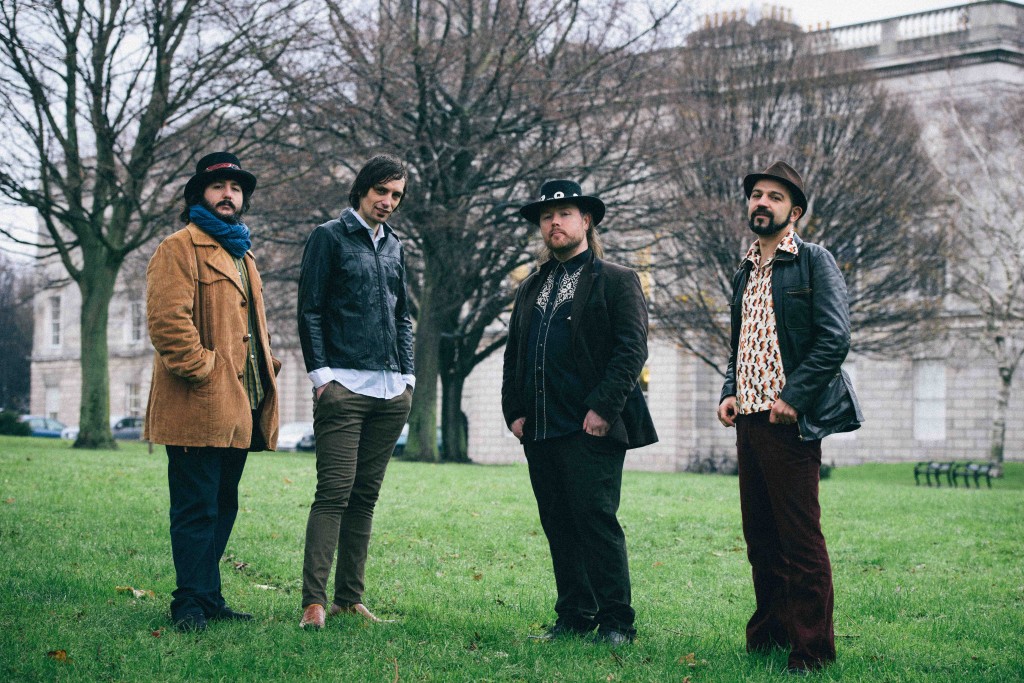 Did you find yourself experimenting in the studio where you might have been perhaps restricted in the practice room?
Darren: Well, with me, we did a lot of experimentation in the vocal recording – Gavin really got some performances out of me that brought out the best in the songs, and some  little things I've used ever since in our live performances. Claudio and Guille had a field day with all the guitars, organs and other sonic toys though!
Claudio: My highlights of those days were exactly the ones when we took time to experiment. We knew where we were going so we had fun focusing on the "how": as a guitarist, I enjoyed so much jamming with Gav, who has a great sense of melody. We came up with  sounds I couldn't have imagined during the pre-production.
Are there any overarching themes or ideas that permeate the record or is it a tapestry of many different things?
Claudio: I think this album as a journey towards change. We love telling stories in our songs and our characters are often heading to something new and better in their life. That's why maybe I find it perfect for a road trip!
Darren: There are some things that thread through the album. But rather than dictate to listeners what we expect them to hear in the record, I'd rather they found something for themselves in it. That sounds a bit poncey, but really, what we set out to do was create a great piece of rock n' roll. If they enjoy it on that level, then everything else is gravy for me!
You've toured throughout the UK, Spain, Italy, the Netherlands and Germany. How have your experiences on the road been? Something tells me you've a couple of curious stories there…
Claudio: Well, in Amsterdam we had more than one curious story, but nothing we can repeat! About Spain, well, that's when we met our Guillermo, at that time still living in Andalucia. He had travelled for 8 hours in a bus with his keyboard and his amp to have a jam on stage with us, in Madrid. It was a blast. Needless to say: after that night he was in the band!
The launch show in Whelan's set to be a real celebration. Without giving too much away, do you feel like you've something special in the pipelinethere?
Darren: Oh yes! Most definitely! Lots of special guests – basically whoever helped us record the album – and few other things up our sleeves. For us, this is going to be a celebration of the album, and the fact that we'll finally be able to share it with the world. So it's going to be a fab night!
Claudio: We are also re-arranging a few songs especially for the show, it's gonna be a great night.
Finally, looking ahead, what are the plans in terms of touring and promoting the record and what's the best way to keep up to date with all your activity?
Darren: Our website, as well as all your favourite social media (Facebook, Twitter, Youtube). Always the same handle: mongrelstate. We're touring around Ireland in the following few months:
Saturday, 30th January – Whelan's Dublin (Album Launch)
Thursday, 4th February – Swagman, Sligo
Friday, 5th February – McGing's, Westport
Friday, 19th February – Monroe's, Galway
Friday, 26th February – Boyle's, Slane
Saturday, 27th February – Murphy's, Thomastown
Thursday, 3rd March – Voodoo, Belfast
Saturday, 9th April – Sin-É, Dublin
Friday, 15th April – Harbour Bar, Bray
And more to be announced.
Claudio: The album will be available on the 29th January; we'll be doing lot of radio promotion and more. The plan is to tour all year in Europe and we hope to see you all around the country soon in 2016. Stay tuned to keep updated!