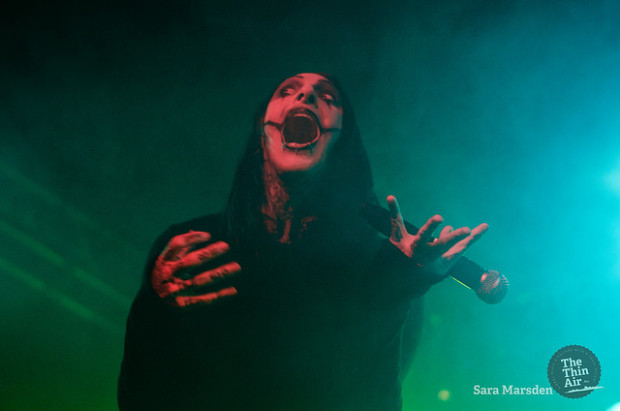 Queen's University student union complex: students by day, emos by night. Yep, it's a case of 'another underage gig in Mandela Hall'; this time goth metalcore heroes Motionless In White are back in town on their first run as headliners in the UK. Cue many, many black-clad, eyeliner-heavy teenagers descending on the cold streets of Belfast.
Up first it's another metalcore act, Coventry's Silent Screams. The house lights abruptly drop and a heartbeat sound washes over the crowd, who respond noisily with a "Silent Screams! Silent Screams!" chant.
Almost from the first note an emo moshpit breaks out (safer, less likely to injure young life and limb), as the band dish out their high energy brand of standard metalcore (screamer, clean singer, blastbeats, breakdowns etc). The only exception to the rule is the surprisingly hardcore 'Everything Else' which really gives heavily tattooed vocalist Joel Heywood a chance to show off his gnarly growl to maximum effect.
His crowd interaction is also impressive, from thanking the assembled throng for their reaction and singing from within them during 'The Way We Were', as well as demanding circle pits and walls of death. A top start to the gig, and one that leaves the crowd breathless and thoroughly warmed up.
New Grave sensations New Years Day follow them; such is the level of anticipation that a loud scream rings out when their roadie simply hoists their banner onstage. When the lights do go down it's a very feminine squeal that rises: vocalist Ash Costello has become a real role model and idol to her female fans. Launching into 'Kill Or Be Killed' with a suitably 'killer' light show, the band proceed to demonstrate why their rise in popularity has been so rocket-like: part Cruella de Ville, part goth metal diva, Costello is at once tough, sexy and charismatic, while the band's songs are brimming with positive messages for their fans. The overall vibe is one of community and togetherness, from Costello's shout of "Belfast, are you one of us?!" to the aforementioned track's refrain of "All of us are sick!".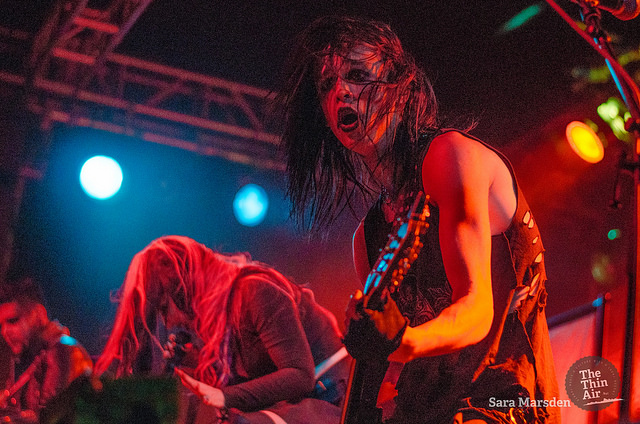 They have a gothy theatricality that the young audience simply adores, and which goes perfectly with their jagged yet highly accessible 'singalong metal' tunes. "Would you like to hear a song we've never played on tour before?" Costello teases, before they treat the crowd to the hugely popular 'Malevolence'. The room duly goes mental – possibly why most of them undoubtedly missed Costello apparently miming throughout! The rest of the gig was emphatically live, but this one…most peculiar. That issue aside, their set is highly enjoyable – New Years Day are set to become superstars, no question.
With excitement and restlessness building (come ON!), it's finally time for tonight's headliners. With dry ice swirling they take to the stage, accompanied by a huge roar from the audience. Last onstage is of course vocalist Chris 'Motionless' Cerulli, clad in a pair of wincingly tight PVC trousers and a black hooded shirt, his face painted with a black Joker-esque smile. They fire into opening track 'Death March' and immediately win the crowd over, wielding their breakdowns like pro's.
They suffer from a few hitches: the vocals are a little too quiet at times, while their entire set is plagued with a drumkit issue, with the breaks between songs stretching out for often quite some time as techs try to fix it. Luckily it hardly breaks their momentum, with hit after hit being blasted out. From the industrial stomp of 'Unstoppable' to the razor sharp beats of 'Burn Baby Burn' and the skittish 'Break the Cycle', the crowd is kept at delirious levels of excitement throughout.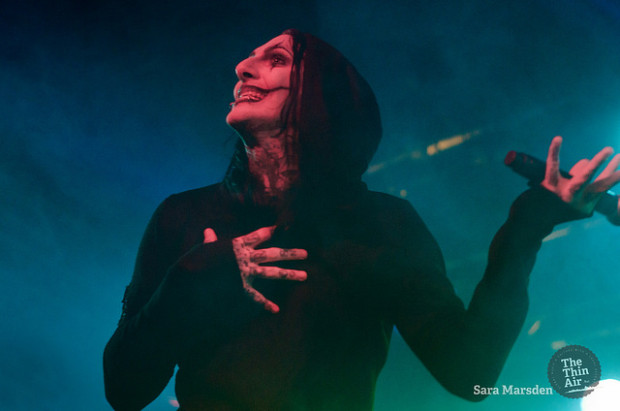 Their lanky vocalist ratchets it up with gleefully devilish intent, encouraging (nay, demanding) singalongs during 'A-M-E-R-I-C-A', dedicating 'Hatefuck' to the ladies in the audience, and pacing the stage restlessly, dragging all eyes with him.
Flashes of the likes of Rob Zombie and heavy doses of Cerulli's hero Marilyn Manson abound, both their music and aesthetic, creating a show that's several levels above average: it's metalcore, but with a serrated industrial edge. Even a startling cover of Linkin Park's 'One Step Closer' sounds dark and intense, while 'Contemptress' sees NYD's Costello return to the stage; the electricity between the two vocalists gives the track a slinky, seductive edge.
Finishing with 'Reincarnate', with its intro that's oddly redolent of Manson's 'Personal Jesus' cover, they exit briefly , only to return to flatten the room with 'Devil's Night', with it's staccato vocals and simple yet deadly riff. The crowd scream themselves hoarse, only to return, sadly, back to real life as the house lights finally come back up. It's fair to say that Motionless In White came, saw, and kicked serious emo ass (gently, and with hugs of course). Melanie Brehaut
Photos by Sara Marsden