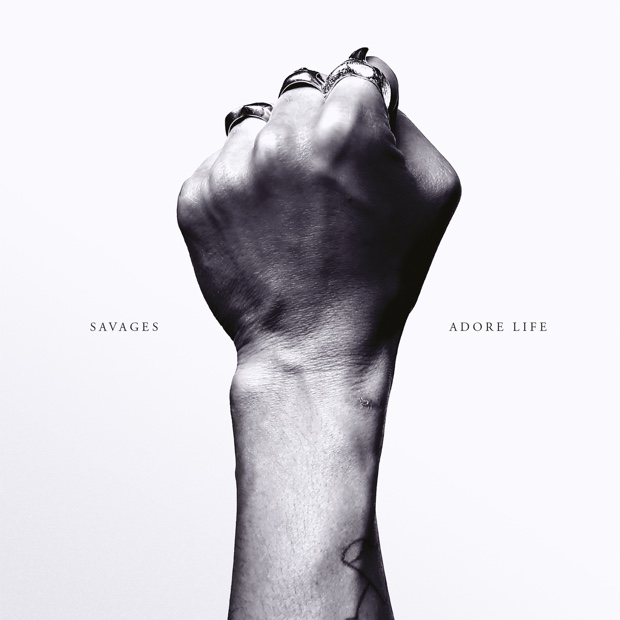 Revivalism – is that a dirty word? It is if you're in a band, trying to forge your own sound while folk are sitting there spouting comparisons. As Ought have shown us Stateside, if you're going to retread well-worn ground, you better lace up your assault boots and do so with conviction, stamping any glib reference points from the mind of the listener. Savages aren't short on conviction. Nor are they short of muscle in the art of ratcheting up the tension within a track. Post punk was all about tension, though, wasn't it?
The London quartet's debut, Silence Yourself, almost didn't live up to the band's live promise. Onstage, Savages are a potent force – all of this makes so much more sense in the moment, in the intensity of the crowd and the delivery. Live is where the mind is pulled away from all the snatches of distraction that the derivations of their sound conjure up – Pil; The Banshees; Joy Division. When you're operating in that sonic field, and when one of those bands is still operating at the top of their game – as Lydon and Co. are – conviction is what's going to carry things over the line.
Adore Life comes howling into life with a guitar riff born from Motörhead and a thundering drum line courtesy of Fay Milton, as the piercing clarion of Gemma Thompson's guitar serrates the dense weave the rhythm section have become so adept at knitting together. Milton and Ayş Hassan's drum and bass fusion is the engine room of the band's sound, from the Motorik throttle of 'Sad Person' and 'I Need Something New', to a dancier 'Evil' and the more industrially fuelled punk of T.I.W.Y.G.
Jehnny Beth's lyrics seem informed by this lock-tight dynamic. A repetitive phrasing technique typifies the album, an economy with her words – her dogged insistence that "I need something new", or future indie disco destroyer 'When In Love'. 'Adore' is a murkier affair ("If only I didn't care so much/ For the feel of your cold cold touch/ In every bed I leave behind"). At times, it's not far off yearning tones of short-lived Canadian post-punk exponents The Organ, who rose and fell almost imperceptibly in the mid-Noughties. Beth's assertion of "I adore life" is repeated as the band's pummelling imbues the words with a more menacing significance, and her vocal begins to pitch higher until it's eventually pulled apart and subsumed by the music.
In the missive that accompanies its release, Savages said of Adore Life, "It's about change and the power to change. It's about metamorphosis and evolution" – personally more so than musically is the assumption, on listening to the record. More apt is their concluding statement, that it's about guitar, bass, drums, and vocals…and love, above all else. A big part of listening to this admittedly rousing record was spent sitting spouting comparisons. As a pulse-quickening musical rout, it's a winner – if 'Evil' doesn't get you on your feet there's little hope for anything else – but with all their conviction, it's hard to escape the post-punk revivalism tenet. Justin McDaid