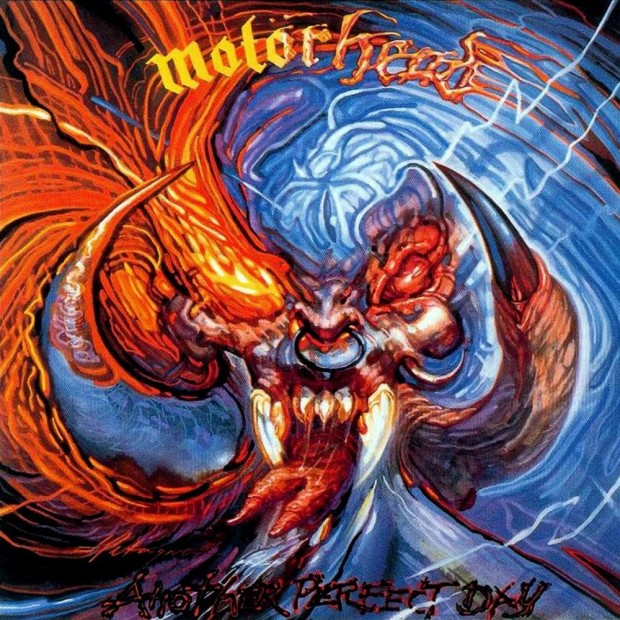 1983 was an interesting year to be in Motörhead. After conquering the UK charts with the one-two punch of Ace of Spades and No Sleep 'til Hammersmith, they'd established themselves right at the forefront of the rock world, a band that could go toe-to-toe with the best of the New Wave of British Heavy Metal bands, or appealing to the still thriving punk rock scene, whilst simultaneously being perfectly at home amidst more mainstream fare, gooning for the cameras on Top of the Pops.
Iron Fist (1982), however, hadn't been particularly well received. Co-produced by guitarist 'Fast' Eddie Clarke, the songs weren't quite as strong, and the band had faced understandable difficulties in following up what would turn out to be their commercial high water mark, a once in a lifetime moment when the planets aligned, and the dirtiest, nastiest, gnarliest rock band in history became popstars.
Perhaps more unusual than that, however, were two extra-curricular singles that stick out in the Mötorhead discography like a sore thumb, The St Valentine's Day Massacre EP, released under the name of MötorheadGirlschool, and Stand By Your Man, a duet between Lemmy and Wendy O. Williams, but featuring tracks by both Mötorhead and The Plasmatics. Both have the air of novelty about them, a knowing tackiness that revels in the 'low culture' aesthetic of rock and roll, whilst still providing rollicking, no thrills fun. But they also reveal a side to Mötorhead, and Lemmy in particular, that was often overlooked – their attitude to women.


There've been plenty of incredible women involved in heavy metal, but the genre has never been able to shake the perception of it being a boy's game. Some women have railed against it, steadfastly doing their own thing, whilst others have used their sexuality as a weapon, exploiting the expectations to get what they want. Others have been consumed by it.
On both of these singles, Lemmy displays a genuine lack of concern for the subject, treating both Girlschool and Wendy O. Williams as true collaborators, regardless of what their gender is. Whilst one wouldn't necessarily have gone to Lemmy for relationship advice, he was always candid about the place of 'women' in rock and roll: right at the heart of it, kicking ass.
Of course, that doesn't actually mean that either of these singles are Grade-A Heavy Metal, and right before the recording of Stand By Your Man, Fast Eddie quit the band. There've been varying accounts of why, from a dissatisfaction with his production on Iron Fist, to the fact that he – in no uncertain terms – viewed the idea of recording with Wendy O. Williams as a complete waste of time. Beyond all this, Mötorhead were a band that moved fast and left a trail of destruction behind them, so there were always going to be casualties along the way, and Fast Eddie would be the first of many.
But, as fans reeled at the news of Fast Eddie's sudden departure, there was an even bigger shock on the way: he was to be replaced by ex-Thin Lizzy guitarist Brian 'Robbo' Robertson. Things were about to get strange.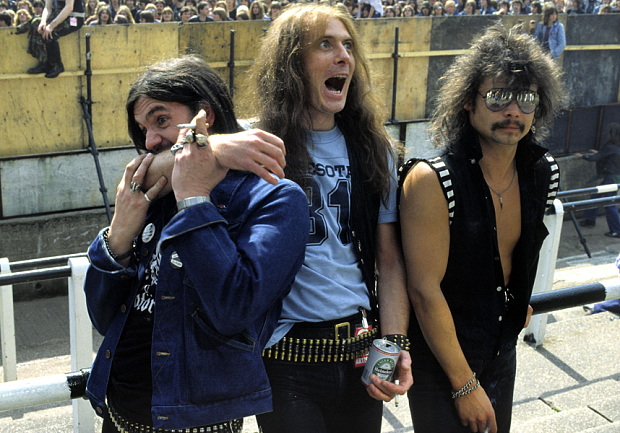 Lemmy Kilmister, 'Fast' Eddie Clarke and 'Philthy' Taylor (1981)
With the benefit of hindsight, this was a marriage that was never meant to last. Robbo was – and remains – one of the most underrated guitarists of his generation, a fluid player capable of beautiful texture, or hard rock aggression. He was also, by most accounts, a man with a volatile personality, something that directly led to his exit from Thin Lizzy. Part of that band's 'classic' lineup, alongside Phil Lynott, guitarist Scott Gorham, and drummer Brian Downey, he'd been part of a band who'd made some of the most enduring rock music of the 70s, classic albums that oozed style, charm, and heart.
But Lizzy's gang spirit was fractured by Robbo, who departed the band in a haze of violence and recriminations. After becoming involved in a brutal barroom brawl, alongside fellow Scotsman Frankie Miller, Robbo's hand was sliced open, forcing Lizzy to cancel a crucial American tour. He was out, and bad blood would simmer between the two camps for a long time.
Providence brought Robbo to Mötorhead. With Fast Eddie quitting in the middle of a US tour, [honecalls needed to be made. Discovering that Robbo was in a nearby town on a tour of his own, a solution was found. As Lemmy would later say about Robbo, "He was the right man at the time." Simple as that. Get back on the bus, hit another town, keep up the blitzkrieg.
But whereas Mötorhead were equally at home playing to a crowd of snotty punks as they were to a Hell's Angel biker gang, Robbo was cut from a different cloth. Literally. Clad in his trademark flamboyant silks and satins, for the most part Robbo deliberately distanced himself from Mötorhead's grubby image of leather and denim. Fans were somewhat scathing about the new recruit, but there were reasons behind Robbo's refusal to play the game. And they were entirely selfish.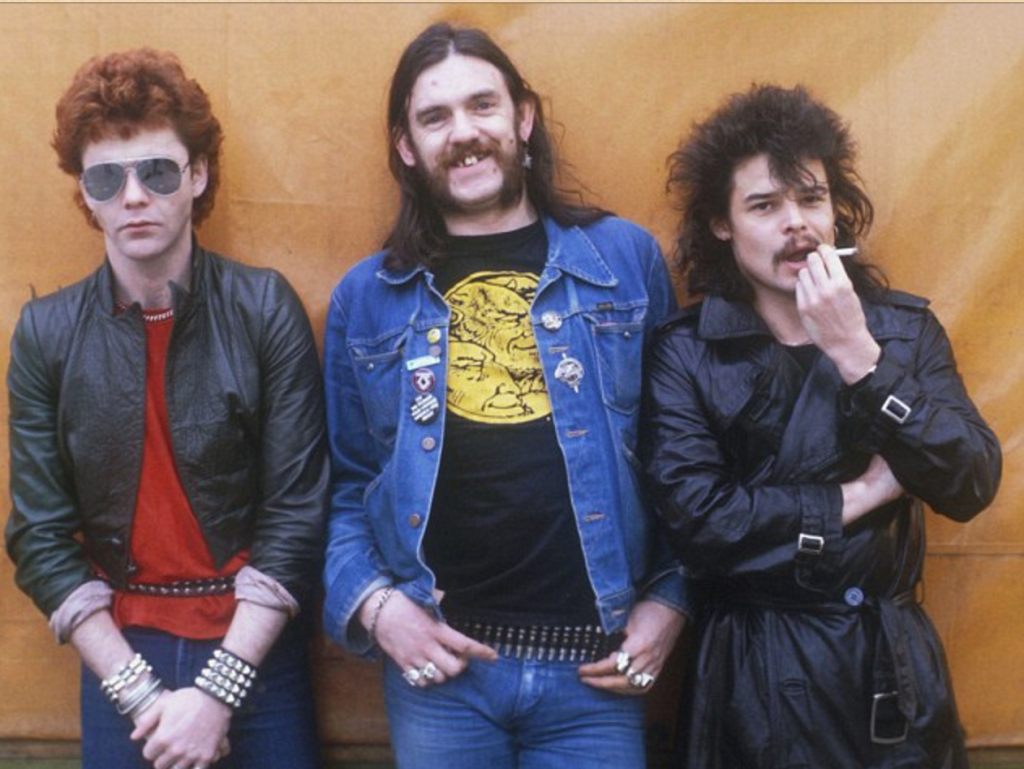 Mötorhead with Brian 'Robbo' Robertson
Whilst Mötorhead still had a degree of commercial clout and a devoted fanbase, Robbo was reluctant to buy into the complete package, still seeing himself as an artist in his own right. Having been so unceremoniously dumped from Thin Lizzy, Robbo remained cagey about his commitments to the band, signing up to help them complete a tour, as well as recording an album. But anything more than that was far from being set in stone, and when he departed the band in November 1983, five months after the release of Another Perfect Day, it was not unexpected. His inability to adhere to brand 'Mötorhead', as well as his refusal to play the old songs on the tour had led to conflict with Lemmy, and so began the beginning of a 'revolving door' period for the band, leaving Lemmy as the sole original member by 1984.
As a testament to what the Robbo-era band were capable of, Another Perfect Day holds up remarkably well. It wasn't received particularly well by fans upon its release, and contributed to the further commercial decline Mötorhead experienced in the late 80s, but hindsight has been kind to the ten songs. Kicking off with 'Back at the Funny Farm', Lemmy and Phil 'Philthy Animal' Taylor are on top form, exploding out the stocks like a band possessed, whilst the textured guitar sound of Robbo glides over the top. Motorhead have never sounded 'bigger', and the whole thing has a thundering sense of chaos that is belied by the tightness of the playing. For all his strengths, Fast Eddie was never the most technical player, whilst Robbo uses the songs as a backdrop to showcase his wares.
'Shine' is a perfect mesh of the classic Thin Lizzy melodic rock sound, with the thrashing engine of Mötorhead driving the song right into the listener's brain. Both parties sound perfectly at home with each other, Mötorhead benefitting from the brooding guitar licks and virtuosic solos, whilst Robbo's riffs are complimented by a rhythm section charging along at maximum horsepower. This is melodic rock of bludgeoning power, and stands with the finest work that either party have ever done.


On the other hand, they never quite sound like a band. Robbo – in the best way – is rarely afraid of showing off, whilst Lemmy and Taylor get on with things as if they don't care who's playing over the top of them. It's a thrilling ride though, with 'Marching Off to War' and  'I Got Mine' being full of surprising and satisfying twists and turns, whilst 'Die You Bastard' is every bit as nasty sounding as you would want it, even kicking off with a burp. But ultimately, it's a partnership, rather than a union, and it was never meant to last.
These days, Brian Robertson is tragically maligned in rock history. His work with Lizzy is still heard regularly on TV and radio, but it's rare that he'd be mentioned in the same breath as the greats. Perhaps that has something to do with his inconsistent career post-Mötorhead, but it's just as likely to be because of a legendarily difficult persona that has caused him to butt heads with other musicians over the years. Watching interviews with him, Robbo is still very much 'Robbo'; unrepentant, and unwilling to play the game.


Regardless, he plays an important part in the Mötorhead story, and with the final chapter now having been written, it's satisfying to see Another Perfect Day less as a transitional record, and more of highlight in a career that redefined the rock and roll rulebook several times over. Lemmy may be gone, but records like Another Perfect Day sound more alive than ever, and even death can do nothing to stop them. Steven Rainey