Live Reviews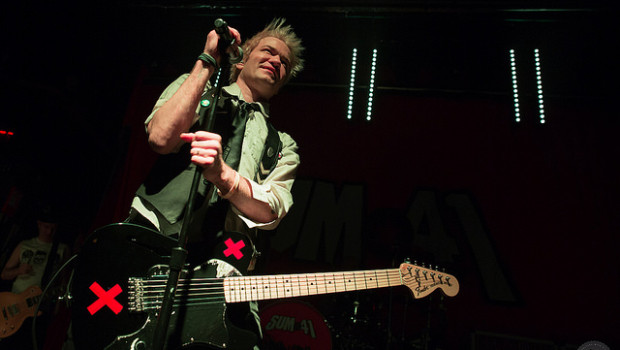 Published on February 15th, 2016 | by Will Murphy
0
Kerrang! Tour 2016: Sum 41, Frank Carter, Roam & Biters @ The Academy, Dublin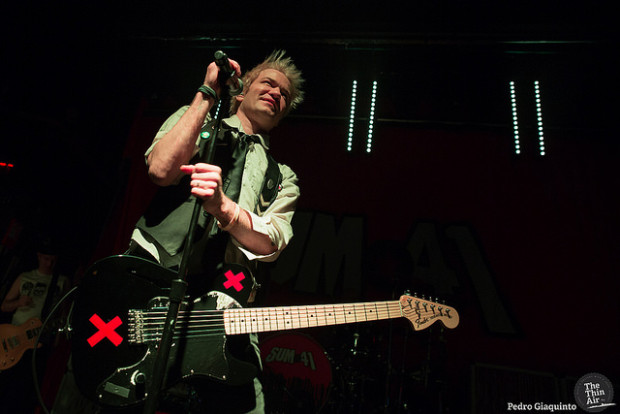 What's probably most striking about tonight's annual Kerrang! tour performance is the absence of side fringes and panda bear eyeliner. While outside there are a plethora of young folks trying to convince the bouncer that their older sibling's ID is their own, the crowd inside the venue seems to be within their early to late 20s. This is the Kerrang! tour; the purest distillation of angsty misunderstood youth that a €3.50 magazine can offer. So why is the crowd from Animal Collective or TV On The Radio here? Does the long awaited return of pop-punk legends Sum 41 really inspire so much devotion or is it some kind of quiet attempt to go back to those gold soundz and recapture some of that magical nostalgia?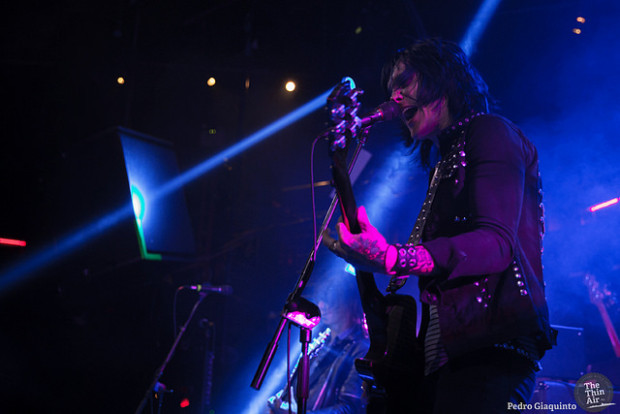 The night begins nimbly with Biters (above), a solid if a tad underwhelming slice of glam-metal inflected punk music. Most notable for their use of "whoa whoa" vocals, leather jackets and a genuine adoration for hair straighteners, the band admirably perform in the earliest slot of the night trying to kickstart the half-full crowd into some kind of frenzy to little success. While nothing really stands but their eagerness should be appreciated.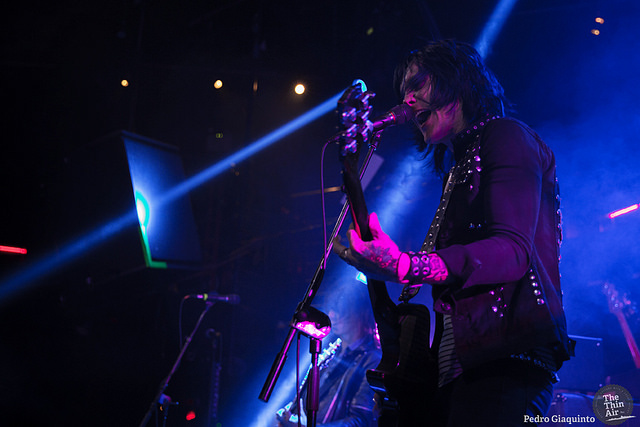 That same eagerness seems to be what the next group, UK pop punk ROAM (above), are trying to convey. Lead singer Alex Costello is bouncing all over the stage like a coke ridden kangaroo and it's clear that he's studied the movements of someone like Cedric Bixler-Zavala religiously. But all that flailing doesn't make up for a lack of songwriting prowess and ROAM, a quite young group, aren't really ready for this stage yet. Musically, it's all run of the mill aggressive pop songs with a punk overtone, and it's worst sounds like they misread Bowling For Soup's 'Punk Rock 101' as a manual rather than satire. What really hampers the performance though is the vocal mixing as the Costello's voice is most lost in a wall of sound and those brief moments where it is tangible, the words are grunted with such a faux intensity that they border on unintelligible. For a group of this ilk, words can carry so much more power than neandertalic barks and the sooner they realise that the better. The walking embodiment of that idea is next up on stage.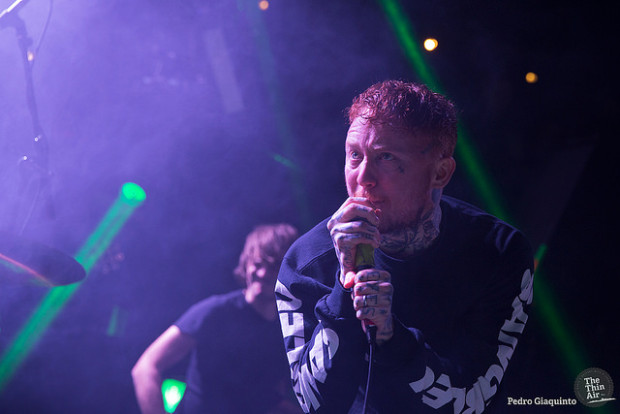 If one thing could be taken from Gallows, it is that Frank Carter (above, below) is one of most formidable frontmen of the 00s. Looking like Ed Sheeran from the darkest timeline, he is a figure of frightening prowess who, despite howling every word, is clear enough to allow to ascertain their meaning; it's the ideal melding of the sound and the fury. There is an expectation that turns to dismay as the band, The Rattlesnakes, first take the stage. Their vaguely bluesy punk rock seems languid and it seems like Carter is phoning it in, pottering rather than charging round the stage. However, these feelings are short-lived, as Carter exits the stage, proceeding along the audience's hands as a makeshift walkway. He stops in the middle of the Academy, literally standing at 10 foot tall above his audience. He's illuminated overhead in pure white light and looks not unlike some kind of messianic ginger come to bring about the new world order. We've been had. When a rattlesnake strikes, it doesn't dive straight in. It slinks and stalks and waits for the perfect moment. Over the next 40 minutes, the audience feels every micron of the band's bite.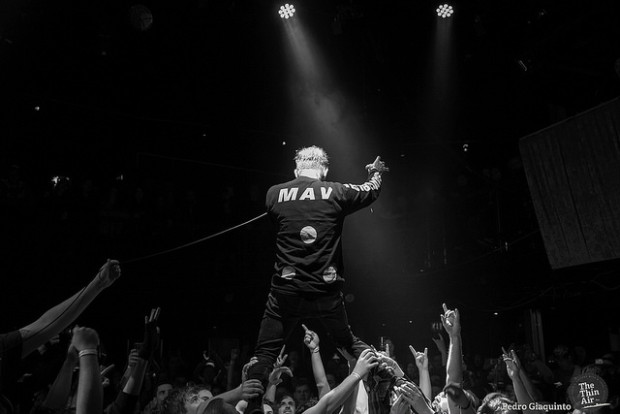 From here on out, the show really begins; an unrelenting onslaught of noise and energy. The singalongs of 'I Hate You' or the power of 'Juggernaut', which deserves its namesake are inspiring. Carter, whose reputation is well earned, has the crowd following his every whim getting them to create circle pits that stretch the width of venue or captivating them with stories of MS paint music videos with used condoms and rockets. Strangely, though, it's in the quietest moment that the most powerful blow is delivered. Halfway through the set, the frontman informs his subjects that'll he be wandering into the crowd and that can only spell terrible things. Walking through the main floor, the crowd separates around him, as though he's radioactive, forming a protective circle around their leader. He tells everyone to sit down, which they all do, and asks the house to turn down the lights and for the audience to turn on their phones. Standing alone, semi-illuminated, a request for absolute silence is made and the audience is made privy to the meaning of the song they're about to hear. In an almost religious reverence, the crowd listens, in silence, to "Beautiful Death". It's a spellbinding and genuinely affecting moment that is unquestionably the highlight of the evening; bustling with a fervour that leads the headliner in a very difficult position of trying to top it.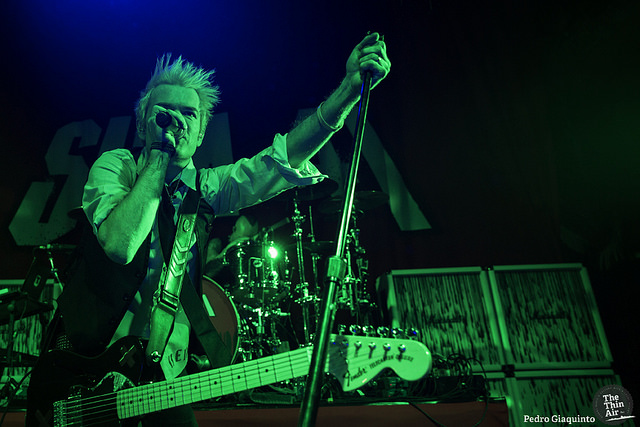 While Sum 41 can't quite match the highs of The Rattlesnakes, there's no denying that Sum 41 do not disappoint. It's their first Dublin show in close to a decade and their first tour date since lead singer Deryck Whibley nearly died as his liver and kidneys collapsed and yet you'd never guess. Everything is delivered with this workmanlike sensibility that only comes from absolute confidence. Their 90-minute set is chock a block with greatest hits leaving little time for the crowd to catch their breath as limbs fly, pits form and people pogo aplenty. By the time the night's closer, 'Fat Lip', rolls around security are on high alert for crowd members trying to bum rush the stage, to varying degrees of success.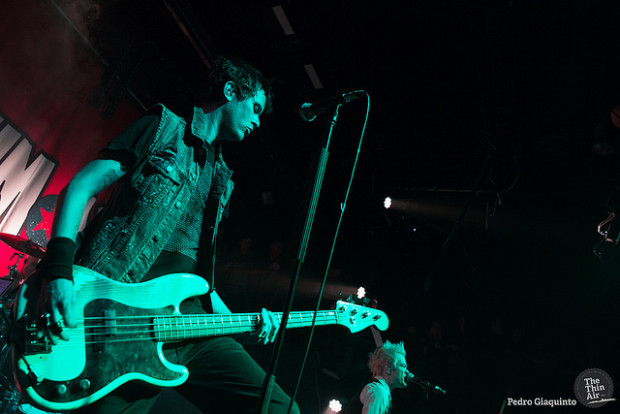 While it is a great deal of fun, the group do put themselves under strain at points. A mid-set Metallica medley and Queen cover, while quite charming, do slow down the pace highlight the limitations of Whibley's unusually high voice. There are also mixing issues as guitarist Dave Baksh's harmonics on 'With Me' become unbearably shrill and bassist Jason Mccaslin entirely sits out 'Pieces' as the roadies struggle to make his bass audible. Fortunately, these are snags in an otherwise excellent set driven by Whibley's charm and charisma and a performance like tonight's only underscores why the group has been able to sustain themselves for as long as they have. There is a such an unmistakable joy to whole show that for a brief moment, it's 2001 again. We've all been transplanted back to early adolescence when we first heard these songs. Everything is new, everything is golden and it's all wonderful. Will Murphy
Photos by Pedro Giaquinto