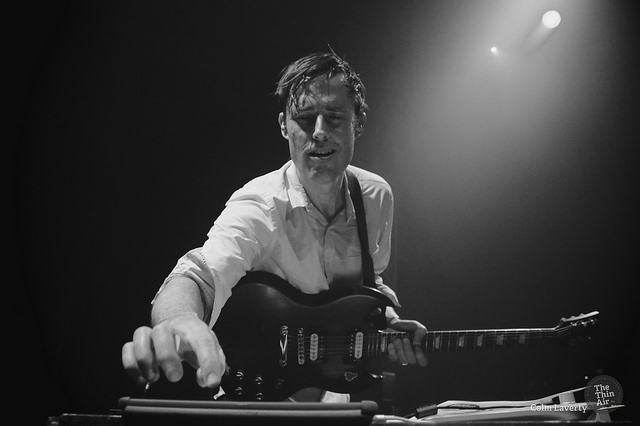 The Button Factory plays host to the first night of Battles' European Spring tour tonight, in support of their latest album La Di Da Di. Having sold out not too long after it was announced last year, the desire for the trio's return to Dublin is immense.
Tonight's sole support, Kaitlyn Aurelia Smith takes to the stage first with an impressive array of synths, sequencers, connective wires and blinking lights, evocative of a young Delia Derbyshire at the BBC radiophonic workshop. She begins with a series of robotic loops, which advances into Laurie Anderson territory as she distorts her vocals through a vocoder. As her set unfolds, songs such as 'Arthropoda' and 'Glide' are quite redolent of certain motifs implemented by the likes of Múm and Stars of the Lid, all fluttering and ethereal, almost too delicate for this particular audience despite the abrupt endings which seemed to catch off guard.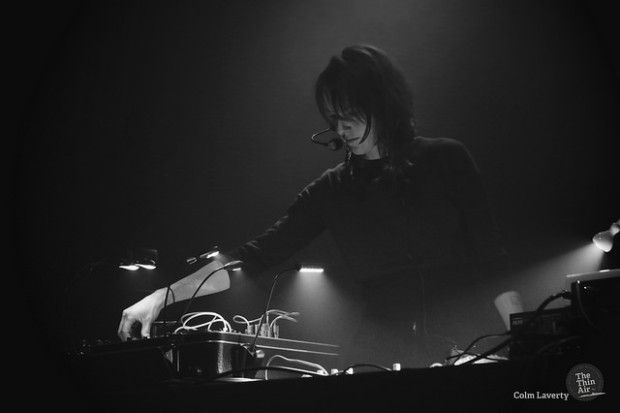 There's a constant fluid and organic theme running through her music; the interludes ebb and flow with such a striking avant-garde quality. 'Sundry' shares nuances with elements explored by Oneohtrix Point Never on 'R Plus Seven', while 'Existence in the Unfurling' could sit snuggly between the subdued offerings on 'Silent Shout' by The Knife. Her set was enchanting yet meditative, which served as an intriguing opening act for tonight.
The set-up for Battles is not dissimilar to their music, compact in its close proximity, as always, which helps to create their perfectly taut dynamic. Their equipment is also strategically placed right at the very edge of the stage, immersing themselves completely with the tightly packed crowd at this sold out show. Dave Konopka takes to the stage first, tinkering away at his pedals while the rest of the band join him shortly afterwards to a rapturous reception. John Stanier, an unrelenting powerhouse at the drum kit, is the vertebrae of the group and prominently centered with his signature high crash cymbal. Ian Williams takes his place between two upwardly angled keyboards, while he pins the guitar high to his chest and is within stretching distance of an Ableton launchpad. Now he's firmly in control of letting it all fly out of his fingers like ghosts released from a Muon trap.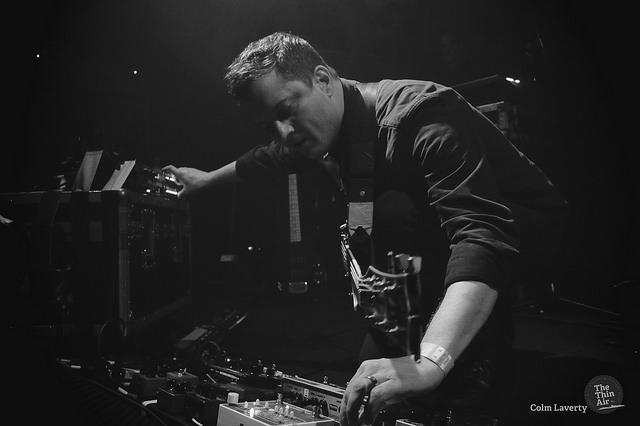 Visceral sounds anchored by powerful percussion are undeniable trademarks of a band with such incessant energy and joy for their craft, made more apparent on this evening's opener of 'Dot Com'. We're instantly observing Battles at their pinnacle, steadily recreating the building blocks of this looping soundscape in front of our eyes as they consistently heave over their instruments. There's a brief pause and the group begin the glistening descent into 'Ice Cream' featuring a sample of Mathias Aguayo from the track instead of live vocals. Still, it grabs all the attention necessary and sets the pace of the night hereafter.
As the midpoint of the set approaches, Stanier tentatively taps out a Bossa Nova beat akin to 'elevator music' while Konopka takes this opportunity to introduce the band and admits they're not usually such 'chatty Cathys' (for anyone confused the reference is to a popular doll from the 1960s that talked a lot – yep, no idea either!). He proceeds to chuckle about their love for Dublin, 'delicious Guinness' and how the plane journey made his nose feel dry, exclaiming 'TMI!' (too much information) which was met with bemused laughter but the audience were far too enamoured with the group who sometimes have a slightly more stoic presence. Williams chimed in with some Battles trivia and stated that 'SZ2' off their second EP was actually named 'Swamp Zombies 2' but they were too embarrassed to call it that and felt an acronym was more subtle.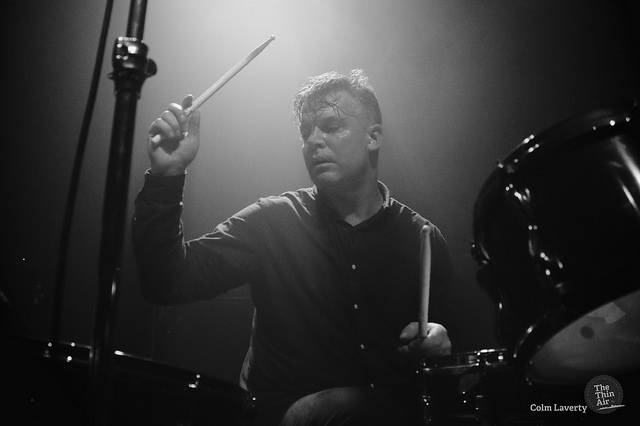 The culmination of the night included the band reaching deep into their early archives and pulling out 'IPT2' and 'Hi/Lo', off-kilter material from their early EPs which they cautiously explain had not been played live in over a decade but the evident mastery here could easily suggest otherwise. The unmistakable 'Altas' undoubtedly gets the loudest response and in the view from above in the upper tier, the sea of heads in the packed crowd look like bobbing floats as the magnitude of the jarring riffs continuously thrashed over them.
The encore ensues with another initial offering in the form of 'B+T' and ends with 'The Yabba' from their new record, with both songs seamlessly intertwining which incidentally share the opening track spots on both of these respective releases. The juxtaposition of fresh material alongside their early work marks a welcome return to a fully rounded and accomplished set, mastering an art of repetition which evidently never fails to excite. Exhaustive… but ultimately self fulfilling. Loreana Rushe