Live Reviews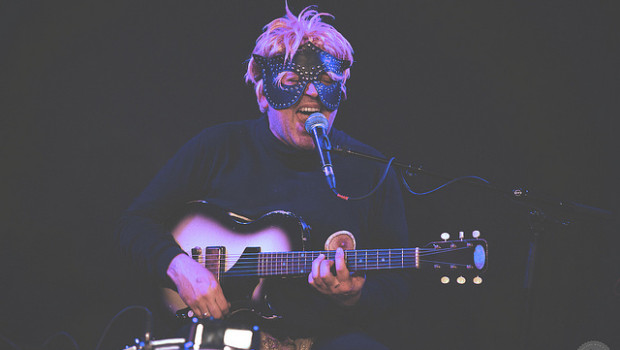 Published on April 26th, 2016 | by Conor Callanan
0
The King Khan & BBQ Show w/ September Girls @ The Workman's Club, Dublin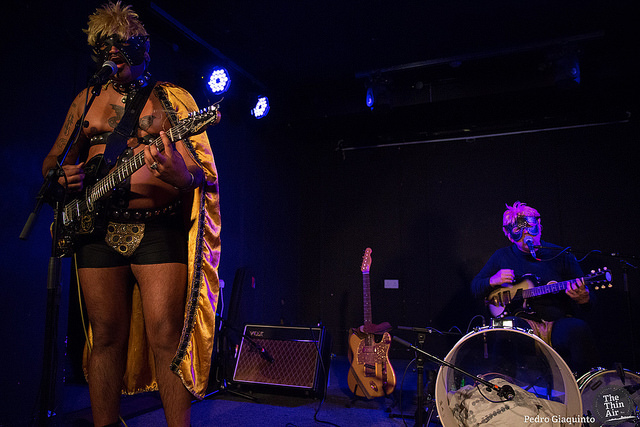 One of the main attributes that is often associated with King Khan and his partner in crime Mark Sultan – AKA The BBQ – when they perform is that the crowd are never left wanting. As a band they are an incredibly tight combo, who not only take huge pleasure in emphasising their die-hard passion for old school rock 'n' roll, doo-wop and punk, but are driven to put on a show that will reside in their audience's memory for some time after they leave the stage.
As a result it's no surprise to learn that their appearance in the Workmans Club lives up to the hype, yet before the Berlin based twosome hit the stage, we are treated to a strong set from Dubliners September Girls. The five piece: Sarah (drums), Jessie (guitar), Caoimhe (guitar), Lauren (keys) and Paula (bass), have just released their sophomore effort Age of Indignation, a record whose topics include modern day feminism, social media and the Easter Rising. 'Blue Eyes' flashes past in a blur of guitar noise while encapsulating the band's love harmonies with that of 80's-esque synth sounds. It's the fast paced and crashing drum playing and drone like guitars that grabs ones attention during the opening salvo of 'Love No One', however the spoken vocal delivery of 'Black Oil' – from 2014's Veneer Ep – is almost swallowed up due to its strident instrumentation.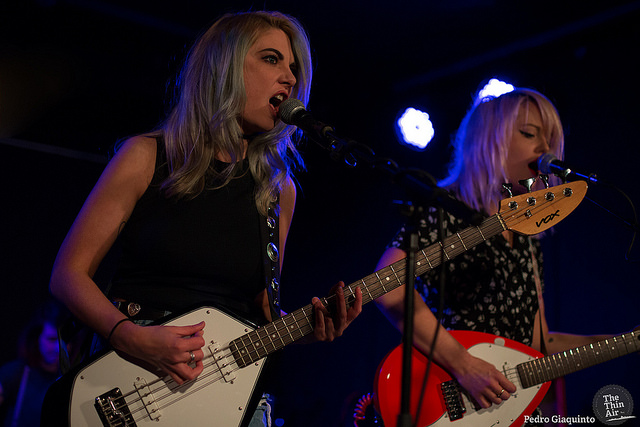 The King Khan & BBQ Show take to the stage wearing matching blonde wigs and Lone Ranger style eye masks, but that is where the dress code similarities end. Sultan sitting behind his bass drum, straps his guitar over a black lycra onesie with added nipples, while Khan and his gold cape looks like the long lost S&M loving member of former WWF mercenaries Demolition.
They begin with an instrumental number that evokes the spirit of 60's garage rock with the blues and has all those in attendance swarm toward the stage. 'Fish Fight' from their self-titled debut, sees Sultan's croon take centre stage, and following a pint of Guinness being brought to Khan he jokes about "product placement", before spitting through the punk fuelled 'Zombies'. Next up is 'I'll Be loving You', a track that could so easily fit alongside any of the dancefloor fillers from the 1950's, with Sultan's smooth delivery a highlight, all the while Khan is pulling out all the moves as he bounds from side to side. Khan takes the lead, and throwing in the odd yelp and scream, on the hip shakin' 'Smokin After Midnight' from 2015's Bad News Boys, while the duo's knack of constructing catchy love songs is obvious on the infectious 'Invisible Girl'.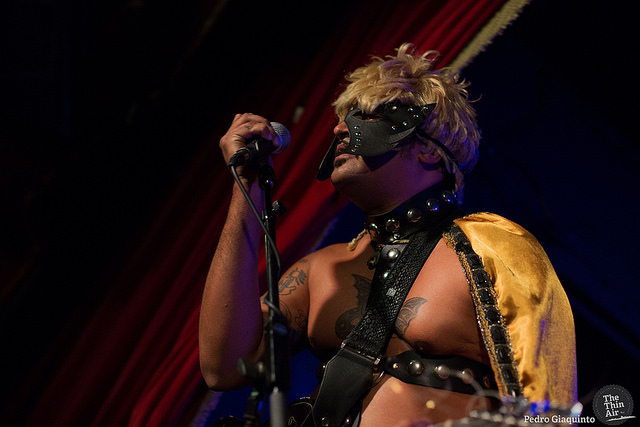 After joking about we should all be throwing motorcycle cops into the Liffey and cars into the canal, just for fun, they kick into the puerile 'Tastebuds'. A little ditty they claim is the dirtiest song they've written, and one their publishers reacted to by asking why oh why were they in business together. As juvenile as the content is, it is hard not to sing along with at the same time.
'Dock It #8' oozes not only with Chuck Berry riffs – so much so you could imagine Marty McFly giving it socks – and metaphors, yet the duo are far more blunt in their lyrical delivery when it comes to getting busy in the back of a cadillac. There is yet more piss taking between the two, with Sultan describing Khan's get-up to that of how he reckoned Michael Hutchence may have looked on his final night. 'Love You So' passes by in a blur of blissful yet fuzzed out joy, while the slow-dance vibes of 'Why Don't You Lie' sees heads swaying in unison.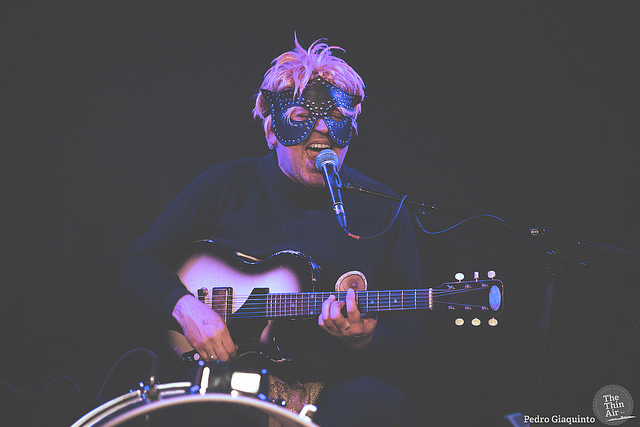 Having bid farewell Khan and Sultan weren't given time to leave before the audience began howling for more, to which they duly obliged as Khan then dedicates a cover of Johnny Thunders' 'You Can't Put Your Arms Around A Memory' to Bobby Sands. For anyone who is not aware of King Khan & The BBQ Show, make sure you don't miss them the next time they pass through your home town or city, as you are in for a night of pure and unadulterated rock 'n' roll. Conor Callanan
Photos by Pedro Giaquinto