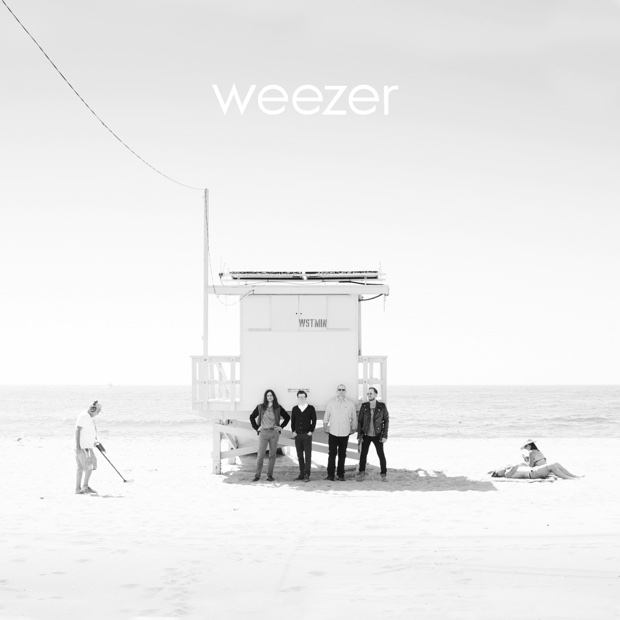 Weezer has had a rough time over the last decade. Things had been on a downward trajectory since 2003's Make Believe and watching what at one time was the most shining example of contemporary pop rock flail about to awkward disco tracks and Lil' Wayne collaborations was both embarrassing and heartbreaking in equal measure. However with their last effort, Everything Will Be Alright In The End, the group seemed to recapture some of their early "Brian Wilson and Steve Smith fronting a Cheap Trick cover band" magic. Reassuring as it was nerve-wracking, the album suggested the dark days were gone and that frontman Rivers Cuomo would return to the angst-ridden solo driven rock music that had made his name. The question was, would be it a slight or a genuine return? While their latest LP, Weezer or The White Album, is a mixed bag, it suggests that this incarnation of the band are here to stay and to have a lot of fun.

White Album is obstinately a record about the Summer and all the love, loneliness and joy that exists therein. Cuomo views those three months as this sort of higher power, like what an addict might submit to, onto which all hopes, dreams, and failings can be attached. 'Wind In Our Sail' is a testament to this. The track is about a couple's sailing trip that becomes an odyssey of exploration, futility and perseverance, tying in the exploits of Darwin, Sisyphus, and Mendel and concluding with the joyous refrain: "We can do so many great things together, together". As with every Weezer record, there is always a longing for love and companionship and here, Cuomo seems to found a partner in the sun, the sea, and the beach to which the whole album is a love letter. Crucially, however, the ennui that made Weezer so compelling in the first place is never forgotten. The album closer 'Endless Bummer' is a fitting climax to the disc. Where every other song has pleaded for these months to last forever, 'Endless' longs for this time to be over and done with. It's a song that evokes 'Butterfly' from their seminal Pinkerton album as a melancholic, downbeat conclusion to a record of glitz and sandy beaches. It let's Rivers be the hapless, misunderstood loser that he was born to be and has been since the early days of the group.

As with every Weezer record since 1996, the shadows of Pinkerton and the Blue Album loom large. The opener, 'California Kids', begins with this xylophone-guitar combination that immediately evokes 'Pink Triangle' and drives its chorus home with the same kind of Beach Boys harmonies that made Blue as spellbinding as it was. 'LA Girlz' has this magnificent soaring bridge that completely levels the competition and stands as the record's most compelling cut. With its twinkling pianos, Explosions in the Sky crescendo, delicate harmonies and cutting solo, it feels like a companion to 'Tired of Sex'. While 'Summer Elaine and Drunk Dori' has an 'In The Garage' feeling married to a 'Getchoo' synth. Add to this a bridge which features a killer half-time break and accompanying solo and it feels as though the years and the bad times never happened.


Sadly, though, while the band took many of the best aspects from their early albums and used them to great effect here, they've also brought some of unfortunate elements of their recent efforts too. Cuomo was one of the primary songwriters on Panic At The Disco's Death of A Bachelor this year and it shows. Where that record had the cocksure Brendon Urie to lead the way, Cuomo's more nebbish persona is nowhere near as convincing. 'Jacked Up' has this swagger piano and R'n'B production that in Urie's hand would feel natural and confident but with Rivers feels uncertain and at odds with everything else on display here. However, the most frustrating cut here is 'Thank God For Girls' which has this 'white guy' hip-hop sensibility that might have charmed a decade and a half ago, but now is cloying and just unbearable. It brings to mind the likes of Hurley and Raditude, two records the band has spent the greater part of this record trying to expunge from our recollection. These tracks hamper the record overall and sew the seeds of discontent, suggesting that this record is more shallow than first appears.

Ultimately, White Album is a solid effort. A handful of unfortunate songs aside, what they've given is thirty minutes of good, straightforward pop music. Nothing is as powerful or exciting as Blue, Green or Pinkerton, but it all snuggly fits within their canon. While it is strange to commend a band for receding into a previous mould, Weezer have the ability write songs of this ilk like no one else. Hearing them revisit this well feels less like The Pixies and more Sleater-Kinney; this was always their home and the prodigal sons have finally returned. Will Murphy