Articles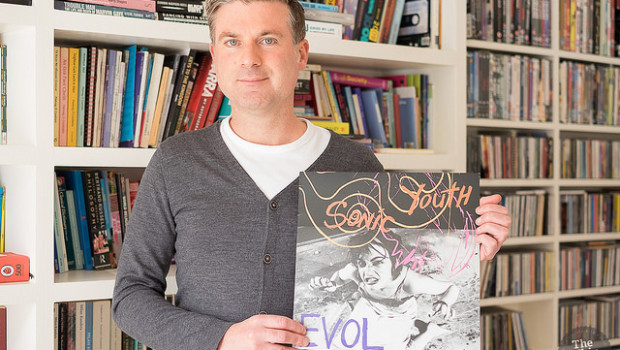 Published on May 30th, 2016 | by Loreana Rushe
0
Track Record: Cian Ó Cíobháin (An Taobh Tuathail)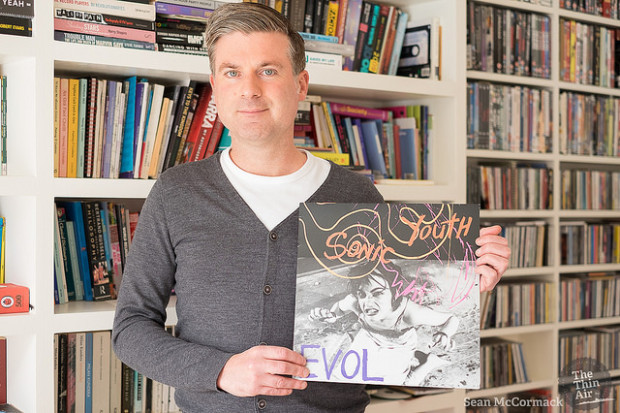 Presenter of Ireland's best radio show, An Taobh Tuathail on RTÉ Raidió na Gaeltachta, Cian Ó Cíobháin reveals some of his all-time favourite records. Photos by Sean McCormack.
Sonic Youth – EVOL
Looking back, it now seems to me that this was the album that 'trained' my ears to appreciate more experimental sounds.  Picture it.  Prior to discovering this, one of Sonic Youth's strangest records, originally released in 1986, I had been mostly listening to what was on the radio and perhaps just been eased into 'indie' music by The Stone Roses and Happy Mondays.  I can't recall how or where I bought a copy of Evol, but like any album you bought as a kid, I fixated on it and listened to it incessantly.  Bassist Kim Gordon has described it as their 'goth' record and that kind of makes sense to me now.  The combination of brooding, menacing bass-lines, the avant-garde guitar playing, not to mention the added city sounds and long, meandering no wave passages – all doing their utmost to conceal that the record has a brilliant pop sensibility at its core – unnerved, fascinated and beguiled me.  I still regularly listen to the album.  Other records of theirs have proven more popular or influential, but this has always been my favourite Sonic Youth record.
Cocteau Twins – Heaven Or Las Vegas
Cocteau Twins' sixth album will forever be my 'summer' album.  The colours on the classic 4AD sleeve seem to mirror the colours of the summer sky at twilight, all luxuriant shades of indigos, scarlets and violets and the songs possess similar hues.  I've been joined to the hip with this album since I was about fifteen/sixteen, owning copies on cassette, CD and, now, this latest remastered version on vinyl and have spent a lifetime spellbound by every coo, mew, murmur and wail that singer Liz Fraser utters.   From 'Cherry-coloured funk', which opens side one, to 'Frou-frou foxes in midsummer fires', the final track on the second side, few other records in my collection fly so close to the sun without getting burned.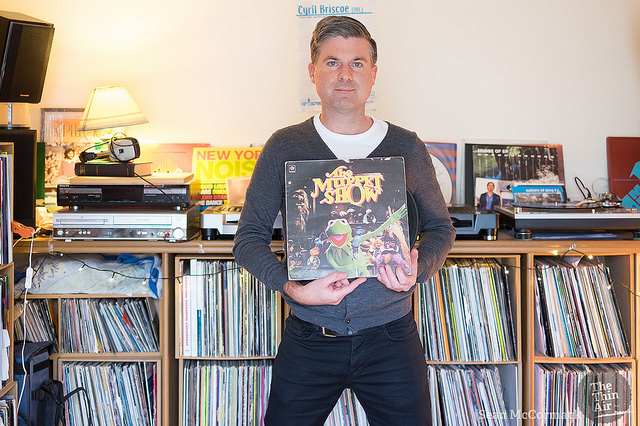 Various – The Muppet Show
This is the first record I ever owned. In fact for a long time, it was the only record I owned.  I played it to death on the old gramophone at home in west Kerry.  It features such classic as 'Lydia The Tattooed Lady' (made popular by a ringtone in the last season of Breaking Bad, although I think it may have been the Groucho version, rather than the Kermit one), the 'Mahna Mahna' song and of course that riotous 'Muppet Show Theme', which I used to shoehorn into my DJ sets many years later in the nightclubs of Salthills, after I had made the move to Galway.
Four Tet V Pole – Pole V Four Tet EP
This EP from was based on a very simple premise.  Kieran Hebden (Four Tet) and Stefan Betke (Pole) each created an original track and then remixed the other's work.  When it came out in the summer of 2000, my radio show was a year old and sounds from both artists regularly featured on the show, including Fridge, the math-rock band that Hebden played with at the time.  The stand-out track on this EP is Four Tet's gorgeous remix of Pole's 'Heim', which is a complete re-imagining of the original track, adding plaintive, neo-classical piano and a two-step kick, which still sounds utterly timeless and is amongst the most played tracks on An Taobh Tuathail.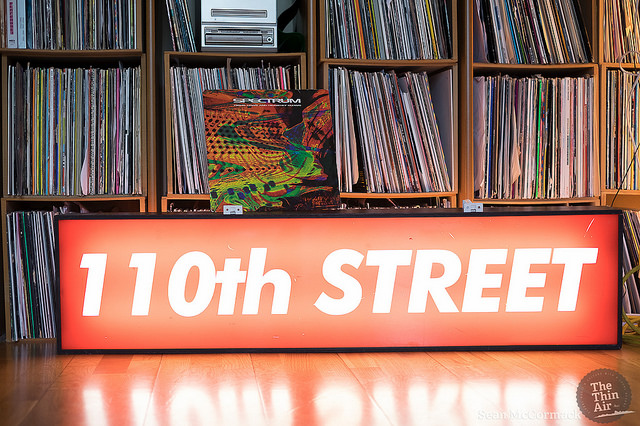 Spectrum – Highs, Lows & Heavenly Blows
When Spacemen 3 disbanded at the dawn of the nineties, one band member Jason Pierce went on to form Spiritualized, while Pete Kember AKA Sonic Boom set out on his own singular path. I was familiar with Pete's first début solo album, which he called Spectrum, which was recorded (with members of Spacemen 3) under the name Sonic Boom in 1989.  Later, for his Spectrum project, he brought in new band members and I've long treasured this, their second album from 1994, in particular the dreamy and languorous second side, which lives up to the psychedelic imagery conveyed by the album title and sleeve.
Boards Of Canada – In A Beautiful Place Out In The Country EP
This EP came out towards the end of 2000, right between two of their more highly-regarded albums, Music Has The Right To Children and Geogaddi.  Four eldritch tracks, pressed on sky-blue vinyl, weaving the Scottish duo's familiar motifs of nature, childhood and madness with a fascination with religious doomsday cults.  The second track, 'Amo Bishop Roden,' is named after a widow of a rival of David Koresh from the Branch Davidians religious sect and it is alleged that is it Roden's own vocoder-processed voice that you hear on the title track, imploring you to 'come out and live in a religious community in a beautiful place out in the country'.  I remember when I first got it, being confused about which speed to play it at (both sound good). Even though it's a 12", the 'correct' speed is 45RPM.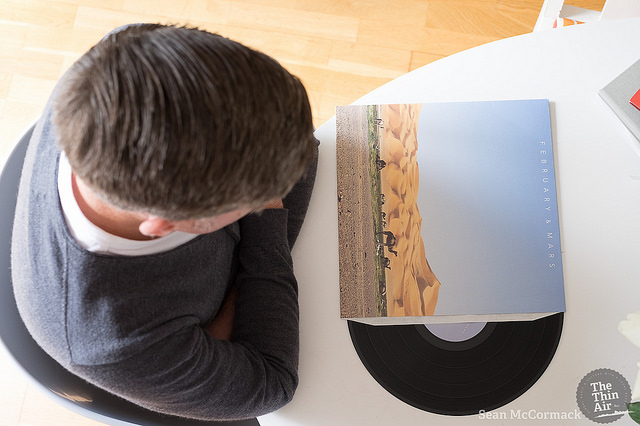 February & Mars – February & Mars
This is the newest record I have with me today, made here in Galway by Jack Considine and Carl Rumberg and produced by John Daly.  Released with very little fanfare by Berlin-based Mojuba Records at the end of last year, like all great 'sleeper' records, it has gradually began to pick up momentum through word-of-mouth recommendations.  John Daly's considerate production (which recalls Tusk-era Fleetwood Mac) and the vintage synths lend the record a timeless ambience, but at its heart lies some amazing song-writing, with tracks that gently work their way into your life, until you wonder how you ever lived without them.
Various – City Rockers presents Futurism
As you can see, I've pretty much worn out my copy of this record from 2002.  The first Futurism compilation, compiled by Damian Lazarus for City Rockers, was almost a blueprint for the music we played at 110th Street, a club night which Cyril Briscoe & I ran twice a month in Galway's GPO, that year.  It features most of the major electro-clash anthems of that era: 'Sunglasses At Night', 'Silver Screen – Shower Scene, 'La La Land', 'Vicious Game', 'Hand To Phone' etc.  The record concludes with the Royksopp remix of 'What Does It Feel Like?' by Felix Da Housecat, still one of my favourite tracks to this day.  Every bandwagon deserves to be ridiculed, but it's important to note than when electro-clash burst on to the scene, there was a brief moment where its energy, colour and attitude was a panacea to what soundtracked most club nights at the time, be it bland, Hedkandi handbag-house or bloated Sasha/Digweed prog-house work-outs.
Madonna – Like A Virgin
I first bought this on cassette in Golden Discs on Grafton Street in the mid-eighties.  I was completely besotted with Madonna on pretty much every level: her looks, her attitude (particularly the way she plays 'herself' in 'Desperately Seeking Susan'), but most of all with her songs. Turns out that this album provided an excellent education in attuning my ear to the rhythms of disco and house.  The album was mostly produced by Nile Rodgers (who plays guitar on some of the tracks), while his Chic band mates Bernard Edwards can be heard on bass and Tony Thompson on drums.  Sure, Madonna came up with some great tracks after this, but for sheer consistency, Like A Virgin will always be my number one.
Joy Division – Still
I can't vouch for the reliability of my memory, but I think that the Still compilation was my gateway to Joy Division, a band whose songs are more popular now that they were when I first heard them. As the first hairs began to sprout above my lip, an urbane friend from the great music metropolis of Cork made a cassette copy for me, having been encouraged that I was already listening to the likes of Pixies, The Cure, Nick Cave, Leonard Cohen & The Jesus & Mary Chain.   Straight onto my headphones, I was instantly drawn to the timbre of Ian Curtis' voice.  I didn't know anything about the history of the band and it would takes years of listening to them before I would come to appreciate the nuances of Martin Hannett's production, Peter Hook's pioneering basslines and just how ahead of the curve they were.  So, for my first couple of months listening to Joy Division, I heard them in an isolated bubble devoid of all their history and context, letting my imagination interpret the songs.  I spent hours listening to 'Still', which is essentially a compilation of songs that didn't appear on their LPs, merged with a recording of Joy Division's last ever live performance, before I eventually got around to seeking out their landmark albums.  I recall later picking up a special edition of this album: two cassettes housed in a purple box, redolent of a 'Cadbury's Milk Tray' box, though I have no idea where it is now.  It might turn up some day.
Cian Ó Cíobháin presents An Taobh Tuathail, Monday to Friday, 10pm-midnight, on RTE RnaG.
For DJ bookings, including weddings for music lovers, check www.cianociobhain.com
Upcoming gigs:
Sunday, June 19: Reckless In Love @ Body & Soul, Co. Westmeath
Sunday, June 26: Interlude @ RHA Gallery, Dublin
Saturday, July 2: Áras Éanna, Inis Oirr, Co. na Gaillimhe
Saturday, August 20: Another Love Story @ Killyon Manor, Co. Meat