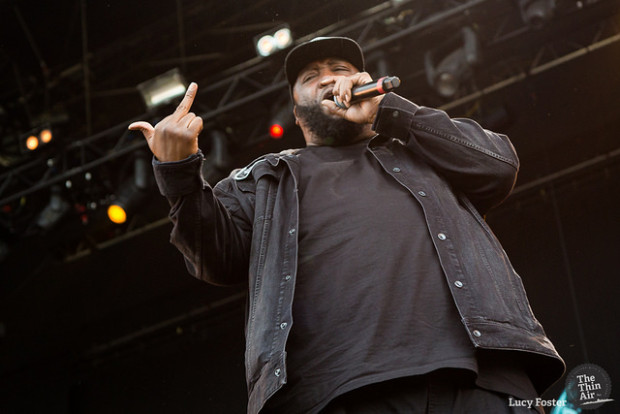 The sun ushers in a sold out audience to the second day of Longitude 2016. After a Friday that was on the verge of ruin due to an over aggressive, extremely young audience, Saturday seems to have drawn a much softer crowd and it's well needed. First off, Rejjie Snow (below) continues the hip-hop focus of the weekend with a blend of recognised tracks and new cuts. With the energy and stage presence of a performer far beyond his experience, Snow captivates his early afternoon audience. His new material has a vibrant toughness unseen before and it looks like his upcoming debut album is one to be excited about.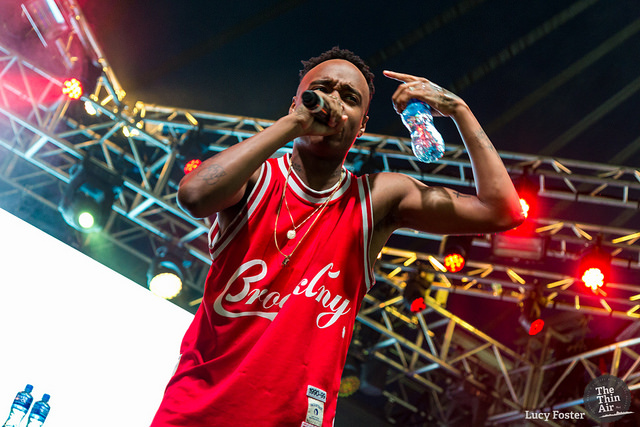 It's been a great year for UK grime and one of grime's most famous sons takes to the main stage next. Faced with a surprisingly large crowd, Stormzy (below) puts in a performance that's hard to fault. Whilst he's slightly less visceral than some of his peers, it's an incredibly fun set that the 22 year old rolls out with a constant smile on his face and a barrage of cheesy but sweet proclamations about how happy he is to be here.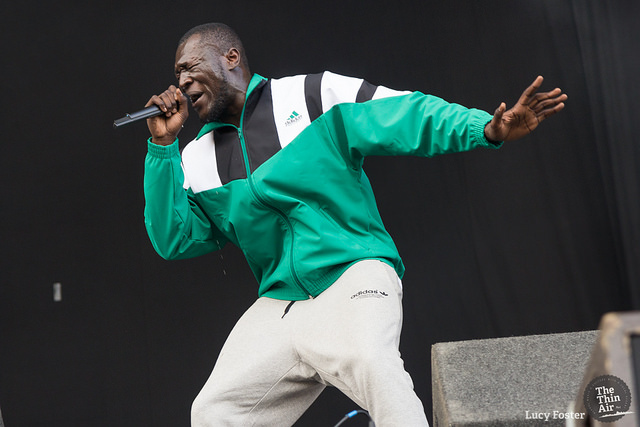 His major hit 'Shut Up' has the crowd at its most excitable, especially after a great bit of audience interaction but 'Know Me From' and 'Not That Deep' among so many others comfortably establish Stormzy as a grime anthem writer with a lot more crossover appeal than most. It's a successful set which is finished off by a victory lap of hugging fans.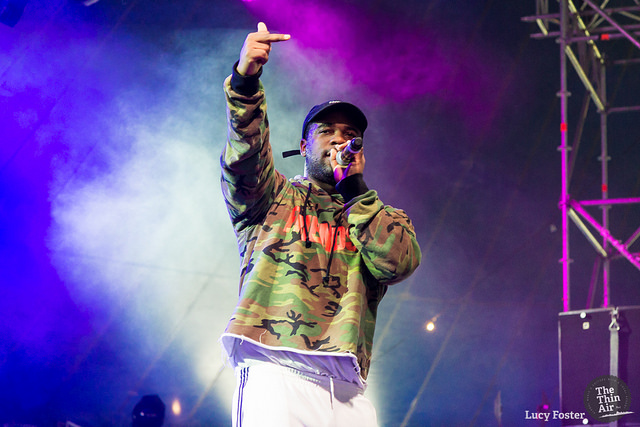 Annie Mac takes things down a notch with a less frantic turn on the main stage. It could have been easy for Annie Mac to be lost on such a young audience but she delivers a set which leaves many of the kids here converted – mostly proved by the massive increase in crowd size as her set goes on. On a weekend where Jamie xx takes to a second headline spot with the enthusiasm of someone facing a maths exam, she shows exactly how to make a DJ slot at a festival exhilarating and interesting. Elsewhere, ASAP Ferg (above) performs to a dedicated cult following over at the Heineken Stage. One of the greater hip-hop picks of the weekend, his set is absolutely blistering whilst maintaining a mass appeal and it won't be long until he'll be headlining tents of this size.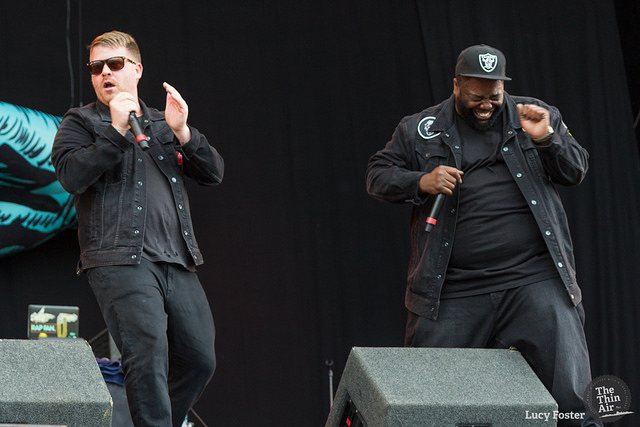 Run The Jewels' (above) second headlining slot behind Major Lazer seems like an odd choice for the organizers, particularly given the popularity of the other two nights' second headliners (The Lumineers and Jamie xx), however it quickly comes apparent that Run The Jewels are more than deserving of the slot. One of hip hop's most interesting acts, Run The Jewels absolutely dominate the main stage. Tracks such as 'Oh My Darling (Don't Cry)', 'Lie, Cheat, Steal', 'Blockbuster Night Part 1' and 'Love Again' are absolute masterclasses and Mike (pictured top) and El-P (below) sound even fresher in front of a live audience than they do in the studio. The perfect performers, the pair litter their set with sweet jokes, comments for their audience to look after each other if anyone falls or gets hurt and an adorable chorus of 'Happy Birthday' to El-P's girlfriend. They marry the political with the party so effortlessly and prove why they're one of the best hip-hop acts of our generation, leaving their audience with a glow.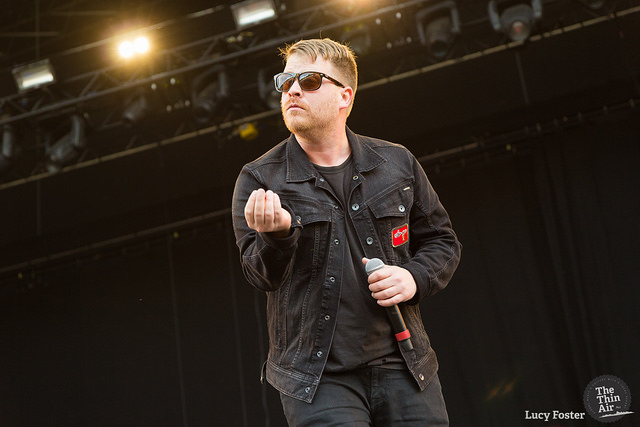 Headliners, Major Lazer (below), take to the stage like Run The Jewels' pop loving, major budget distant cousins. Full of fun and energy, they race through a high octane, incredibly fun set. Throughout the day and the music press there's been murmurs of disinterest and dismissiveness of Major Lazer as a frothy pop act that don't deserve the headline slot but that attitude is doing Major Lazer a serious disservice. They may be fluffy but as the set plays out, it draws attention to how many of current pop music's greater tracks come from the trio on stage. They draw from an eclectic set of influences and do what pop music should at its best – entertain and expose the masses to new types of music. The massive stage set up couldn't possibly be in any other slot than headlining – choreographed dancers, t-shirt cannons and general mayhem is the order of the night and it's the perfect end to a day of fun and earnest acts.
Despite seeming like one of the sparser days of the festival, Saturday is Longitude's greatest day logistically. Initially, it's hard to tie a line up of Stormzy, Annie Mac, Run The Jewels and Major Lazer together with any sort of common denominator but somehow they're far more consistent alongside one another than any other day of acts. The boundless sense of fun within the aforementioned acts makes for the ultimate festival experience and facilitates a well earned break from the tense, heavy drinking atmosphere that dominated Friday's audience. An almost all-round success for everyone. Kelly Doherty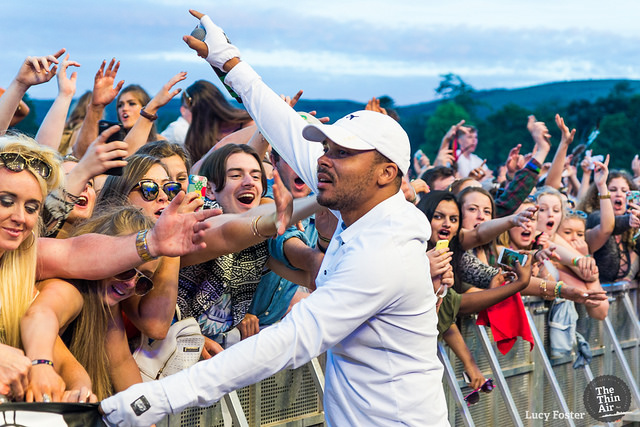 Photos by Lucy Foster

Go here to check out Friday of Longitude 2016.