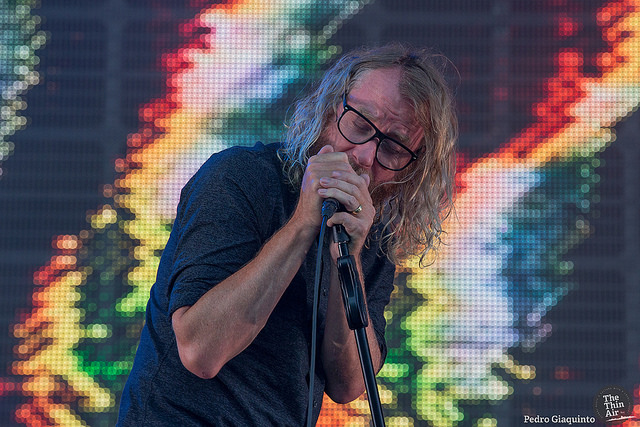 It's not the norm for a three-day music festival here to have perfect weather from start to finish. It just isn't. Yet somehow it's clear to all that the sun gods are well and truly shining down on the side of Longitude's promoters and its thousands of sun cream covered attendees this weekend. Upon entering the main arena there is a noticeable throwback to the early days of Oxegen where the bars and countless food stalls attempt to keep everyone penned in due to its arching layout. Not to be left out, there is a palpable Electric Picnic vibe when you stroll over the bridge towards the Heineken and Whelan's stages. The latter of which is particularly well hidden, which may explain why the older crowd begin to unofficially gather there, so as to be as far away as possible from the pissed-up, sun-kissed youthful element.
Entering a bulging Heineken big top, it seems as though quite a few punters caught Christine and the Queens' recent appearances on Graham Norton and …Jools Holland. 27-year-old performer Heloise Letissier – who turned to her alter ego Christine following time living in London and alongside her band mates – produces a flawless performance of synth and hook laden pop. The choreography that won over so many television viewers is also out in force, as Christine and her back up dancers enthral all, or at least those with a healthy view, with their imaginative footwork. Cheers ring out when Perfume Genius arrives for a duet with the highly energetic frontwoman, and the applause keeps on coming when she compares a flower she is delicately holding to Beyonce, as it too is strong and beautiful. Ironically, its head falls off at just the wrong time, to much amusement.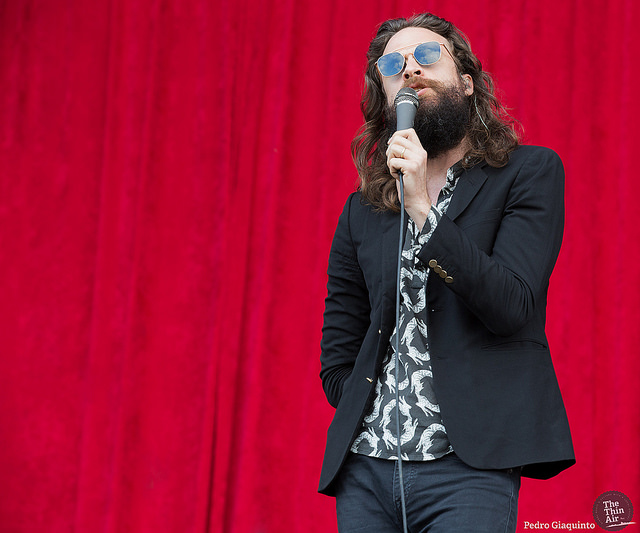 Shortly afterwards on the main stage former Fleet Foxes drummer Joshua Tillman AKA Father John Misty (above) and his band of sullen-looking cohorts begin their set of Americana-tinged country folk. With just a large red backdrop for company, 'Funtimes in Babylon' and 'Chateau #4' allow the frontman to prowl the stage and move in ways not too dissimilar to Jarvis Cocker, whilst at the same time still being able to remain looking uniquely suave as you like. As 'Bored in the USA' kicks in, Misty jokes about seeing "someone run as fast as they could away from the stage as soon as this song started, which is a good sign!" Whilst the downtrodden themes of 'I Love You Honeybear' and final number 'The Ideal Husband' seem at odds with the glorious sunshine, it's clear their author doesn't care one iota.
Perfume Genius may have found himself performing to more bodies than expected following his appearance with Christine and the Queens earlier due to the Whelans' tent being rather full. The extra numbers don't exactly coax an extroverted performance as he seems content to stay pretty still on his knees or sit rather snuggly behind his keyboard for the majority of his set. There is a clear atmospheric feel to his pop-imbued music, something which works rather aptly alongside his delicate, hush-like delivery.
Being a former member of The War on Drugs is just one string on Kurt Vile's bow, yet over the course of six albums he has outgrown his former colleagues and begun to climb the indie ladder on his own accord. He and his fellow Violators (Jesse Trbovich, Rob Laakso and Kyle Spence) arrive on stage to little or no fanfare, and to what is a surprisingly small crowd, especially given his Vicar St show just seven months ago. Opening with the banjo led 'I'm an Outlaw' it's clear that Vile is not purely renowned for his guitar playing capabilities, however they come to the fore for the remainder of his set. It's not surprising that Vile prefers to keep the head down and get on with it, rather than rambling or conversing with his audience; his face being covered behind his dark mane for the most part. Even though all four on stage are clearly gifted musicians, as there are quite a few instrument swap overs, there is a lack of energy throughout the performance, suggesting the sesongs are best heard through headphones.
When ti's time for Ohio's finest The National to appear, the crowd swells rather drastically as the members stroll out on stage. Accompanied by a three-man brass section the group kick into a double helping from their last record Trouble Will Find Me courtesy of 'Don't Swallow the Cup' and 'I Should Live in Salt', which sees the audience sing back every single word. They seem in confident mood as the first of three new songs, 'The Day I Die' is given an airing very early on. It's a track that sees vocalist Matt Berninger (pictured top) haunch over the mic as he spits out the words "I don't have the drugs", while the Dessner brothers' guitar skills come to the fore.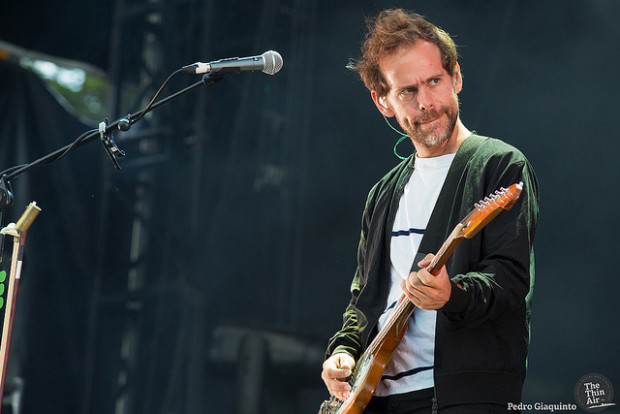 The delicate piano playing during 'Squalor Victoria' is a highlight, and witnessing the merging of the horns and guitars throughout 'England' is particularly mesmerising. As Matt exits following a raucous 'Graceless', Aaron Dessner mentions how some of the band ran up the mountain to the left of the crowd (his brother Bryce, above, quipped how he was not one of them). Lisa Hannigan joins proceedings for a unique rendition of 'Fake Empire', much to everyone's delight, while 'Mr November' and 'Terrible Love' sees Berninger venture out to the crowd, as is the norm for this at times erratic frontman. It's hard to tell if his bandmates approve but the fans most definitely do, as each and every one who is close tries their best to hold him for as long as possible.
They finish up with a stellar acoustic version of 'Vanderlyle Crybaby Geeks', as Berninger points his mic toward the thousands of voices who sing back without missing a word. It's a victorious performance from a band who are on top of their game, having had years to perfect it. Here's hoping to many more years of lunging into crowds and smashing wine bottles. Conor Callanan
Photos by Pedro Giaqunito
Check out look at Friday and Saturday of Longitude 2016