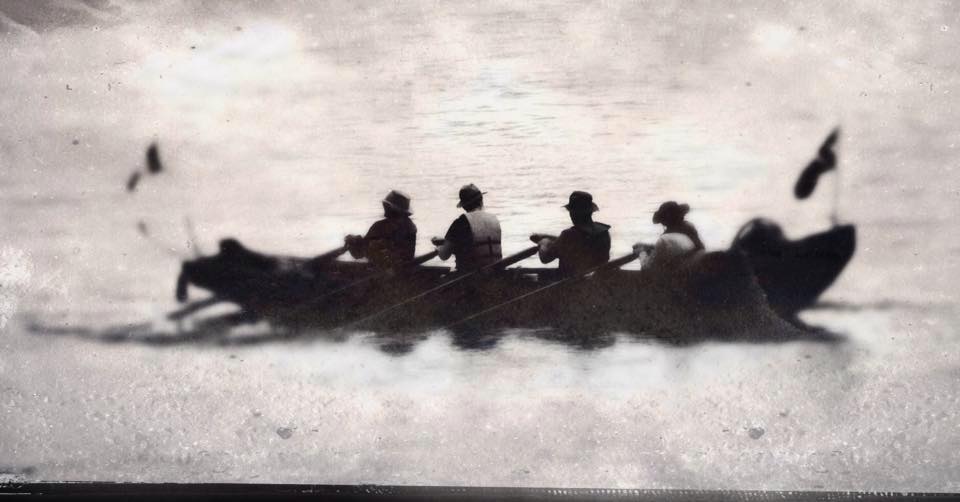 "It's important to do mad things. I don't think it's very wise not to do mad things." So says Danny Sheehy, sagely. And what could be wiser than for a writer, an artist, a stonemason and two musicians to make a wooden-framed, canvas-covered boat and sail it, from Dublin, across a couple of seas, to join the route of the Camino de Santiago de Compostella?
Sheehy is one of five wise men on the stage in the Ulster Museum, along with Glen Hansard, Brenden Begley, Brendan Ó Mhuircheartaigh and Liam Holden. Middle aged, weather beaten, grey haired, and with a beard or two amongst their ranks, they have all the outward credentials at any rate of wise men.
Of course, wisdom is a relative concept, and only Holden, as it transpires, knew anything at all about navigational skills when the men set off from Dublin on their pilgrimage – a musical pilgrimage of sorts – in May 2014
None of them knew the first thing about rowing. Ah sure, never mind. A model of the Naomhóg—as they call the traditional vessel in the Dingle Peninsula-sits in front of the wise men; it looks sturdy enough.
As the evening unfolds, with stories and confessions punctuated by song and bursts of poetry, the five men retrace the steps, or rather the countless strokes, of their epic journey – an adventure as senseless, or as profound, as you could care to imagine. Never have the well-worn sayings 'pull your own weight' and 'pull together' held more resonance.
The boat was made by these wise men – naturally – and based on a 2000-year old Blasket Island design typical of fishing communities in Western Ireland, though variants can also found in Wales and Scotland. The Naomhóg is a light rib-framed vessel, fitted for masts, though our five wise men, one admits ruefully, had brought an outboard motor along, just in case blisters became unbearable or sanity took hold.
The motor, it turns out, fell over the side while loading the boat and sank to the sea-bed. That was day one. Pilgrimages are never meant to be easy.
From the Liffey, the quintet sets out across a calm Irish Sea under a starry sky, rowing for twenty three hours across the same water that has seen invading armies come one way and emigrants go the other through the ages.
Wales, Cornwall and Brittany, the Basque Country, Cantabria and Galicia are stops along the way of a journey made in stages, where dry land and wet whistles provide succour and comfort from the toils of the open sea. The first port of call, so to speak, in every town, is the pub. For local wisdom, of course.
In these hallowed watering holes, knowledge of winds, tides, currents and the lurking danger of rocks is gleaned. Rocks would rip the Naomhóg's fragile shell to pieces.
The Naomhóg, however, is so light in the water that it floats on the waves, rather than crashing through them and thus avoids hidden rocks. And, remarkably, unwanted water. "No water came on board at any point," Hansard declares.
The remarkable design of the boat is an ancient skill, which like so much else from our collective past, is gradually disappearing. For this reason, if for no other, the five men's epic journey, a journey to the distant past as much as one into an unknown future, was worth pursuing.
Accordion, acoustic guitar and bodhrán combine in polkas, waltzes and Hansard's poignant balladry. Dublin poet/playwright Stephen James Smith joins the crew on the Ulster Museum stage. His line about rocks, those 'patient hunters' and the query, 'how much violence have they caused by simple stillness?' places the wise men's achievement in sobering context.
At times along the way the sea was too fierce to leave port, and days were spent playing cards, keeping a weather eye open. The call of the sea was strong, however, as Begley recalls the old sea-faring adage: 'Men in boats rot in ports'.
In the boat, exhaustion, aches and self-doubt were the greatest enemies, and singing, Hansard, explains, got them through long hours and discomfort. A recording of the creaking rhythm of the oars leads to a spirited vocal song, part-spiritual, part-African slave-era work-song.
There are tales of an 'outrageously sexy' Basque barmaid, of talking to whiskey, of the personal challenges faced rowing twenty miles per day and of the endless amount of goodwill encountered from port to port. 'If you do something crazy,' Hansard observes, 'it's amazing how folk will get behind you and actually help you.'
The physical and mental strains endured, no matter how excruciating, were never insurmountable. 'It's incredible how human nature can dig so deep,' says Holden. 'If you really need to get somewhere you will. You surprise yourself and bring out an inner strength when you have to. For me, that was one of the big things in the voyage that I discovered about myself. "
Stephen James Smith returns to recite the epic poem 'Dublin You Are', his ambiguous, lyrical ode to the Irish capital, that 'tough bastard, yet full of the softness of all the people on your streets.'
A rousing version of Brendan Behan's 'The Auld Triangle' draws a suitably celebratory line under the evening. To a standing ovation and great applause, the five men file off the stage. There's no call for an encore. There's no need. Everyone knows that the journey has come to a natural, perfect end.
Oddly, perhaps, the point of the sea journey to Santiago de Compostella is never quite clarified, but no matter, this evening's tales should serve as inspiration to anyone thinking their own wise thoughts of wild adventures. Ian Patterson