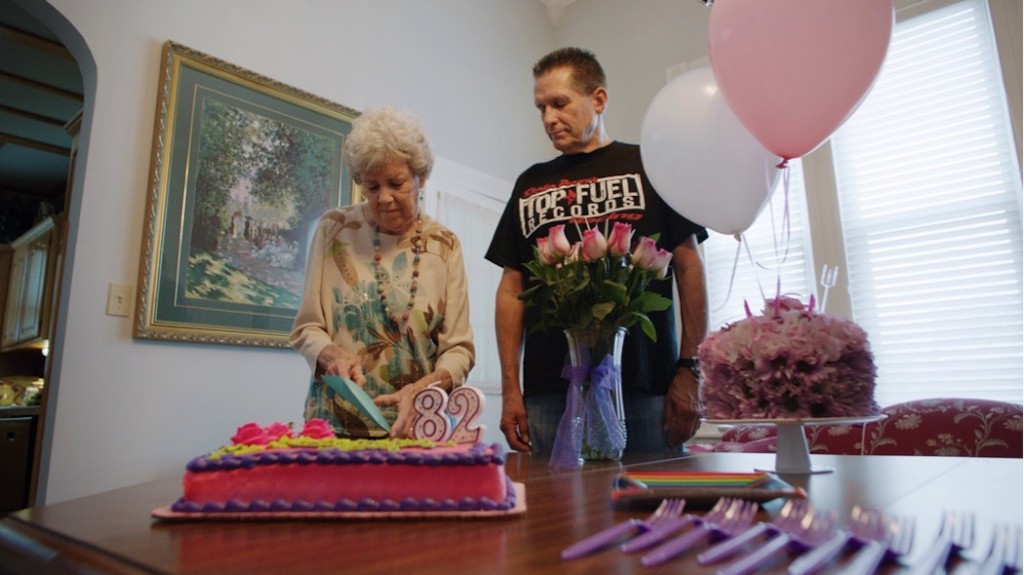 Laois-born Ken Wardrop has an Irishman's fascination with mothers. His graduate film for Dun Laoghaire's IADT, Undressing My Mother, was a frank and physically candid portrait of the Wardrop matriarch, glimpses of the widowed farmer's wife's bare flesh set to her ruminations on body, family and her late marriage. His first feature documentary, 2009's His & Hers, profiled girls and women of all ages from the Irish Midlands, their testimonies tracing the arc of womanhood from teenage stress to last-call loneliness. For his latest doc, Mom and Me, Wardrop heads across the water to Oklahoma's wide flats, bringing men into his frame for a look at Mama's Boy Okies and the women who brought them into the world.
As in His & Hers, Wardrop vanishes into the background, inviting the subjects to speak for themselves, the various experiences connected by local radio show host Joe Cristiano, who, with Mother's Day approaching, asks listeners to call in about their maternal relationship, and peppering the stories with his own childhood memories. Having the men phoning up the radio show in the beginning feels a litte stagey, but the format loosens, letting us just observe everyday conversations between the various mother/son pairings.
Wardrop focuses on adult, generally middle-aged men, but there's variety within that bracket. Among the cast is the Iraq vet, unsure how to speak about his combat experience; a recovering drug addict who spiralled into crime when he got a stepfather; a cheerful Buddhist who banters with his mom over tea. As men in comparable life stages they share a cluster of concerns: regret and forgiveness for past resentments and anxious anticipation for the inevitable loss on the horizon.
Even amongst the light domestic chattering the threat of the future void lurks ominously, and some stories can't help but be moving, like the gaunt woman in death's door, communicating via written notes and playing chess, her son wondering what he's going to do with the board when she's no longer around.
Wardrop keeps the camera static and gives the colouring a washed-out flatness, emphasizing intimacy by boxing everything in a square frame ratio. This visual proximity has a light comic effect, the careful compositions and hints of whimsy on the score recalling Louis Theroux or, and this is a real stretch, Wes Anderson. There is something innately silly and cute about how forty year-old men and their moms get on, and the film's happy to let that play out even when the topic at hand is serious.
An opening montage of manly muscly men doing manly muscly things backs up the apparent identification of Oklahoma as the Union's "manliest state" (sounds like a self-awarded title to be honest) but there isn't much exploration of specific gender politics, geography or their intersections. Aside from firearm practice sessions and the appearance of a 'cowboy preacher' sermonising inside a cattle shed, this could take place anywhere, and the film would have benefited from a more thematically coherent vision. Still, the universality is part of the appeal. Mom and Me is packed with built-in empathy and even if it lacks the existentialist punch of Wardrop's previous doc, it's still honest and poignant, with a hands-off gentleness. Conor Smyth
Mom And Me is showing at Queen's Film Theatre until Thurs 25th Aug