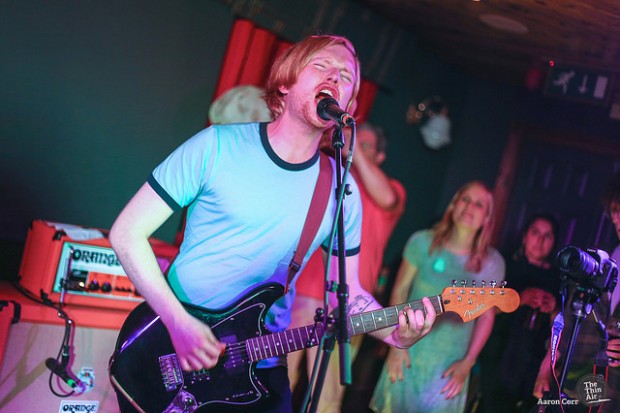 At one stage, Popical Island's regular Popicalia nights were such a staple of Dublin's indie scene that Retarded Cop even wrote a song about it (found on the Popical Island #2 compilation), so its return with a stellar lineup – and an invitingly colourful poster courtesy of Ruan Van Vliet – after a 2 and a half year hiatus was always going to attract a hefty crowd to its new home in the cosy surroundings of Bello Bar.
Ginnels (below) opening set sees Mark Chester add a new violinist to the lineup, adding an extra layer to the infectious indie pop of 'Algebra' and 'Gangs of Witches', tracks that channel the likes of The Clean and Guided By Voices without ever sounding derivative of them. The set has an anarchic feel to it with false starts, a broken string and Roy Duffy repeatedly playing the riff from Limp Bizkit's 'Take A Look Around' between songs (which continues later through Squarehead's set but never quite stops being funny), but the songs themselves are tight, with a much bigger sound than their lo-fi recorded counterparts.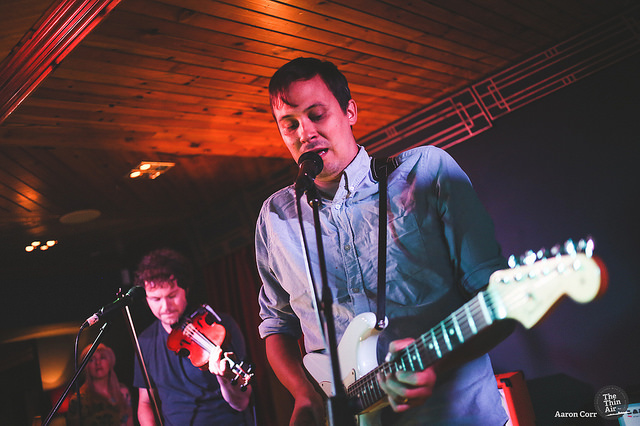 Opening with 'Crowd Of Lungs', Land Lovers (below) decide their setlist as they go along but lean heavily on solid new album The Rooks Have Returned, Padraig Cooney's crooning lending them more of an Elvis Costello vibe than the others on the bill, blending often bluesy riffs with occasional synth flourishes and Maggie Fagan's steady rolling drums to an increasingly packed out room.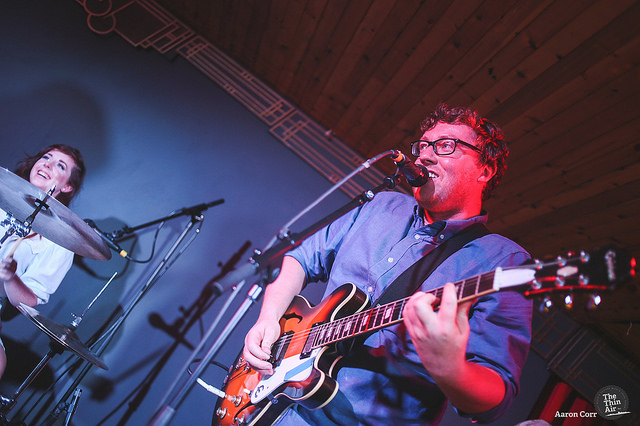 Squarehead's (main, below) energy is impressive considering two thirds of them have already played tonight with Ginnels, and their set leans heavily on 2013's RESPECT, with tracks like the punky 'Knives' and especially '2025' receiving the kind of fervent singalong usually reserved for a headline slot in Marley Park. A handful of new songs – due to be recorded imminently for a long awaited third album – are unveiled, retaining RESPECT's harder edge; the 60s inspired surf pop sound of debut Yeah Nothing now largely a thing of the past, only represented tonight by early favourite 'Fake Blood'.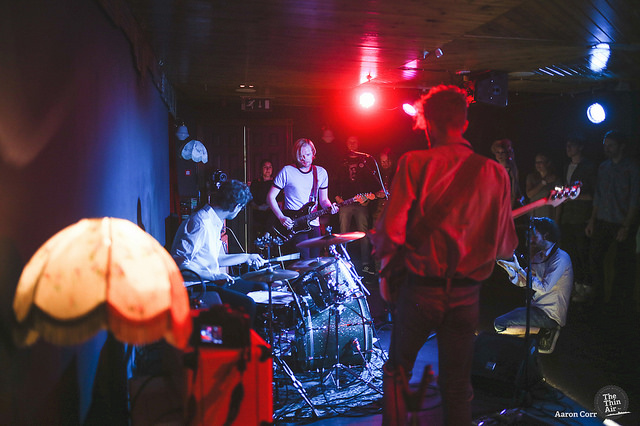 Calls for an encore lead to a hilariously shambolic instrumental attempt at the national anthem before they finally give in to those requesting Blink 182's 'What's My Age Again?' It's a far cry from their Everly Brothers covers of the past but it brings out a certain nostalgia of the days of being a teenager in your first cover band and playing gigs to your friends without a care in the world – in fact, the infectious enthusiasm both on and offstage all night shares a similar atmosphere with those halcyon days. This and an apparently packed out secret show by And So I Watch You From Afar happening in Belfast on the same night serve as a warm reminder of the sense of camaraderie in Irish music that makes local gigs a joy rather than an empty, fruitless task, and a welcome distraction from a terrible recent news cycle. Hopefully Popicalia 23 won't be another two and a half years away. Cathal McBride