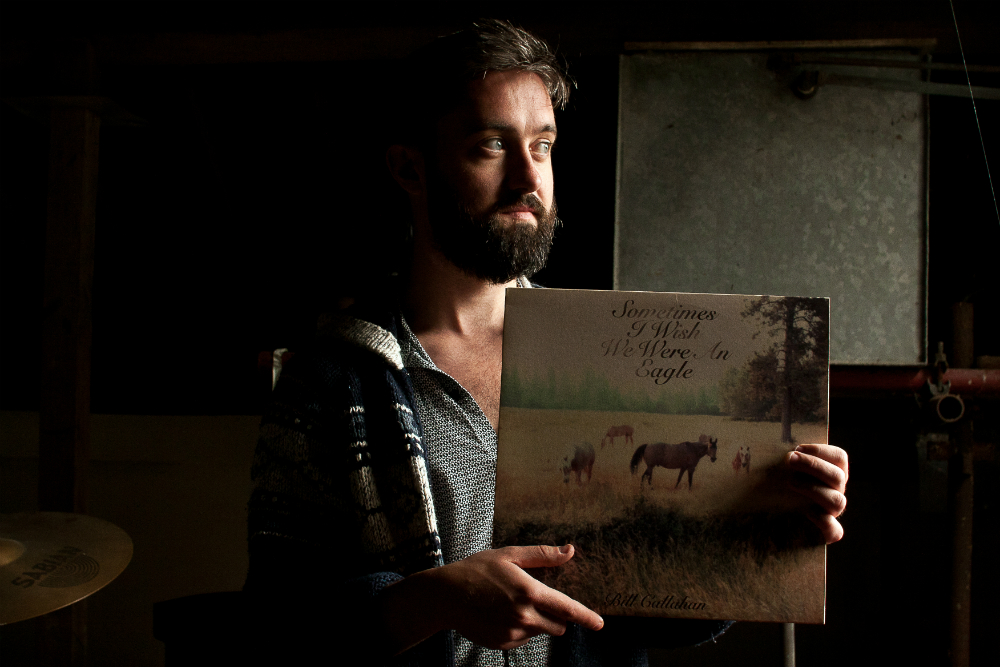 As featured in the current issue of our physical magazine, Villagers' Conor O'Brien handpicks a selection of records that have left an indelible imprint on his music and life, including Nina Simone, Bill Callahan, Fela Kuti, Julee Cruise and Mos Def.
Photo by Loreana Rushe.
Bill
Wells
Trio – Also In White
I don't really know anything about Bill Wells except that he's a Scottish musician with fantastic eyebrows and I didn't even know that when I starting listening to this album, which made it all the more magical. All I can say it that it leaves a proper mark on your soul and you just know that you'll be friends forever from the first moment you lay your ears on it. It feels like a safe, dark place.
Julee Cruise – Floating Into The Night
I never stop going on about this one but it's for good reason. My favourite albums are the ones which create a world for the listener to drown themselves in and there's an ethereal, shimmering beauty in this one which is utterly unique and occasionally terrifying. Her voice is amazing and David Lynch wrote the lyrics, a few of which you'll recognise from Twin Peaks and Blue Velvet. It's mental how good this is.
Nina Simone – Silk and Soul
This is just the most perfect album there is. There's nothing we can say about it to do it any justice. Beauty and pain and anguish and celebration and love all wrapped up in some incredibly understated musicianship and arrangement with Nina's voice cutting through it all like a warm knife and ending gorgeously with the self-penned 'Consummation'. Insane.
Terry Riley – A Rainbow in Curved Air
I always use this album for traveling. It's a total trip. It sounds completely alive, as if there's a garden growing inside your head. I like falling asleep to it and waking up a different points in the journey.
Fela Kuti – Opposite People
I was talking to a Nigerian taxi driver the other week and when I told him I was a musician he screamed and put on a bunch of Fela Kuti tracks whilst translating the words for me and explaining the political significance of each song. It was amazing. I've loved Fela Kuti for years but had never heard this album. It has so many levels in it's genius but the rhythm takes over every time.
Laurie Anderson – Big Science
You know when you're daydreaming and you have those thoughts which seem so intensely profound but which don't seem to be forming as words which could be used to express them to another human being? It kind of feels like Laurie Anderson found those words, put them into this album and surrounded them with angular, dreamy, beautiful sound design. It's a kind of heaven, I love it.
Bill

Callahan – Sometimes I Wish We Were an Eagle

The first time I heard this album I can remember thinking that it was so insanely inspired sounding; as if every single nook and cranny of it was dripping with invention. It still sounds as fresh now as it did then. It goes very deep; a lot deeper than most modern music of this particular lineage. That was my music critic moment just there.
Leonard Cohen – Live at the Isle of Wight 1970
I might be wrong, but there doesn't seem to be a huge amount a truly great live albums out there, unless you're talking jazz or soul (can you find the hidden live album title in that sentence, pop pickers?). This one is truly great though. I didn't know anything about the back story when I first heard it, and knowing that he essentially tamed hundreds of thousands of angry tired festival goers who had just set light to the stage when Jimi Hendrix was on makes it all the more remarkable. Essentially it's the sound of a mob being sung to sleep by the most beautiful lullaby maker there is. You can really hear the moment when everyone realises how lucky they are to be alive.
Mos Def – Black on Both Sides
I love this album so much. I played it to death when it first came out. I remember seeing the video to 'Umi Says' and running out the door to get it. It's the sound of someone at the height of their creative flow. There are so many amazing ideas tumbling from every line of every track and the musical attention to detail is incredibly satisfying. Love and peace is at the centre of it all. A masterpiece.
Owen Pallett – Heartland
Another masterpiece. Heartland is a completely unique piece of work. I've never heard anything even remotely similar to it not only in terms of musicality but also in terms of lyrical content and theatricality. It's phenomenally sophisticated in its execution and for some unknown reason I almost feel obligated to list the various musical and literary influences which are masterfully sewn together to create this world but doing so would belie the fact that its quite simply a thing of unique beauty. It really is just beautiful.