Back for its second year, Beat Root, Moving On Music's festival of roots music, offered a program as diverse as imaginable, from harps, fiddles and thundering rock to singer-songwriter mastery and psychedelic folk.  Traditions, and the bending of them, were the constant dualities at play across four evenings of uplifting music, that taken together, amounted to one of Belfast's best music festivals of the year to date.
Though often associated with formal recitals, the harp can be one of the most expressive and one of the most thrilling of instruments – just think of Colombian Edmar Castaneda or Shetland islander Catriona McKay. Closer to home, and kicking off Beat Root 2016, Antrim harpist Amy McAllister is making her own way with the instrument, adopting a contemporary approach to traditional tunes.
With Derry guitarist Jack Warnock providing a strong rhythmic fulcrum, McAllister impresses as much for her vocals as she does for her playing. The common denominator on instrumental ballads ('The Swan'), well-travelled songs ('Matt Hyland', 'Over the Mountain') and sets of reels and jigs is her caressing, cheery melodicism.
McAllister reveals most of herself, however, on the self-penned 'Mi Amor', a brief but beautiful song that offers an intriguing signpost to her possible future direction. As one of four picks for Moving On Music's Emerging Artists Programme, (supported by the Esmée Fairbairn Foundation) McAllister is a talent to watch out for.
Headliner for the first evening of Beat Root is fiddler Caoimhín Ó Raghallaigh. A member of New Trad groups This is How We Fly and The Gloaming, or in duos with the likes of Dan Truman, O' Raghallaigh has been a fairly regular visitor to Belfast over the years. A captivating solo artist, Ó Raghallaigh has experimented with live performance and film, while his unaccompanied solo album Music for an Elliptical Orbit (Diatribe Records, 2014) was a poetic tour de force.
The main tool of Ó Raghallaigh's trade is the Hardanger D'Amore – a fiddle of Norwegian provenance – though the presence of laptop and pedals in the fiddler's armoury say much about his approach to traditional music. From the opening fusion of the set 'Miss McCleod's Reels' and the air 'Easter Snow', it's clear that within his spare language multiple voices are at work; the harmonic richness of the Hardanger, which in Ó Raghallaigh's hands can often sound like two fiddlers in tandem, the layering of motifs and the subtle use of drone, pizzicato figures and echo conjure a minimalist chamber ensemble of spectral charms.
Puffs of air lyricism and ethereal melodic contours – suggested rather than signposted – are the principal currency, though Ó Raghallaigh occasionally releases passages of more bracing attack.  The fiddler embraces more overt song form on tin whistle for one breezy tune and turns to a regular old fiddle on another, from which he coaxes rougher-hewed, though equally alluring textures on a set of jigs and reels, and a bold slow air.
The Hardanger is soon back in his hands – you expect he secretly pined for it – for the final tune, Ó Raghallaigh's signature 'What What What', a tune of haunting charm. For the encore,  Ó Raghallaigh immerses himself once more in the spare architecture he favours, a space that allows him to follow his melodic and explore sonic textures to quite captivating effect.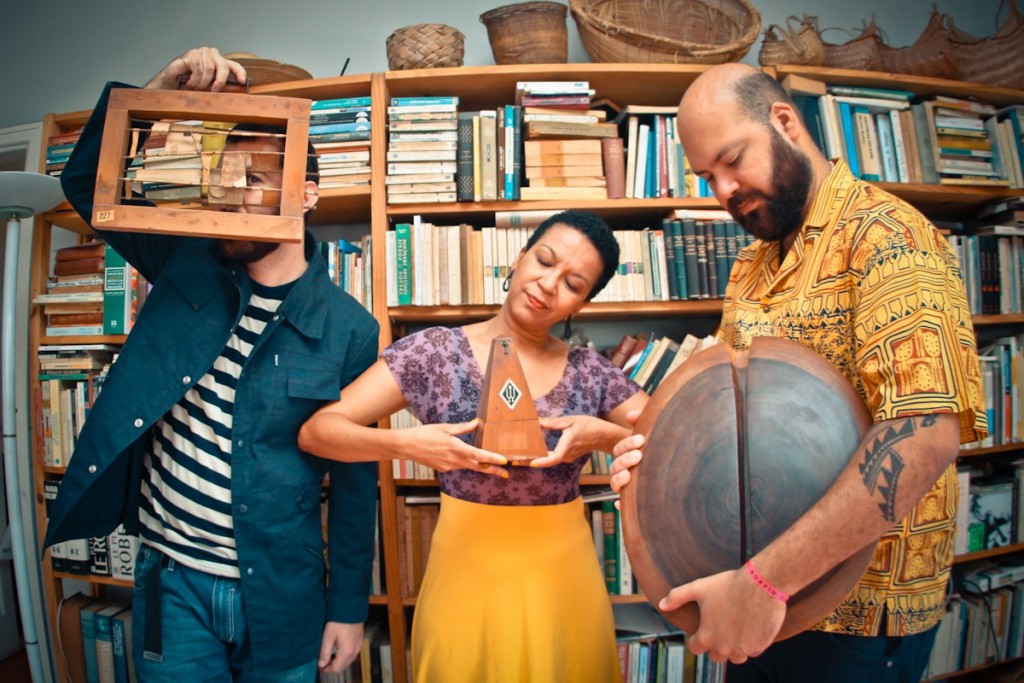 If the first day of Beat Root served up contrasting readings of the same tradition, day two provides an alternative… to just about everything. São Paolo band Metá Metá (above) greets the Crescent Arts Centre audience with sustained guitar feedback, ominously rumbling drums and animalistic vocal utterances. Singer Juçara Marçal, seems to steer the music into familiar Brazilian song form, but the entrance of Kiko Dinucci's biting, King Crimson-esque guitar riff takes the music elsewhere. These are songs of protest, railing against corruption with a visceral collective howl.
Drummer Sergio Machado's pounding polyrhythmic industry, bassist Marcelo Cabral's heavy ostinatos and Dinucci's ccoruscating, feedback-drenched improvisations provide a huge canvas for Marçal's volcanic vocals, which swing between danceable samba-inflections to heavy metal thunder. A punkish energy infuses the music, though delivered with a precision and discipline rare among rock bands as hard-hitting as this.
The searing intensity and churning rhythms of one blues-rocker evokes James Blood Ulmer's tumultuous drums and feedback on another ventures into psychedelic rock terrain. Darkly intense bass riffs, pulsating rhythms, call and response vocals and ringing guitar motifs at times conjure the soundtrack to a Quentin Tarantino film in a Brazilian favela. The burrowing grooves, noise-improv, and penetrating vocals constitute a dense wall of sound, though one not without soul. The prevailing intensity of this rock without frontiers is tempered by the occasional slower number, though the finale, featuring a wonderfully stormy drum solo followed by call-and-response vocals between Marçal and Dinucci ends the set, as it began, on a high.
Remarkably perhaps, Metá Metá was only at four fifths strength, as saxophonist/flautist Thiago França was absent through illness.  On the first couple of tunes you could imagine the saxophone elevating the music to even headier planes bordering on free-jazz, but such was the endeavor of the quartet that it carried the set as though it had ever been thus.
A thrilling, must-see band that may alter your conception, not just of Brazilian music, but of rock music in general. Ian Patterson