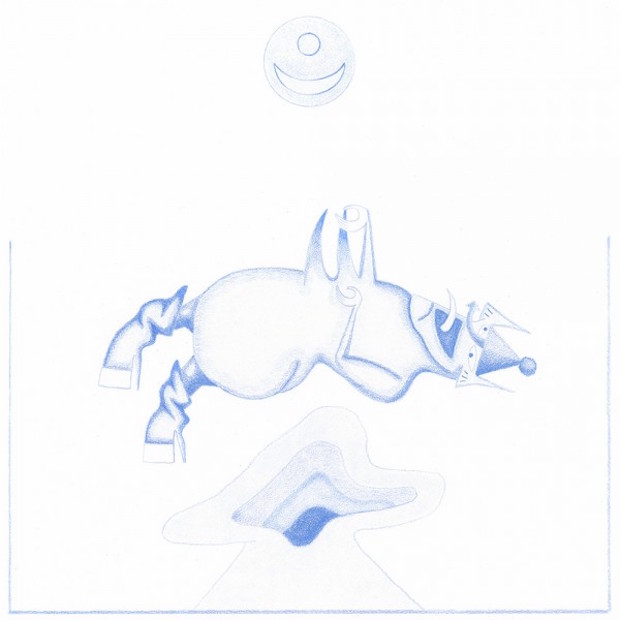 Once you become aware of Venezuelan-American songwriter Devendra Banhart's other life as a visual artist it becomes difficult to distance it from his musical output. Despite rarely linking his music and visual art, aside from painting his own album artwork (including the grammy nominated beauty of 2009's What We Will Be), one always feels the intended aesthetic and colour that permeates his music. In 2013 Banhart released his Nonesuch Records debut, Mala, a record of playful, winsome cuts that toyed with love's awkwardness and silliness with equal parts melancholy and wit. Throughout the album, the grainy pink colouring that defined its cover perched on the listener's mind, giving the collection's lo-fi, doll-house tone a lingering effect.
Ape in Pink Marble drifts down the same route as its predecessor, with Banhart's croon sitting prominently over sparing, languid instrumentation. His empathic approach to colour – having once described a shade of green as "nostalgic" and "lived in" – and curious approach of aesthetic over meaning filter into this collection comfortably. The conceptual setting is an imagined, ageing Japanese hotel and the rag-tag clientele that occupy it, providing a vague mould from which to develop ideas within. The colour that filters through this album is now the dusty blue of its cover. Opening with 'Middle Names' the soothing effect of its pallet is eased in with brittle finger plucked guitars and lyrics that whisper about a romance that was never allowed to flourish, or just a growing distance between two people – "I wonder where you are, then I'll wonder again".
That delicacy purveys the record. Even on tracks like 'Theme For a Taiwanese Woman in Lime Green' where the recurrent influence of Samba and Bossa Nova are blatant there is a gentleness that keeps the listener sitting in the quiet lobby of that ramshackle hotel, dog-eared carpets, lost souls and all – "There is no one that I love, and that no one is you". Strings drift and sway throughout the track, somewhere in between Andrew Bird-esque resonance and Closing Time booziness.
On 'Fancy Man' and 'Fig in Leather' Banhart lets his goofy, witty side off its leash, giving the album an airy playfulness. Painting the characters of the tattered hotel, the 'Fancy Man' is a tragically whimsical older gentleman whose attempts at wooing a partner are as seedy as they are outdated -"You look like you deserve a night in heaven", "I've got a dumb dance inside my pants". 'Fig in Leather' is a slice of soul featuring some of the clearest examples of Japanese music's influence on this album. Keyboard melodies as eccentric as the lyrics leave the track a touch out of place within the album's overall brittleness and nostalgia but still offer a delightful pick-me-up amid the lullabies.
From 'Souvenirs' onwards Ape is a massage of tender, slow pop. 'Mourners Dance' comes from a place of nostalgia and reflection, the recurrent use of the koto on the album being at its most present and serene amid the dreamy keys.
The characters and themes of Ape in Pink Marble that Banhart and main collaborators Noah Georgeson and Josiah Steinbrick craft are those of longing and yearning, of the blue hue of smoke in a lonely hotel bar. From the sombre advice of 'Saturday Night' – "Don't love me because you're through hating you" – to the "Lonely woman" in 'Linda', it is an album that is endlessly respectful to its aesthetic. Even on the final two tracks, 'Lucky' and 'Celebration', the light at the end of the tunnel is a sobering one, that of a drunk sleep in which any dreams are a soothing escape.
Each album Devendra Banhart has released has seen him evolving his own stylistic template, moving from the "freak-folk" leanings of his early work to the toy-box playfulness of Mala. Ape in Pink Marble is his most cohesive, solid collection to date despite being his most reposeful. The more this album is allowed to seep into the mind, the more its gossamer textures and colours emanate from the songs, like the fine details of a painting. And then you start the album again and the narrative repeats, another night unfolding, the same as every other, in that shadowy lobby. Eoin Murray