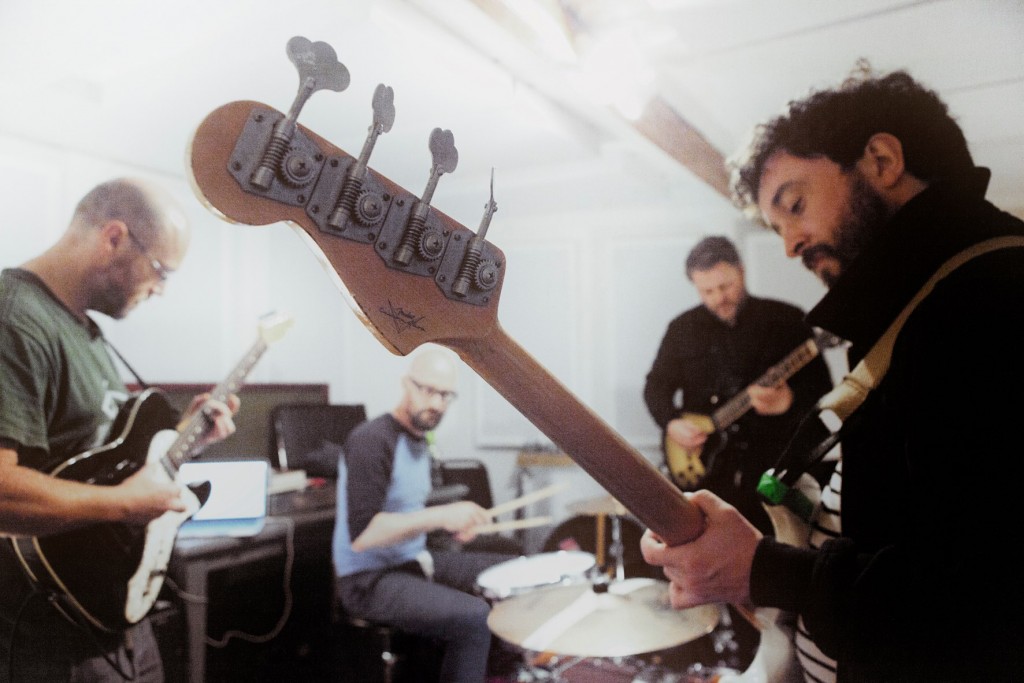 Ahead of their only show of 2016 at Debarra's as part of Clonakilty International Guitar Festival on Sunday, September 18, Cathal McBride talks to Matthew Bolger of Dublin instrumental heroes The Redneck Manifesto about new material, the importance of friendship to the band's dynamic, failed attempts at writing over the internet and what the future holds in store.
Hi guys. How's the new material coming along?
The new material is coming together very quickly at the moment. We've written 6 new songs in the last 4 months. It's really amazing to get back in a room with everyone again. We really missed playing together and hanging out. The great thing is that we'll all be in the same country for long stints of time up until the end of the year, so will hopefully get to write a lot more new stuff.
With band members spread among different locations these days, how difficult is it to get everyone together and get working again?
I've been living in Sweden since 2007, Richie moved over to Malmo too, around three years ago. Neil was also living in San Francisco for a year so getting everyone into the same room was very hard for a very long time. We tried to write over the internet sending tracks back and forth but it just doesn't work unless we're together.
With the long absences in between is it difficult to get back into the swing of things, or does it still come naturally?
There's one thing that's never been a problem for us and that's writing music when we're all in the same room. If we're jamming we lock into a groove very quickly and most often a section of a song will come out of that. We are so strongly connected in how we play and write that there was never any real worry about producing new material. It was just finding the time to come together.


What kind of direction has the material been going in, in comparison to Friendship? I remember a couple of more electronic new songs with Richie on synth being debuted in The Button Factory around 2011, if those are still on the agenda.
The new material we've written was written by Niall, Merv, Richie and myself. We pared everything right back to it's simplest form. Guitar, bass and a stripped down drum kit. We wanted to create music like as if we were having a conversation with each other. Before that there were six people in the room writing, which could become very hard as the volume didn't really allow for us to hear exactly what was going on and talk about it. It made the music a little more hectic. Which isn't a bad thing but we just wanted to approach writing in a different way. We could discuss sections in great detail and stop and talk through ideas. It was a very chilled out and creative way of writing. The music really sounds like that. It has a lot of fine details and strange time signatures. And with Neil and Glenn on keyboard and percussion over that it's definitely the best music we've ever written.
The lineup has expanded again with Glenn Keating mirroring Neil's role on keys and percussion, has this brought anything new to the table in terms of your sound?
It really has. Neil and Glenn are amazing musicians. Not only are they really into creating new and interesting sounds, they do that in a very melodic way. It's basically like having two Brian Wilsons in the band.
After the Clonakilty gig is there a rough timeline in place for the tour and getting back into the studio? Any ideas where you'll be playing?
We're kind of playing it by ear at the moment. We don't want to create anything under pressure so making definite plans works against that. We have no label or manager looking for us to reach deadlines so we'll record the next album when we feel it's finished. Saying that, we would like to work towards getting into the studio sometime in the first six months of next year, but we'll see what happens. The main focus is writing.
What kind of set can we expect? An emphasis on new material or a balance of new and old?
We'll be playing three new songs on Sunday as well as some older songs which we love playing live. One of the reasons for the long live hiatus was because we didn't want to play another gig playing only old music.
It was as much for the audience as it was for ourselves.
You all have a tendency to appear on each other's other projects as well (Jape, Somadrone etc) or form new side projects together. Is it just your natural chemistry that draws you all together like this?
It's musical chemistry and a very close friendship we all share. We also have a lot of respect for each others musical ability and creativity, so it's only natural that we ask each other to play on other projects outside of TRM.


Ireland has had no shortage of instrumental guitar bands in the last decade or so, particularly when The Richter Collective label was around. How much credit do you think TRM can claim for that, seeing as they've often cited you guys as an influence?
We've been playing instrumental music for a very long time. Almost 20 years so we hope that we could have been some source of inspiration to other younger musicians. We love what we do and have never lost any passion or energy for it. So hopefully that energy can inspire people who come and see us live or listen to our records.
Lastly, of the records in your back catalogue, do you have a particular favourite?
For me and I'd say everyone in the band, it would be Friendship. It's the most fully formed album we've made. Also David Oldum's production and recording it in in our favourite studio, Black Box in France, make's it hard to beat.
Photo: Emelie Lidström