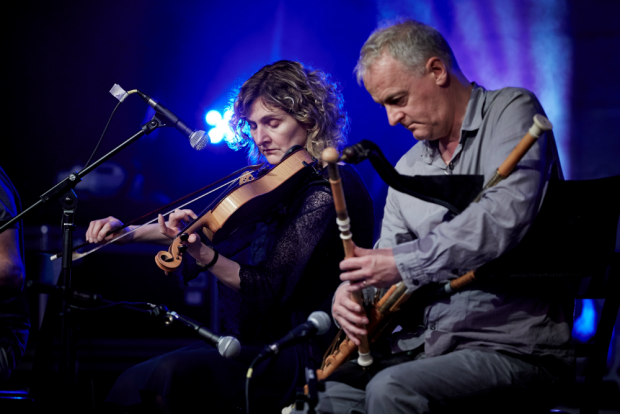 Now in its eighth year, Feile An Droichead has worked its way quietly, and with little fanfare, to a point where this annual celebration of Irish music and language arguably ranks as one of the signature events in Northern Ireland's burgeoning cultural calendar.
Beyond the confines of its An Droichead home, the 2016 edition has seen the festival extend its reach into the wider community, with performances in the Ulster Museum, Black Box and the Belfast Barge creating, at the very least, the possibility of bringing traditional music to a more general audience.
The honour of closing An Droichead 2016, in the cosy surroundings of the Belfast Barge, falls to fiddler Josie Nugent, promoting her latest CD, Modal Citizen (2016), a project enabled by lottery and Arts Council funding.
In introducing Nugent's CD launch, Belfast fiddler Connor Caldwell sets the scene by referencing a musical metaphor from Mícheál Ó Súilleabháin's fascinating documentary series River of Sound (1995), and the notion that traditional music is: "a body of water moving through a space and every so often it reaches a blockage, or an impasse, where water spills over the side of the banks and it creates a new stream that is connected and gets its power from the mainstream tradition but which is unique in itself. These subsidiary streams are able to find their own channel and their own way across the land."
Nugent, as transpires over the course of an enjoyable set, is inspired, but by no means constrained, by the tradition.
The opening set of slip jigs, entitled 'A Cambridge Cycle', and the subsequent reels set 'Mary McGuire', offer up familiar trad soundscapes of singing fiddle and rhythmically pronounced acoustic guitar. The first signs of the river breaching the banks and forging a new course comes with 'Modal Citizen, the title track to Nugent's latest CD; the leader's plaintive fiddle melody, accompanied by Mary Nugent's Rhodes-style ruminations, evoke Austrian keyboard legend Joe Zawinul's more bucolic excursions. The tune's allure resides in its brevity, as it fades like a flickering flame, leaving a dreamy, lyrical impression.
Brian Stafford's uilleann pipes entwine with Nugent's fiddle on an intimate duo rendition of the melancholic air 'Ó! mo ċailín d'imṫiġ sí!' from the duo's debut album Caves of Cong. Seamus O'Kane's bodhrán rhythms and Mary Nugent's flute lend a vaguely madrigal air to 'Lisfannon Sundays',  a bouyant tune with fiddle and pipes locked in tandem.
There's a chamber intimacy to the baroque-flavored vignette 'Eadan Doire', a slow waltz where Josie's keys are lent deft support by Matt Weir's brushes and Alan Burke's gentle guitar. Keys, brushes and the Stroh violin – a curious horn-amplified violin whose origins date to the late 19th century—feature on 'First Flight', an impressionistic piece
The march 'Tow Row Row', a simple enough piping tune with a military rhythm embedded in O'Kane's bodhrán, is followed by a final set of jigs and reels that sees the music steered firmly back to the traditional mainstream.
A fine fiddler, Nugent's adoption of instruments uncommon to the tradition follows a path taken by Planxty and Clannad in the early-mid 1970s. Her experiments feel a little tentative, however, and it may take a bolder approach to burst the the banks of the river and forge a truly distinctive path. Still, a rewarding concert full of lyricism that holds the promise of further adventures to come. Ian Patterson
Photo: Benno Hunziker, Basel