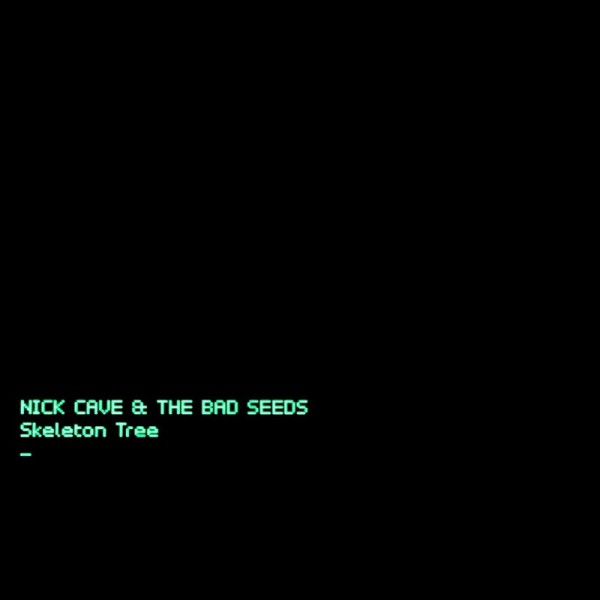 Skeleton Tree isn't the first Nick Cave and The Bad Seeds album born out of personal turmoil. The melancholy of albums like Your Funeral, My Trial in the 80s was inspired by Cave's worsening heroin addiction, while 1997's The Boatman's Call was one of those classic breakup albums, famously considered – until now, that is – to be Cave's most emotionally affecting work. But that must pale into insignificance for Cave now, ever since his 15 year old son Arthur last year fell to his death from a cliff near their home in Brighton, an event he describes in the album's accompanying film One More Time With Feeling as something he's attached to by an elastic band – he can move away from it but at some point the elastic will always snap and send him right back. One of the reasons that tragedy felt quite so shocking to the rest of us was that, in the last few years, the once famously prickly Cave seemed to have mellowed so much offstage – his previous feature film 20,000 Days On Earth ends with him eating pizza on the sofa with his twin boys and he appears so unusually content – so how tragic that it's this very idyllic scene that would be ripped up by the cruel hand of fate just a couple of years later.
Contrary to expectations, Cave explains in the film that most of Skeleton Tree was written as early as 2014, and that while he's often mined misfortunes for artistic purposes, this one was so catastrophic it left him struggling to write. The exploration of grief is certainly more a feature of the film than the album itself, but he does mention tweaking and improvising the lyrics right up to the end, and being completed in its immediate aftermath, the spectre of the tragedy undoubtedly looms heavy over the record's mood. Opener 'Jesus Alone' starts up with the line "You fell from the sky/Crash landed in a field near the River Adur", seemingly a reference to the Shoreham Airshow disaster that happened a month after the loss of his son, the comparison of these events surely not lost on him.
The track's looping electronic throb is bleak but addictive; the whole album feels like a close relation to its predecessor, 2013's Push The Sky Away, but as the minimal artwork suggests, things are stripped back even further to their absolute bare bones here. Long time fans may still miss the presence of Mick Harvey – multi-instrumentalist and founding member of both the Bad Seeds and The Birthday Party before them; for so long Cave's right hand man and a constant presence until his 2009 departure – and indeed the backing vocals don't sound quite right without his distinctive voice at their centre, but in truth, much like The Boatman's Call, there's little room for the rest of the Bad Seeds here most of the time, the album largely centred around Cave's voice and piano hovering just above Warren Ellis' airy bed of loops and electronic sounds, while drums, bass and acoustic guitar make only eggshell-walking appearances.
Cave's disdain for organised religion is well established, but he's given contradictory accounts of his personal beliefs over the years, and some of the lyrics on 'Jesus Alone' are suggestive of a man pondering belief in the aftermath of tragedy – "You believe in God but you get no special dispensation for this belief now…You're a distant memory in the mind of your creator, don't you see?", while 'Girl in Amber' seems him discuss his changing vision of the afterlife in a half whisper. Meanwhile 'I Need You' is easily the most emotionally affecting song on offer here – while it appears to be have been written as a simple love song, the central sentiment can't help but take on a new resonance given the circumstances, and his trilling vocal delivery makes him sound like a man on the verge of tears throughout. The imagery of 'Magneto' may have many sources but it's difficult not to visualise a man in the early stages of grief – "The urge to kill someone was basically overwhelming/I had such hard blues down there in the supermarket queues" In isolation this could be a line from 1996's Murder Ballads, so it's striking to hear it delivered with deadly seriousness rather than that record's grim, sadistic humour.
Cave has said he deliberately avoided working on the songs for too long, preferring to release them in what he calls their 'flawed' natural state, presumably to get them out of his system as soon as possible – after all, the fact he was able to resume work so quickly at all is impressive. It's true that Skeleton Tree feels less polished and fully rounded than Push The Sky Away, with none of the cathartic release, and in normal circumstances might have been considered the weaker of the pair, but the final result is inseparable from its tragic background, and by avoiding tinkering with it too much, he's left simply the raw emotion stripped bare, rendering each listen an emotional gut punch.
Whereas David Bowie's Blackstar took a defiant, triumphant approach to mortality, Skeleton Tree treads a bleaker path, but when the title track appears at the end of the album, just after Danish soprano Else Torp's angelic guest appearance, it feels like the sun finally breaking through the clouds; the arriving morning light after a dark night of rumination, serving as a reminder that things will get better. It might be some time before Cave returns to the stage – One More Time With Feeling was put together to avoid both the difficult job of talking to journalists about the death of his son and of launching the album with a tour – but while his tragedy will have undoubtedly changed him, hopefully that elastic band has enough give to allow him the freedom to eventually return to his old, bombastic self. Cathal McBride