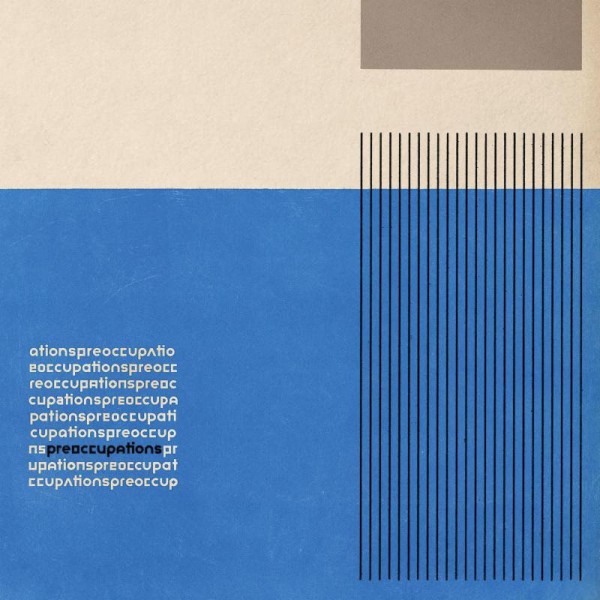 What's in a name? For Toronto's Preoccupations, their previous moniker ended up presenting more trouble than they could have anticipated. Releasing an EP and self-titled album as Viet Cong in 2015, their name seemed only to compliment the dark, unsparing and even brutal music that they played, with few reviews drawing any attention to the group's political insensitivity (it had done little harm to their post punk forbearers Joy Division and Gang Of Four). However, as the band grew in stature so too did internet protests, questioning how four white westerners found it fit they should name themselves after violent Asian paramilitaries in search of some misguided 'cool'. Eventually promoters took note too, and a cancelled Australian festival later, the four piece settled on the altogether more mundane 'Preoccupations', which provides the title of their new record.
It's a shame that their naming controversy came to overshadow their music, with a series of apologetic interviews that found the group deflated by their own ignorance, and embarrassed of the hurt they had unwittingly created. 2015's Viet Cong was anything but dumb: its noisy, nightmarish soundscapes took equally from the paranoia of post punk, goth and industrial rock, going beyond the genre homage of peers such as Savages into something distinctively their own, which, coupled with singer Matthew Flegel's bleak worldview, made it one of the most enthralling debuts of this decade.
As an act who seemed to thrive when channelling the darker side of human emotion, the trauma of past 18 months have seemingly provided no shortage of inspiration, which is evident from the opening rumbles of 'Anxiety', the lead single and first track. Over a steady mid-tempo rhythm, Flegel's usual coolly detached vocals are at odds with the jittery panic of the song's lyrics. While the feelings expressed may be universal among anxiety sufferers, Flegel singing of 'a blunt humiliation' is a reminder of the group's very public recent turmoil. 'Monotony' may not be any cheerier ('the persistence of monotony is killing everyone'), but it is decidedly faster, adding welcome punch to the record's flow. The band engage their more theatrical side here, showing their debt to the melodrama of Bauhaus. It's also a key example of the band's new musical approach, adding to the existing sonic template of throbbing bass and crashing guitars with cold synthesizer lines: if Viet Cong took inspiration from the clatter of Unknown Pleasures Preoccupations is Closer.
The eleven-minute 'Death' was the standout moment on the band's debut long player, with another epic, 'Memory', serving as the centre point of Preoccupations. Encompassing several different suites over the course of the track, it begins fairly typically of the songs thus far, with Flegel's protesting 'sponsored character assassination' over a familiarly droning beat. Around three and half minutes in is where things really start to take off though, as it glides into bouncing new wave: the introduction of glowing synths also sees a change in tempo, while the guitars begin to chime as it morphs into classic New Order, complete with a vintage Peter Hook style bassline. Fellow Canadian Dan Boeckner of Wolf Parade adds his softer vocals which takes the band into lighter areas than ever before before quickly fading into ambient coda. Dashes of new wave pop add colour throughout to this and the likes of 'Zodiac', although it's never long before the order is restored by yet more gloomy atmospherics.
These occasional light flourishes are welcome and prevent the albums ever-present intensity from becoming suffocating. Although Flegel may share Ian Curtis' baritone, he certainly doesn't share his lyrical prowess, and the frontman's propensity to shoot from the hip can sometimes leave songs verging on parody ('everyone is flowing by the graveside', the opening line of the brief 'Forbidden', being a particular offender). That said, it's a small gripe, especially when the music on offer is so universally strong. Commendably, the second half of the record doesn't see a drop off in quality, with the pounding 'Degraded' and the Interpol-like accessibility of 'Stimulation' providing particular highlights.
Adversity often brings out the best in a group, and Preoccupations have reappeared with a new vigour. Introducing synthesizers is a welcome fit to their sound, adding a cold unease that, if anything, improves on the fearsome sonic precision of their excellent debut. As well as expanding themselves musically, there's a new defiance in their outlook and a belief in their self-worth. As Flegel sings on 'Anxiety': "I'm not here purely for the sake/ Of breathing, I am wide awake." Essential. Caolán Coleman