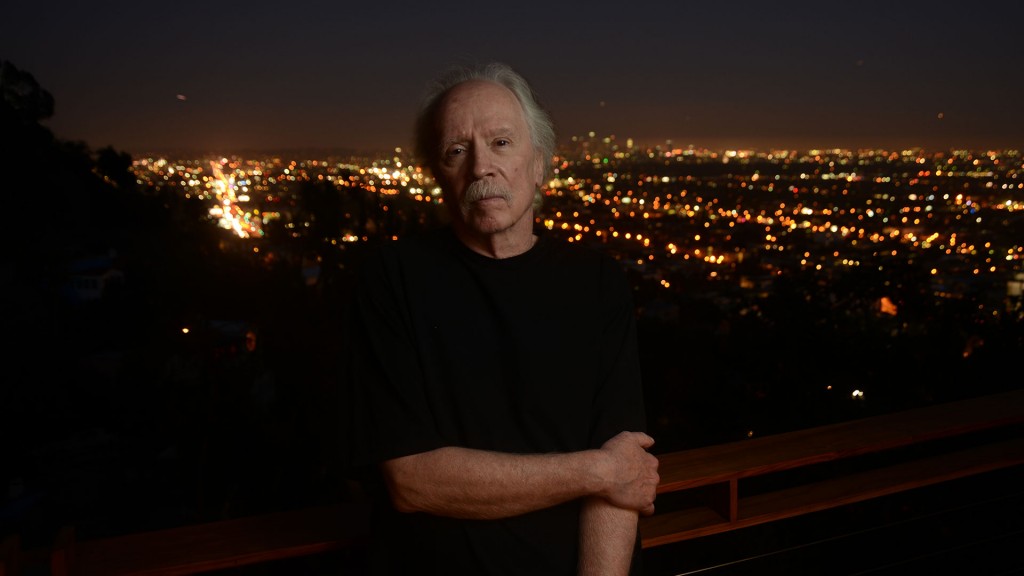 Not entirely unlike that scene in Wayne's World where Wayne and Garth declare themselves all but contemptible in the presence of Alice Cooper, the sense of collective unworthiness when John Carpenter quite literally struts out on stage with his band in Vicar Street tonight is tangible. Hands down one of cinema's greatest auteurs – a fiercely single-minded master of both sound and vision – the 68-year-old has accumulated very few naysayers over his genre-spanning, critic-slaying, five-decade career to date, a fact that is comfortably underlined by the idolatrous energy in the much-loved Dublin venue tonight.
But from those first ominous ripples of the main title to his 1981 dystopian classic Escape From New York it's instantly clear that Carpenter isn't in the business of letting his towering reputation quell several hundred eager heads, many of whom almost certainly thought they would never have the opportunity to witness the director performing his soundtrack work live. After all, this is a man who, time and again, has openly made clear that fun, excitement and adventure is at heart of almost everything he has set out to create. So while his repute and body of work is surely intimidating, watching him shimmy, sway and blithely dance as he performs some of the finest cuts from his oeuvre is truly a life-affirming sight to behold.
Following a note-perfect rendition of the EFNY theme – masterfully synced with footage of Plissken and co. – the undisputed master of horror announces "I'm John Carpenter" (presumably on the extreme off-chance someone missed the memo). The room erupts with cheers and that all too rare sense of exalted communion at a show gleams into sharp focus. With the iconic main title to Assault on Precinct 13 following quickly afterwards – inducing a few giddy outbursts from the crowd in the process – 'Vortex' and 'Mystery' from Carpenter's 2014 debut solo album Lost Themes prove equally, if not more, compelling efforts early on. Even thirty shows into the tour, the sheer precision and solidity of Carpenter's band – especially Carpenter's son Cody on lead synth and godson Daniel Davies on lead guitar – really can't be understated. Sublimely delivered without ever edging into anything approaching stiff, self-conscious territory, that expectant sense of "fun" that Carpenter promised in an interview with some bozo back in February is brilliantly laid bare.
The visual side to the show is, also to be expected, very tastefully manoeuvred and done with a knowing sense of subtlety that doesn't over-egg the sense of occasion or overshadow the main focus here: the music. With each movie title or theme accompanied by a second-perfect montage of footage from their corresponding release, the room for error with audio-visual synchronicity is huge. Luckily, Carpenter and his band are impossibly tight; rather than simply clinically deliver each standalone piece, the five-piece perform each with flair and a visible love of the music and its place within the world of classic horror and sci-fi. Better still, the balance between plain old hero worship and we're-all-in-it-together camaraderie tonight also can't be underestimated. At various points, Carpenter engages with the crowd mid-song, pointing at various beaming faces in the crowd, waving at different sides of the balcony and generally reminding us that, despite his legacy, he is, above all else, here for a good time.
While the likes of 'Night' from Lost Themes II and 'Wraith' from Carpenter's debut prove less engaging than the likes of 'Virtual Survivor' from LTII, the main title from The Fog (featuring just the right amount of dry ice) and the 'Coming To L.A.' theme from They Live (a performance wonderfully sealed by the band donning sunglasses for its duration) Carpenter's seventeen-song set tonight peaks, for many, on the unmistakable and seminal theme to his 1978 slasher horror par excellence Halloween. Taking in the key scenes of the film, culminating in Loomis blasting Michael Myers through the window and off the balcony, it makes for an especially trancelike few minutes where a bona fide classic of cinema history is re-created with exquisite ease and total command. Bowing out with the 'Christine Attacks' theme from Christine as part of a four song encore, John Carpenter pre-emptively warns, "Just one thing before I go: remember to drive carefully… Christine is about." To be not fussed by his music is one thing but to heed that charm – that pretence-free, endearing level of humility – and not be smitten is another. Tonight was a total masterclass. Brian Coney