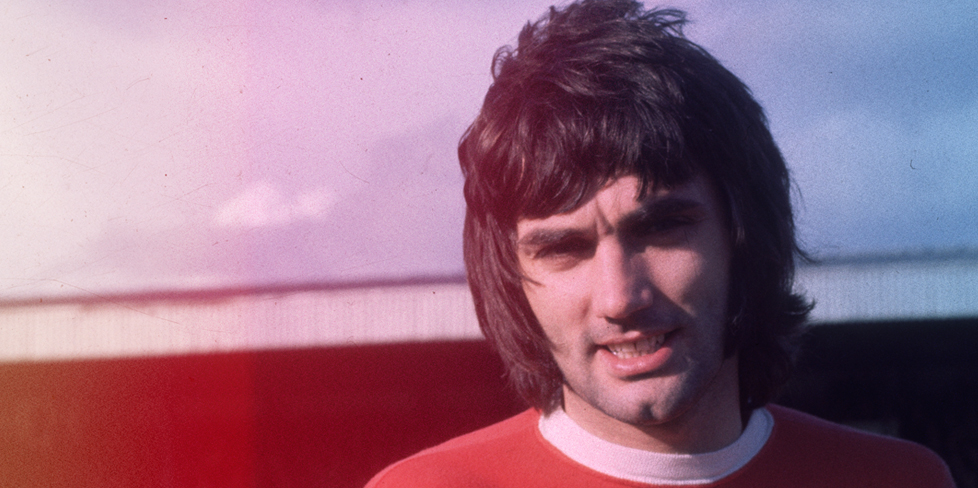 A ninety-minute avant garde documentary about George Best, set to live music and performed in an art deco cinema, might sound like something from the 1970s alternative arts scene, particularly when only one of the footballing superstar's goals is featured.  But this is Belfast in 2016 and the catalyst for this future-retro Best tribute is Dublin composer/musician Matthew Nolan, who specializes in putting music to silent/avant-garde films.
The film in question is "Football Like Never Before", shot by German film-maker Helmuth Costard in 1970 and released the following year. Eight 16mm cameras tracked Best for the full ninety minutes of a match between Manchester United and Coventry City in 1970.  It was a bold, conceptual piece of film-making that predated Zidane: A 21st Century Portrait by forty-five years.
This version with a new soundtrack was premiered in October 2015 at the Visual Arts Centre Carlow to commemorate the tenth anniversary of Best's death and there is more than a hint (in what was a collaborative score) of a requiem – not so much a dirge or lament, however, as a meditative tribute.
There's plenty to mediate on: toilet roll streamers; clunky advertising boards leaning against the little white picket fence surrounding the pitch; the absence of sponsors' logos on Best's shirt; the strangely quaint chant "What a load of rubbish…"; this provides the canvas against which Best is portrayed.
There's a lot of Best standing about, prowling restlessly, then panther-like bursts of energy–particularly with ball at feet–and plenty of gesturing for the ball.  The number 11 on his shirt takes up a fair amount of screen time as he stands hands on hips, seemingly bored and listless at times.  Drawn-out close-ups of Best's anatomy could perhaps be read as metaphor for the scrutiny the superstar/playboy endured throughout his career, though more likely represents the director's attempt to humanize a near mythical figure.
The live soundtrack certainly seemed to empathize with the latter scenario, eschewing facile sonic drama and instead creating a painterly, dream-like reverie founded on Nolan's gently bowed guitar, softly resonating cello (Kevin Murphy), electronically filtered clarinet (Sean Mac Erlaine) and pastoral keys (David Stalling), with intermittent drum rhythms (Bryan O'Connell) mantra-like in their patterns.
The music filters in and out, alternating with the chants of the crowd from the original film soundtrack. A minute here, ninety seconds there. Fully five minutes without music. Like Best's performance in the first half, the music is almost peripheral, a ghostly presence, but absorbing when in motion. When Best is in full flight, running past the blurred faces of the crowd, images and music combine in a kind of audio-visual poetry. We are reminded that Best was one in a million – an artist in the ballet of the working class masses.
Brief voice over commentary from Best's associates – Sir Matt Busby, Dennis Law and Angie Best – added to the original soundtrack by Nolan – pay tribute to Best's talents. Best himself, evidently speaking in later life, talks of the change from "life in the fast lane to life in the bus lane", but without a trace of bitterness. "It was like a dream come true…" Best says, recalling the wonder at being plucked from obscurity as a kid in Belfast and brought to Old Trafford. The live score sympathetically buoys this notion with quasi orchestral grace.
Half-time in the match brings no respite for Best from Costard's prying camera, as the footballer submits to a strange, still-life portrait in what looks like Old Trafford's boiler room. The contrast between the devilishly handsome Best, with his raven-black hair, dark complexion and pearl-white teeth – offset against his brilliant red shirt – and the incongruous surroundings, away from the noisy cauldron, serves to deflate the superstar image.
Best scores one goal – rounding the keeper with ease to tap in – and creates another for Bobby Charlton in a more animated second half. The upsurge in action is reflected in the music, arguably more emotionally robust, although there's still plenty of space in the live soundtrack as the music and the roars of the crowd take centre stage in turn, a few minutes at a time. The final passage of music is also the longest uninterrupted segment. Cello drone, tinkling xylophone, long clarinet notes like slow waves lapping the shore, subtle keyboard and guitar textures  – all combine in haunting reverie.
George Best remains, ten years after his death at the age of fifty nine, an iconic and much revered figure. Project curator Nolan's revival of Costard's little known film, with the collaborative score adding emotional nuance, offers new perspective on the various Best narratives. At the very least, it frames Best in a more humane, dignified manner than is the norm. Ian Patterson