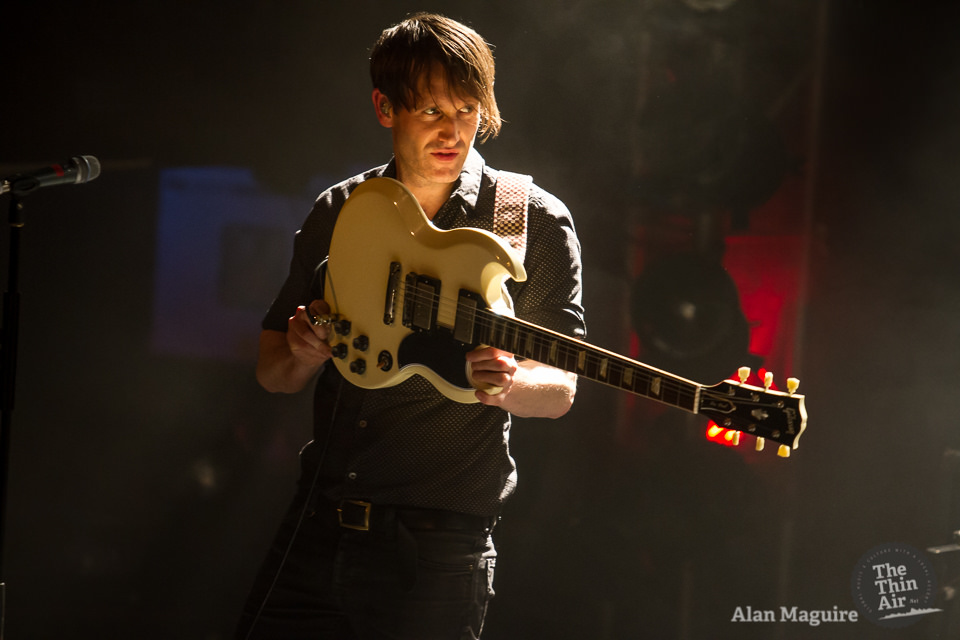 Downpatrick alt-rock legends Ash performing as part of their 1977 anniversary tour at Dublin's Olympia Theatre and Belfast's Mandela Hall. Photos by Moira Reilly and Alan Maguire, words by Justin McDaid.
The Olympia Theatre, Dublin
Photos: Moira Reilly
1977, now, just seems like one of those albums that slots into the drawer in the mental filing cabinet marked 'halcyon days'. It's hard to believe that Ash's debut album proper is a spritely twenty years old – not much older than Tim Wheeler, Mark Hamilton and Rick McMurray were when they released it; ignited by the roar of a TIE Fighter and the full-throttle power-housing of 'Lose Control'.
To hear it played out blow-by-blow in The Olympia Theatre on a chill school night…fuck, we might as well all be standing here in our secondary school uniforms, pissing ourselves laughing at the hidden track that consisted of a bunch of guys egging on their mate to puke his guts out. "That was 1977", Wheeler concludes after the album's anniversary airing, "…unless you really want to hear 'Sick Party'?" We don't, really, but the nostalgia that comes with this record is almost palpable in a venue that's largely filled with folks – on both side of the monitors – who were teenagers on its release.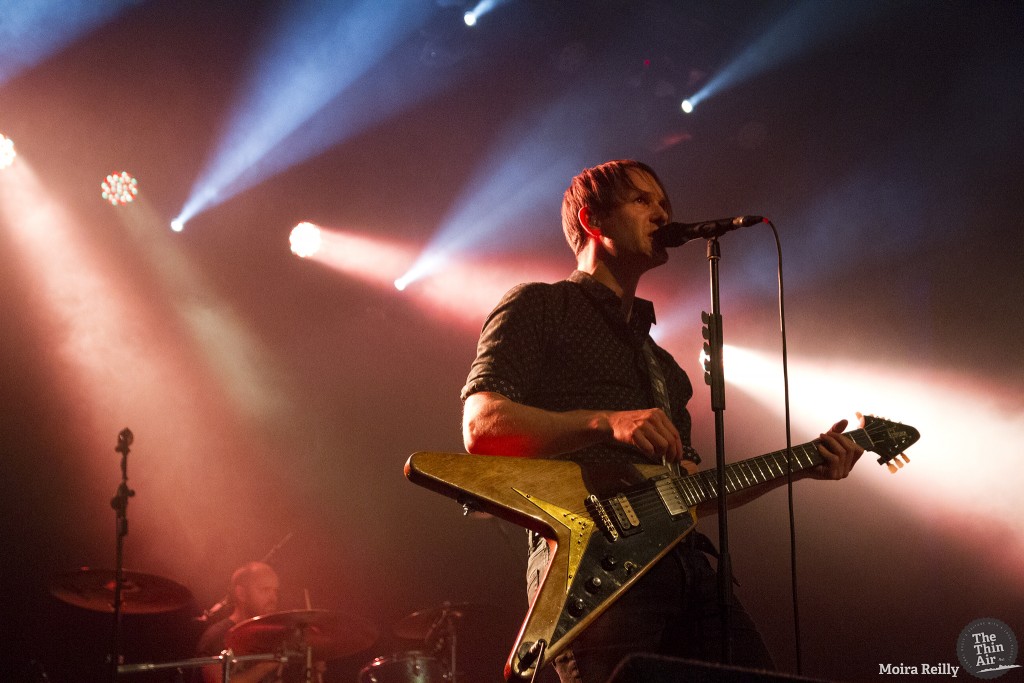 There's no mucking about as disconnected vocal samples are dispelled by the opening riff of 'Lose Control', Wheeler stepping out with his now-trademark Flying V. Hamilton beside him is already the most animated man onstage, legs almost impossibly splayed – he's gone through every contortion in the rock repertoire a man wielding a bass guitar can muster and Wheeler hasn't even hit the solo yet. It's Ash as we've come to know and love them – twin ion engines at maximum propulsion.
Their live shows over the years have been a showcase of Wheeler as a writer of infectious power pop singles, all packed into your standard ninety-minute show. That's the thing about the faithful album run-through, though, there's nowhere to hide; no airbrushing of the lesser material from view. 'I'd Give You Anything' is the kind of track that could be dispensed with under normal circumstances, although Wheeler, untethered by expectation, takes the opportunity to cut loose on one of the set's lengthier, abrasive guitar solos. 'Gone The Dream' and 'Innocent Smile' go through the motions similarly, as rose-tinted as they are, with another opportunity for Wheeler to spice things up on the latter's squalling outro.
1977 was always all about those pop-punk sparklers though: 'Girl From Mars' will always do the business, a gem straight from the heart ("I still love you Girl From…Dublin"); 'Goldfinger' with its oscillating solo; the summer flush of 'Oh Yeah' ("Did anyone Lose their virginity listening to 1977?"). 'Kung Fu' lights up the venue for a bit of call-and-response – surely the teenage Ash wouldn't have had much truck with this hoary old bollocks…but that was then, and this is now, and everyone seems happy to oblige. The early B-sides are rolled out for completism. 'Cantina Band' is a novelty nod to Star Wars' famous scene, and brevity serves it well, an ideal precursor to an immensely fun cover of Abba's 'Does Your Mother Know'.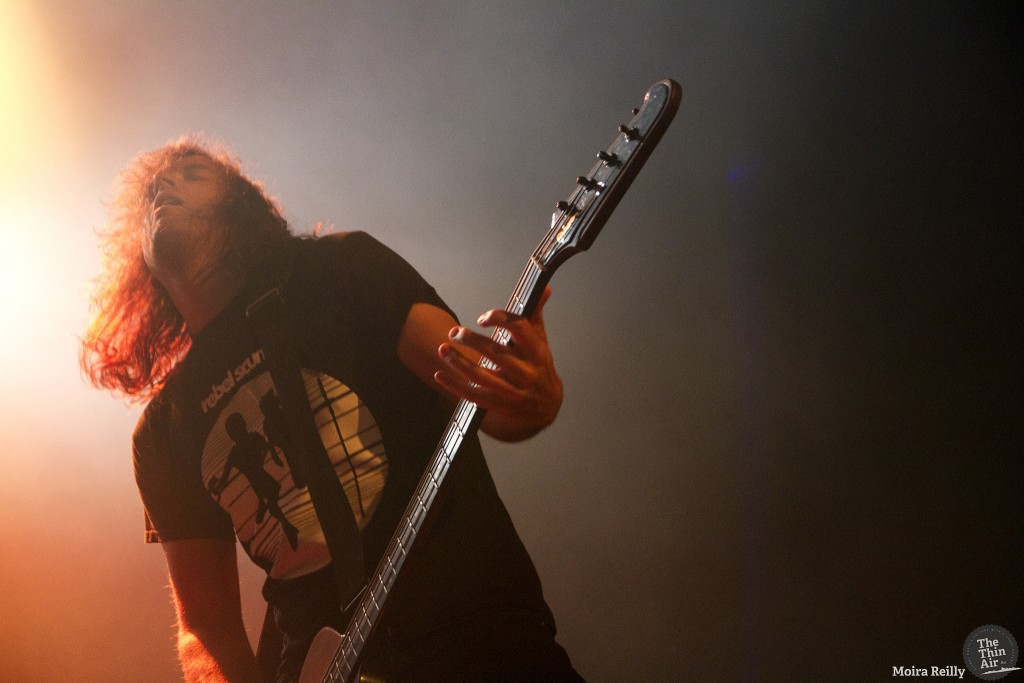 The later Ash material gets its encore airing, and it's always a surprise how 'Shining Light's intro riff can pull the song's words from your lips before you realise it's happened; some form of onomatopoeic wizardry that melds them to the melody. It's 1977's 'Angel Interceptor', though, that sums up what tonight is all about. Maybe it's the nostalgia kicking in once more, but watching Mark Hamilton over its duration is like watching a kid throwing shapes in front of his bedroom mirror; face obscured by a veil of hair occasionally thrown awry by a swing of the head, paying scant attention to anything else going on around him – crowd nor bandmates. Have twenty years really passed? When it finally comes time to leave, Tim Wheeler drops to his knees and proffers a bow to the full house who came out to celebrate an anniversary – twenty years older and a bit more tired, but no less enamoured by Wheeler's tales of teenage love. Justin McDaid
NI Music Prize @ Mandela Hall, Belfast
Photos by Alan Maguire