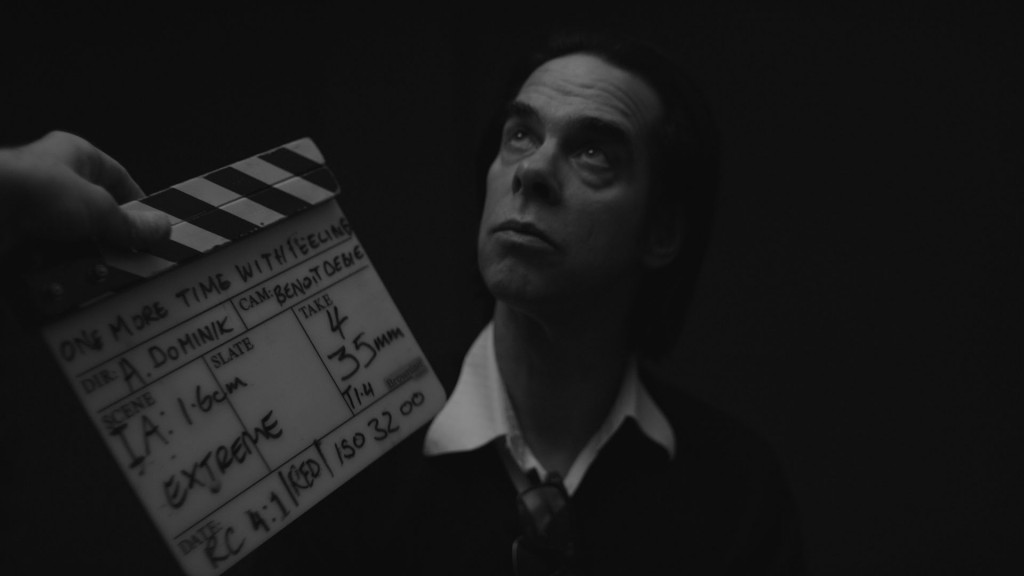 As the credits roll on Andrew Dominik's latest film, a documentary charting the first performance of Nick Cave And The Bad Seeds' album Skeleton Tree, the words stunning, unique, heartbreaking, profound, tragic, funny, melancholy, raw, honest and awesome all come to mind. But that would sell this remarkable film short, as its devastatingly intrusive climax is softened by a mature and respectful depiction of what has to be an incredibly hard period for Cave, as he deals with the accidental death of one of his twin sons.
One More Time With Feeling kicks off with candid interviews of long-time Bad Seed, Warren Ellis and Nick Cave, setting the tone for a very frank and honest depiction of the band. As the performance of the first track of the album, 'Jesus Alone', begins and its melancholy lyrics and faintly sinister music swells and retracts, you are left in no doubt that Dominik is in the midst of a living legend and material that is truly special.
In between the performances, Cave narrates in a frank but poetic manner and there are fleeting glimpses into the rest of the band, but the introduction of Cave's wife Susie, gives a whole new dynamic to the film and a rare insight into their domestic life, which seems to be very private compared to most rock stars. In the later stages, there are scenes that are verging on uncomfortable as they talk about the circumstances around their son's death. Truly heartbreaking.
Andrew Dominik's capture of the eight songs of Skeleton Tree prove wondrous spectacles of cinematography that excel in originality as they frequently show the creative processes and build up to the final takes, giving a raw feel that is also reminiscent of the way he films his subjects. The filming is always fluid and it rolls with the focus drops, achieving a dynamic that few filmmakers would ever be comfortable with.
One More Time With Feeling is hauntingly beautiful film that will linger with you for days to come, especially in Cave's closing thoughts on dealing with the terrible tragedy that has engulfed his world and that of his family. Truly remarkable filmmaking. Kev Lovski