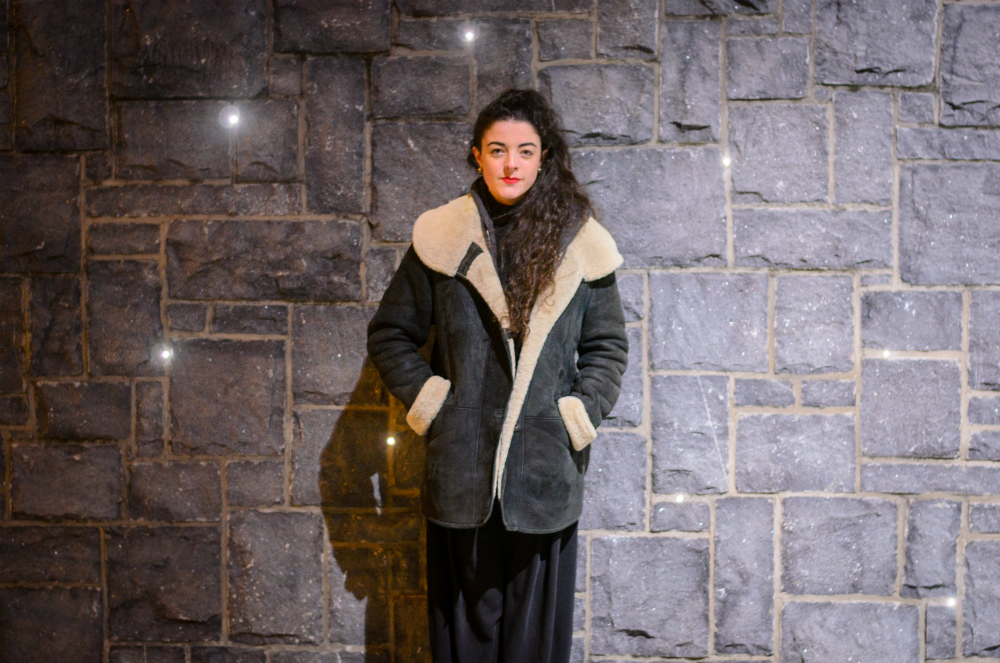 One of many shining lights being champions by our friends at BeKreativ, we chat to Belfast costume designer Lily Bailie about the overlap between music and visuals in her work.
Hi Lily. Tell us about your earliest memories in taking an interest in costume design?
As a child my mum always hand-made my fancy dress costumes. She used to be a fashion designer so could make me any costume I wanted, from a mermaid to a cat to a princess. I just loved getting creative and making everything by hand.
You're currently based in Edinburgh and Belfast. How do the cities differ when it comes to opportunities and community in the world of design?
Edinburgh College of Art has such a high standard of design graduates making it a really fun and inspiring place to live. There are a lot of small theatre companies, festivals, art galleries – the city has a real sense of artistic community. Also the Fringe brings in artists, performers and designers from all over the world, making August a really amazing month for the city.  Meanwhile Belfast is great for film and TV work at the minute. With huge shows like Game of Thrones being filmed here and brand new film studios being built, it feels like there is so much potential for creative work in costume, set and production design.
Your graduate project was a wonderfully immersive video experience inspired by the music of Villagers. You spoke of your interest in the overlap between music, visual, art and design. Tell us more about your love of that cross-pollination, with particular reference to your project.
I have always been interested in the overlap between music and visuals. I have synesthesia, a neurological condition in which two or more senses are connected and triggered together. When I hear music I experience a colour visualisation, so this has always lead me to explore ways in which I connect music, art, visuals and design.
I focused on the music of Villagers for my graduate collection. I responded to four songs, 'Home', 'The Waves', 'Becoming a Jackal' and 'I Saw The Dead' in order to design characters, costumes and set design. I concentrated on textiles, lighting and movement, reacting to Conor O'Brien's rich world of lyrics and music. The project was all about the look, touch and the feel of the sound.
You wanted the costumes used in the project to convey a message about the importance "religion still holds in Northern Ireland, and its impact on contemporary society". How did you go about that?
I once had a conversation with Conor about the meaning of the song 'Home'. He has previously been rather reluctant to talk about the lyrics but he revealed it was the response from his childhood – a kid from the south, in the back of the parents' car, wondering about events north of the border. The song is about being lost in Irish history, about mixed responses to religion and violence, Saint Patrick and paramilitaries.
The costume I designed resembled a Virgin Mary figure, wearing gold adornment and intricate halo. From afar what seems like decadent pattern on closer inspection is revealed to be a soldier or loyalist fighter and a crown of golden guns. Religion provides comfort, community and spirituality for many people, but in Northern Ireland it has also been twisted to exclude and to incite hate. This paradox can be compared to the decadence of the Church, and how its violent past is concealed by beautiful gold plated cathedrals.
I've spoken to Conor since my degree show and he likes it! He even retweeted some photos.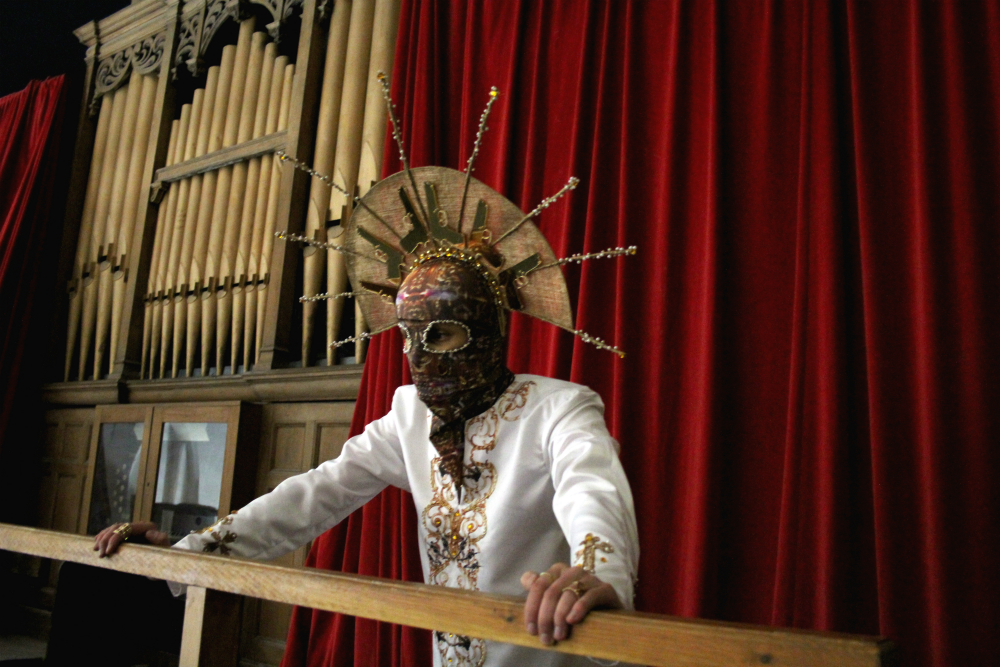 You've a wide-ranging experience in the vast field of design, from interning at the likes of London Fashion Week and Universal Pictures to digital print textile design at the Royal Lyceum in Edinburgh and set design at London's Studio Maud. Do you feel it's important to keep the horizons broad when it comes to your field?
Definitely! I work my best when given various tasks, switching between sewing, styling, drawing, printing, pattern cutting and photography. The best designers in the field today are always jack of all trades. In this way it allows you to be a much more experienced and understanding designer and allows you to fit into various teams.
In particular reference to music, can you trace how it has infected your own approach to design generally, not simply costume design?
While living in Edinburgh I was really involved in the music scene. I had a radio show for 3 years, with regular guests and interviews (including Villagers, The Emerald Armada and Terri Hooley), while also DJing at lots of different events. I was the Head of Design for Fresh Air, the student radio station, creating the branding and marketing, allowing me to combine my love for design and music perfectly. Even at art school it was clear music had a strong effect on my design work as I wrote my whole dissertation on MIA's music video for 'Bad Girls' focusing on her use of fashion to open up a dialogue between two contrasting cultures – hip hop and Islamic dress codes.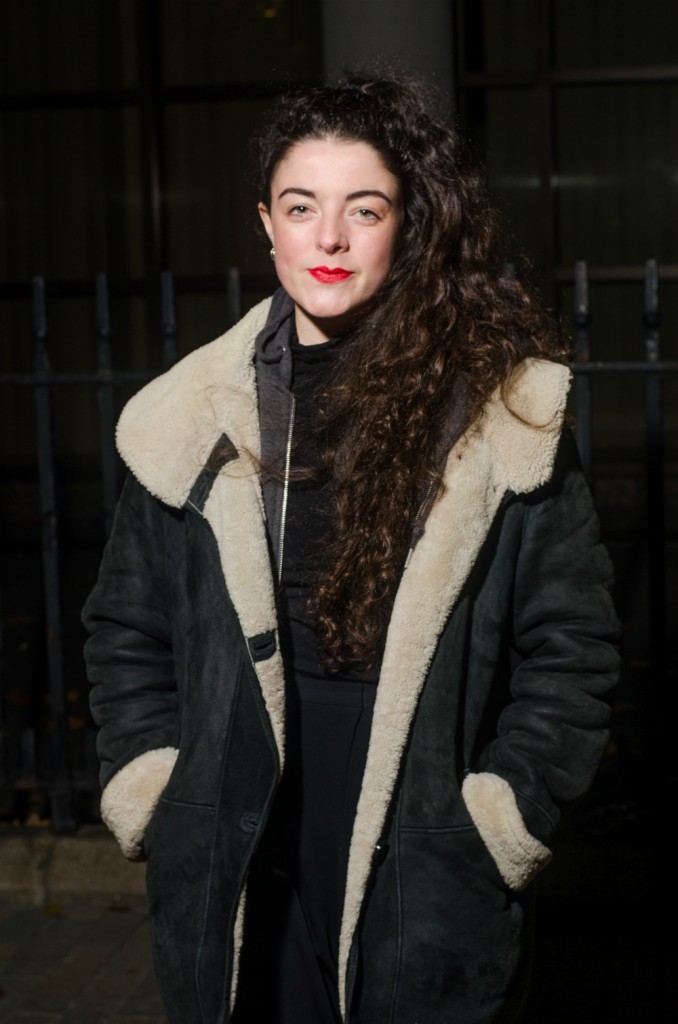 If you had to choose one contemporary, active designer that you look up to for inspiration, who would that be?
I'm a big fan of film director Kathryn Ferguson. A few years ago I went to her talk about fashion film, and I was so amazed and inspired by her talent and the fact she is from Belfast too made me admire her even more. In particular, I love her recent film for Selfridges, 'He, She Me'. It's an amazing visual exploration of the pull and push between femininity and masculinity, soundtracked by Dev Hynes (Blood Orange).
Finally, what are your plans over the next few months in terms of projects, possible collaborations and activity?
I'm currently working on Season 7 of Game of Thrones in the costume department, which is an amazing experience (especially for my first graduate job). I also have a costume being used at the minute in the Scottish highlands for a music video! I'm then planning some exciting music collaborations. Ideally I would love to do some styling for a band and be taken on tour!
Be Kreativ is a support platform from Beck's to give up-and-coming creatives an opportunity to showcase their talents in Ireland. Here, and on BeKreativ.ie. We'll hero YOU, the creatives. So whether you're a musician, painter, writer, sculptor, fashion designer, coder or beyond… All you have to do is #BeKreativ
Main Photo by Sara Marsden