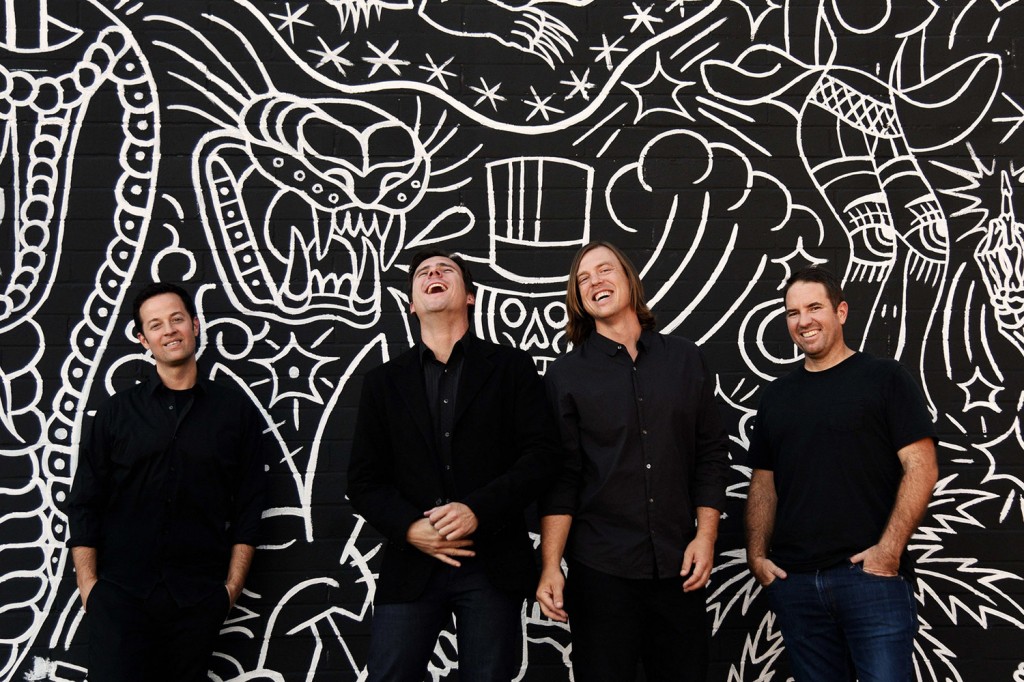 It's hard to think of many bands as consistent and dependable as Arizona natives Jimmy Eat World. Legends and primary breakthrough act of the emo scene, they have failed to put a step wrong in their long career and yet again have delivered with their most recent album, Integrity Blues. Despite 23 years of being worshipped by thousands of sentimental teenagers and beyond, there's no airs and graces from the band – just a few regular guys who happen to have sold millions of records. Ahead of their sold-out date at the Olympia Theatre last month, Kelly Doherty met with the quietly unassuming members of Jimmy Eat World.
Integrity Blues has a harder edge than some of your previous releases. Was that a conscious decision?
I don't know if it was a conscious decision because when we make a record we don't set out to sound a certain way. I think we definitely set out to challenge ourselves in general terms and do things we hadn't done before. We weren't totally sure of what that looked like. We wanted an experimental studio album that pushed the boundaries of what we'd done before. There are songs on there that are quiet and atmospheric and some of the heaviest songs we've ever made. I think we play to extremes on the record.

Most of your records have a loose internal theme. What would you say Integrity Blues is about?
I think, in general terms, the album is about appreciating the present moment and being aware of it. Sometimes in order to do that you have to fight against the outcomes we seek in life – whether it be a goal – a job, relationship or whatever and try to not get hung up on mistakes, not taking it personally if we don't reach our goal. The theme is about taking a minute and appreciating what you have and being grateful for what life has given you. Being fixated on big goals means you miss out on things you'd have appreciated otherwise and that's one of the themes in the album.
Is the record written from personal experiences?
For all of our albums it's inspired by a mix of personal experience and life. What I love about Integrity Blues is that we all go through these things – it's personal but everyone can relate – we're all struggling to find our place and our meaning. It's written in specific ways but still super relatable.


A lot of your back catalogue has provided soundtracks to special moments in people's lives – songs such as 23 or even lyrics like 'can you still feel the butterflies' all have a sense of focusing on special occurrences and times. Do you think you've gone full circle with the theme of focusing on the everyday?
I think it probably doesn't serve you well to focus on what you've done before. We try to resist getting too deep into those type of thoughts. It's a double-edged sword. On this record we attempted to do the opposite of re-creating the back catalogue. We do hope that in 10 years time people will be listening to these songs and feeling the same way as people do now about songs like 23.
Your fans often hold your catalogue very close to their hearts. It's not uncommon for people to say that they grew up along your songs and so on. Do you ever feel under pressure to deliver exactly what the fans want?
There's always a bit of pressure to do that some degree but I think we try to resist that. I think that as long we do what we're interested in and excited about and we're true to who we are that our fans will like it. If you live up to what an outside force is telling you to it can knock you off balance creatively. We hope our fans like our music but at the end of the day we want to make something new.
So many younger bands cite Jimmy Eat World as a major influence. How does that sit with you as almost forefathers of a scene?
It makes us feel old. It feels good though when younger bands come up to us and say they're fans of the music.
How do you still keep touring feel fresh after over 20 years as a band?
I think every time you play a show it's a new challenge. It's a new audience and an opportunity to challenge yourself. It never grows old.


What's the key to your longevity from a scene where many bands have broken up long ago?
We were friends before we started and I think that's what's key. Zac and I have known each other since preschool. We weren't just guys who met through a newspaper to make band.
Has there ever been times where you thought you wouldn't continue on?
I don't think so. We took our first break from the band for a year before we made Integrity Blues but there was no thought of breaking up – we were always going to resume. I mean anything can happen but there's been no point where we were thinking about not doing it anymore.
Did Jim Adkins' solo tour have an impact?
It impacted Jim from a writing perspective. He came into this record with a fresh perspective. It increased a lot of the eye of the tiger. A year off gave us all lots of time to see where we are as a band – we needed to prove that we should still be making music. Integrity Blues was an experiment to see if we could justify still making records. It gave us a lot of passion for the record.
Integrity Blues is out now