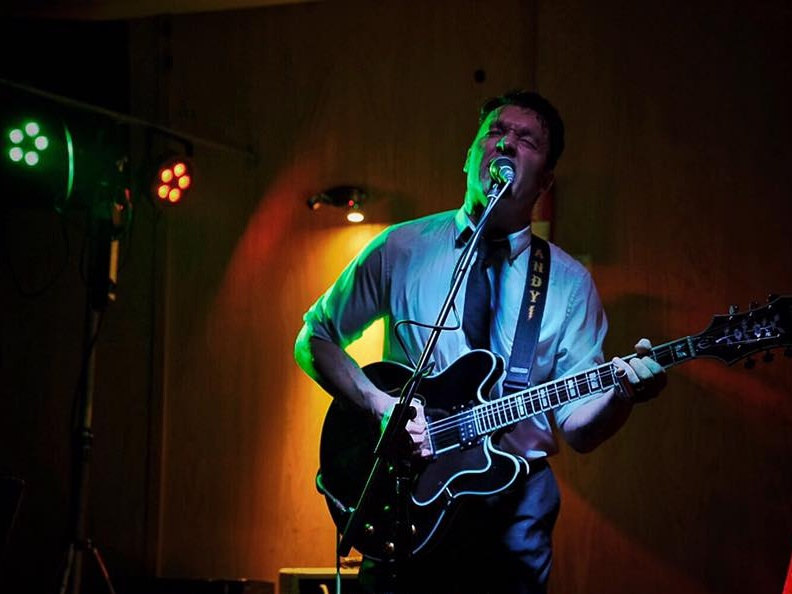 In a slightly delayed review we take a look back at Atlantic Sessions 2016 and look forward to the next session. Words and Images by Chris Flack, additional images by Tim Swart courtesy of Atlantic Sessions.
With waves crashing against the shoreline, a relentless Atlantic wind, a canopy of snow on the hills and a decidedly vicious chill in the air, Atlantic Sessions rolled into the North Coast in November for its 8th year. And what a year it was, a near-perfect way to see out the shitstorm that was 2016.
Hosting over 50 artists in 20 venues across the North Coast, Atlantic Sessions is an adored festival with a host of regulars and the occasional lost UU International Student. Given our trip we would say it is a festival that deserves much more attention than it has garnered in the past; look out for it in 2017.
Running across four nights in the middle of November it is admittedly a tough sell in the gig calendar. Call it a weekend break next year: the shows are free, the accommodation cheap, the Guinness cold and the fireplaces warm. What more could you ask for?
Things kick off on Thursday evening with Malojian at the Flowerfield Arts Centre in Portstewart. The Flowerfield is a fairly typical arts Centre in so far as it's a little clinical out front, think high school lobby. But, and this is a big but, the auditorium is a perfect room for an act like Malojian, beautiful sound and enough stillness to hear every note.  The evening starts with a film that shows the recording process for Stephens latest album, it is maybe little long for this evening but it's a lovely thing to behold.  They play a selection of tracks from both records and the still shivering crowd lap it up. I'm told the merch desk did a brisk trade.
With a hop, skip and a jump we make it across town to a packed David C Clement's show at Portstewart Town Hall, built in the 1930's the Town Hall a grand room with beautiful acoustics. Peter McAuley warms the place up with a tone that suits the space, with plenty of on-stage banter and a few in-jokes he ends his set by bringing David on stage for a Co-written tune that is dripping with soul.  As Peter exits stage left we go straight into David's set with barely a nod. He plays beautiful melodic ballads and attempts a cover that seems to evade him, so much so he needs a little help in the middle. Happily, his father is in the room and seemingly keen to chip in.
After a brief intermission to round up the errant string section David returns with Peter and the Arco String Quartet.   The addition of keys and strings adds a colourful flow, it's sweet but not saccharine, soulful but not too churchy, a strikingly different proposition to his normal sound. As a method of delivery it lies in stark contrast to the merciless battering the coast road is taking out front. There's a hint of classical Celtic notes, a touch of light, a lot of depth and some breathtaking bass.
It's a beautiful thing.
Our last stop of the night is the Anchor Bar where Errol Walsh and Ted Ponsonby see in the midnight hour with a beautiful selection of bluegrass, soul and country songs that are bathed in bourbon. Errol is a gifted performer and a gritty story-teller, between the tales and the tunes the room is transported to an old shack in Nashville, no one seemed to complain. 'The Genitalia of a Fool' is worth the ticket price in any venue, trust me.  After a couple of medicinals by the fire the room quietens and we head off to rest our collective weary heads.
Friday starts a little earlier, this being restaurant week (you'd think the Council were plotting something) we head for a late lunch soundtracked by Toni Whitten in Koko in Portrush. She plays a beautiful selection of original and cover songs to an appreciative crowd over coffee and cakes. No better way to see in a Friday afternoon.
The next stop, after a hearty dinner in the Anchor Bar, is Ralph Mc Clean's wander through Willie Nelson territory at the Flowerfield. It's like a live radio show interspersed with video clips and live music from the era, Barry Johnston and Mark Crockard lend a hand with a touch of era inspired sweetness.  It's a near perfect warm-up to our next stop.
It's back to the Town Hall and Ports with support from Rachael Boyd and Joshua Burnside.  Rachel plays something that we could only describe as angelic, bathed in blue light (for the photographers) and smiles she wins the crowd over easily, one of the most talked about artists of the evening among those of us looking for cups for the BYOB.  Joshua brings some beautiful country feedback in a set that is Tired Pony-esque and gentle. With twangs in all the right places and lyrics that suggest friends in the wrong places he is one to keep an eye out for.  We'd suggest looking in seedier bars.
The next stop on a whirlwind tour is the Atlantic Hotel in Portrush.  Like a fish out of water Micheal Mormecha is found in a very dark corner playing his heart out when we arrive.  Michael is one of the most unique artists we know, from Mojo Fury to the countless acts he produces and plays with he is overflowing with talent.  His solo work on display tonight is remarkable, the fact that a few of the unsuspecting guests in the Atlantic hung around for the show seemed to surprise even him.
Our last port of call is a jump 'round the corner to the Atlantic Bar for the Bonnevilles (pictured, main). Sitting in a lonesome spot between punk and noisy jazz they deliver a scuzzy sound filled with bass and grit. There was headbanging and lots of beer. The rest of the evening is best left unrecorded.
Saturday morning is spent nursing various injuries, both physical and metaphorical. Day three begins with a gentle walk along the sea front to Roughans in Portstewart and a beautiful set by Junior Johnson. Junior has a remarkable wit, a glorious stage banter, stories, tales, political and historical facts abound. It seeps into every song. He frequently manages to describe the background to a verse mid-song without breaking tune. Wonderful.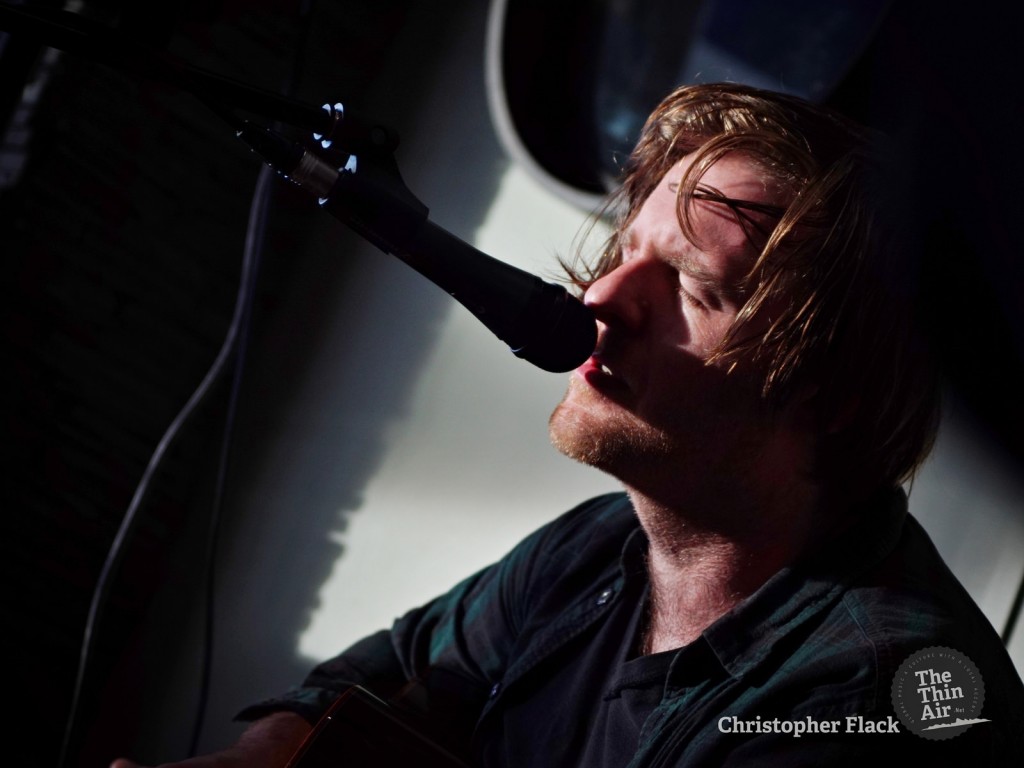 It's been a while since we've seen ex-LaFaro frontman Jonny Black (above). He seems to have been sent to Kokos in Portrush to make sure he behaves himself, he does, he plays some new tracks we haven't heard before, with a couple of cheeky covers and quick dash through a LaFaro number. It's an interesting proposition and hopefully it won't be so long before we see him back. Good coffee too for the headache.
Our Saturday evening sees us literally run to the Emerald Armada show.  They get to play in what has to be the most interesting venue of the festival, The Arcadia is a stunning space, right on the water it started life as an old time ballroom.  The room is filled to bursting point and I get the impression the crowd wanted a little room to dance, they play an upbeat thumping folk that his hard to match and good for the soul.  A perfect warm up for our next stop.
The Playhouse Theatre is probably one of the most underused spaces on the North Coast, one of the few art deco cinemas left in this part of the world it is crying out for love.  Tonight is one the very few occasions when there's is anything on and the lack of a useful heating system is a clear tell.  With musicians in coats, gloves and scarves they launch into an in the round session of originals and covers.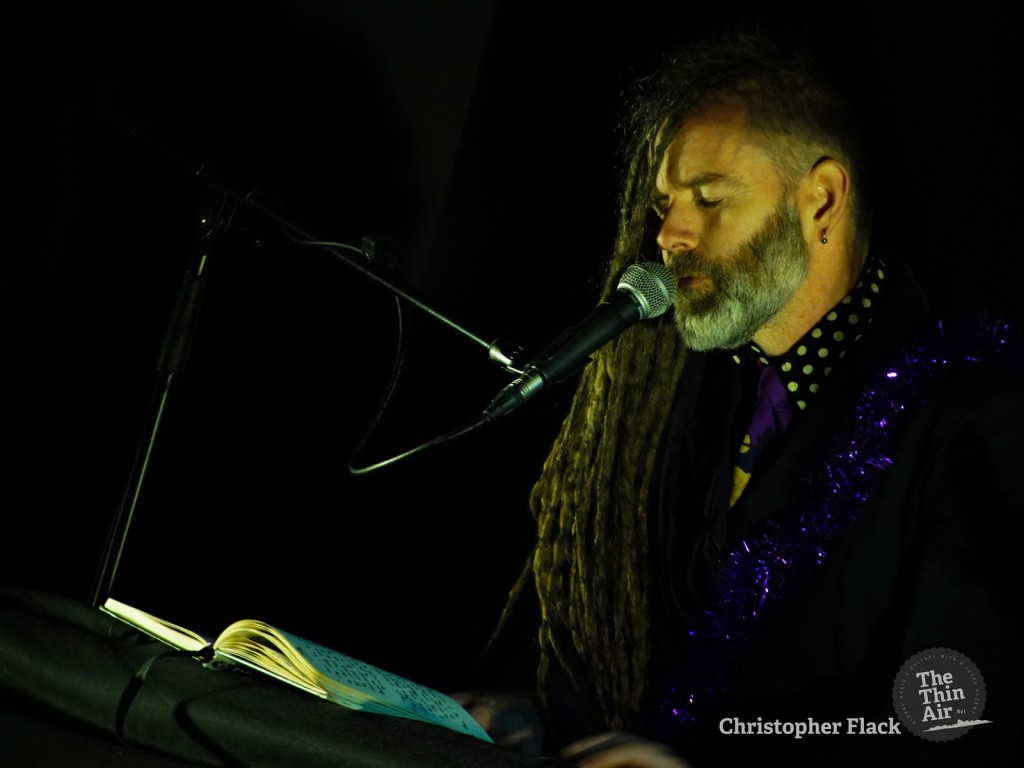 At one point Duke Special (above) disappears off stage to return through side-door to sing unaccompanied at the side of the auditorium, which in some ways was a blessed relief as the sound from his piano was not co-operating. He is the main draw of the evening and plays as only he can.  The Darkling Air are a new act to this reviewer and a rather inviting prospect. With beautiful harmonies and the stunning voice that is Rachel McCarthy, they are worth seeking out in a warmer room.  As for Tony Wright – AKA Mr VerseChorusVerse – well, what he lacks in amplification he more than makes up with sheer determination and balls. He sings his heart out and his final track, Have Some Soul, from his collaboration with David Lyttle, leaves Peter and Rachel struggling to follow.  He even manages to generate a little heat in the room.  Remarkable performances all round in a beautiful place.
Our next show is 12 seconds away (we counted from auditorium to bar) in the main Kiwis venue just downstairs. As different a show if ever there was one from the space upstairs, it starts with a seemingly grumpier Robyn G Shiels than normal, if that is normal.  Not that we blame him, the chatter in the room in the midst of his set was a little overwhelming.  Robyn plays a mix of old favourites and a new track or two, all delivered with that infamous Robyn scowl. We love him. The grumpy bastard.
exmagician play a blinder and to our ears, amidst the chatter and the banging in the room, mostly new tracks.  They are joined on stage by Jonny Black and Wally on drums, as a full band they miss some of the beeps and loops but they are a superb act; if there is any justice etc.  Documenta finish out the evening and Joe Greene (below) seems to have borrowed Robyn's scowl over the noise levels; they seem to struggle to fit everyone on stage but they manage to deliver a fast paced and savage set. Apparently they're headed back into the studio so keep an eye out and put some pennies aside.  It's for a good cause after all.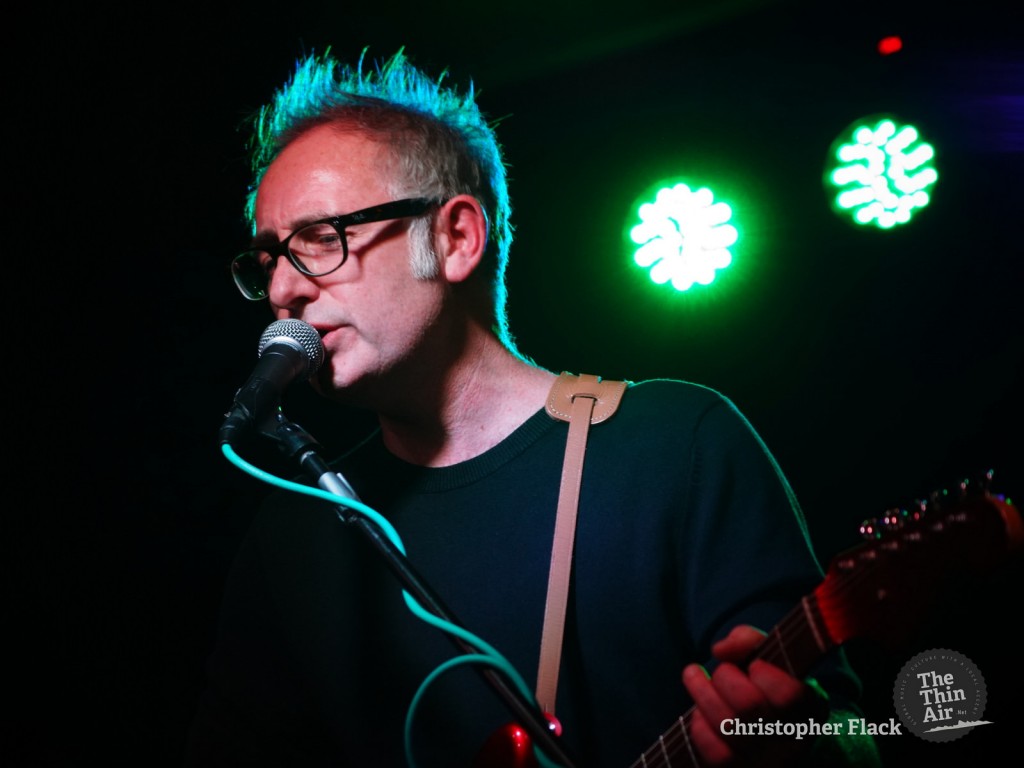 After a gigged-out Saturday we head into Sunday with breakfast and Katie Richardson (below), who sets the tone perfectly with the first show of the last day, a well-deserved breakfast in the Paper Fig in Portstewart. Our treacherous wander around the cliff is rewarded with coffee and eggs, it warms us up after a boozy Saturday and a sluggish morning. Sat against a huge window looking out over a frosty beach, Katie manages to be gentle enough so as to not scare people and creative enough to wake them up.  Playing a mix of tunes from the innumerable projects she is involved in she highlights just how imaginative and creative she is.  Beautiful start, that.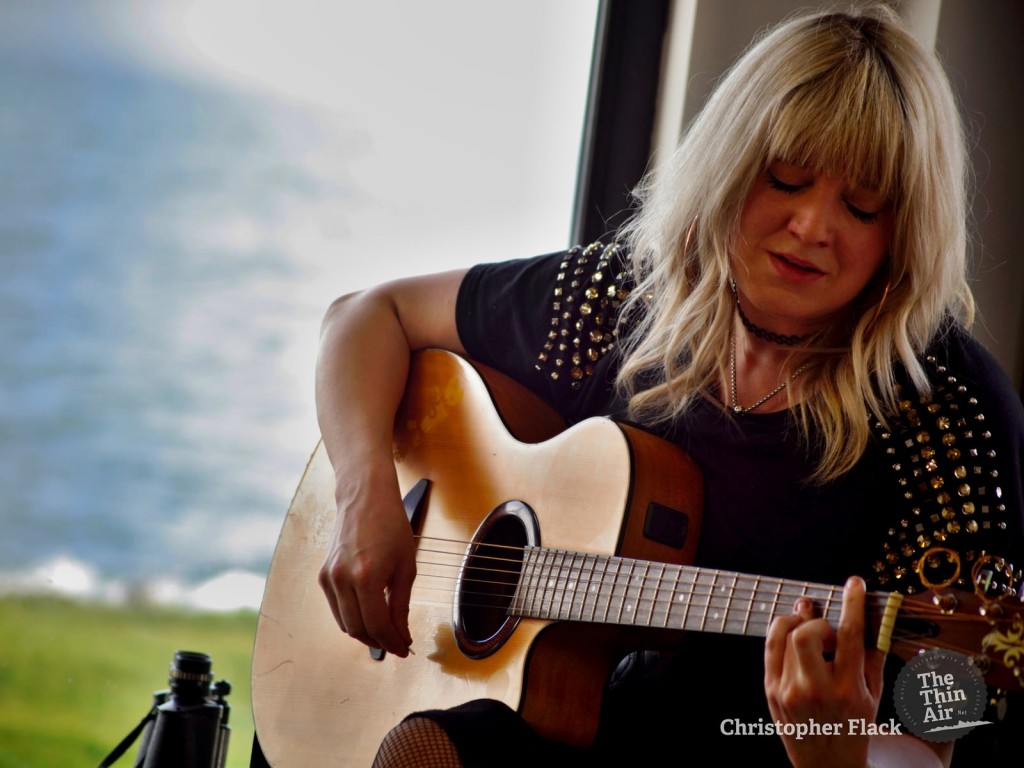 The Sunday Brunch is a long-standing tradition of Atlantic Sessions, a chilled out soiree with a bite to eat accompanied by Our Krypton Son, Eilidh Patterson (below) and Tom McShane.  This is another in the round session, there is the grand piano and another perfectly still room.  It has been a while since we had seen Tom or Eilidh and both seem to have matured immeasurably, especially Eilidh who plays some of the finest songs of the afternoon.  That's not to say Tom and Chris don't win us over, its just been a while since we have seen Eilidh and it's a joy to see her back on stage with such energy.
We were told that Portrush Yacht club do a mean late lunch so we hightail it over to see Ken Haddock and Matt McGinn.  Matt is a master story-teller and has a beautiful range of tales, both tall and tetchy.  With Ken running a little late we get more of Matt that we had anticipated and only manage to hang around for a few of Ken's songs, both played beautifully and the grub was superb.  More of this, please.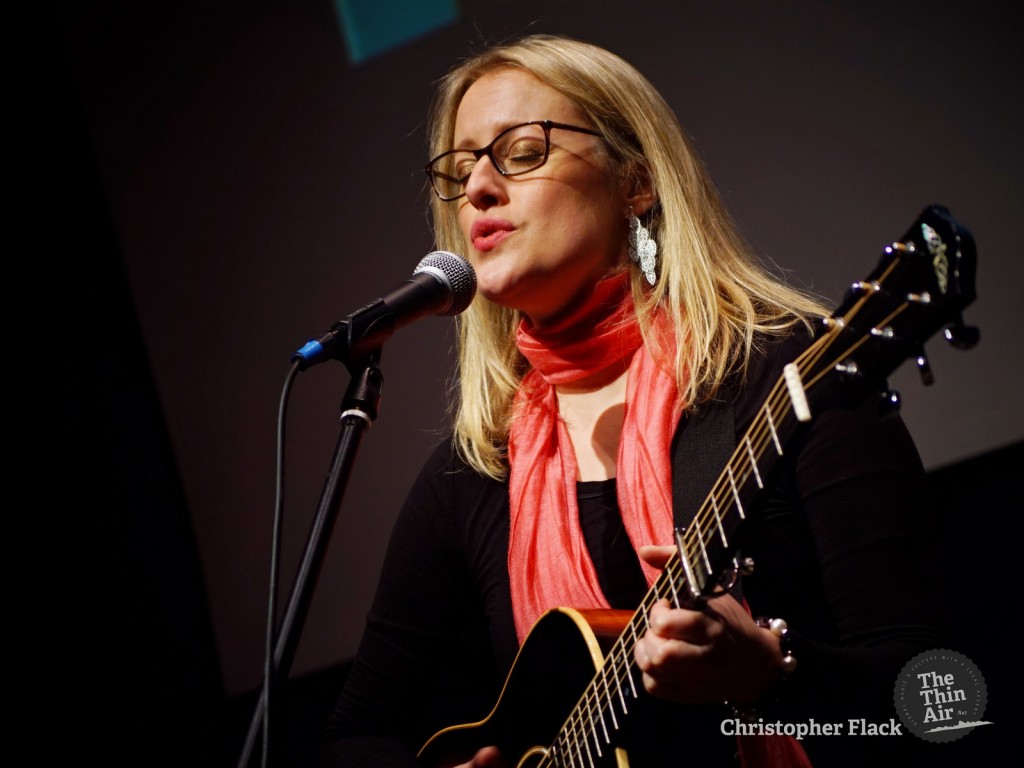 As the Guinness was so good we abandoned the car and jumped in a cab back to the Flowerfield to see the one Sunday show we couldn't wait for.  Jealous of the Birds, Ryan Vail and Katherine Phillipa play another in the round session to a packed out auditorium.  Three artists that couldn't be any more different, they manage to blend together and create a beautiful evening of joyous stories and tunes.
It's rare to see three acts such as this in one room and a real treat.  The ice outside makes getting around town a challenging prospect but we head off to the final show of the festival with Arborist at the Atlantic Bar, complete with a poker game player where you might expect to find a monitors bloke.  The poker game player managed to play the entire way through their set; I'm fairly sure he's in the photograph.
While that game should be a review in itself Arborist play a spellbinding show.  Against all odds and a bit of feedback they manage to maintain control and introduce a few new numbers to the assembled crowd before they hit the road for home.
As a first run out for us and under new management Atlantic Sessions was a bit of a revelation, four days of superb music in some interesting venues right on our doorstep.   A Snow Water production that comes with support from Help Musicians, Causeway Coast & Glens Council and a literal cast of dozens, it delivers some fascinating and challenging shows.  I hope it's not a solitary visit.
Seriously, though: bring a big coat.
And boots. Christopher Flack