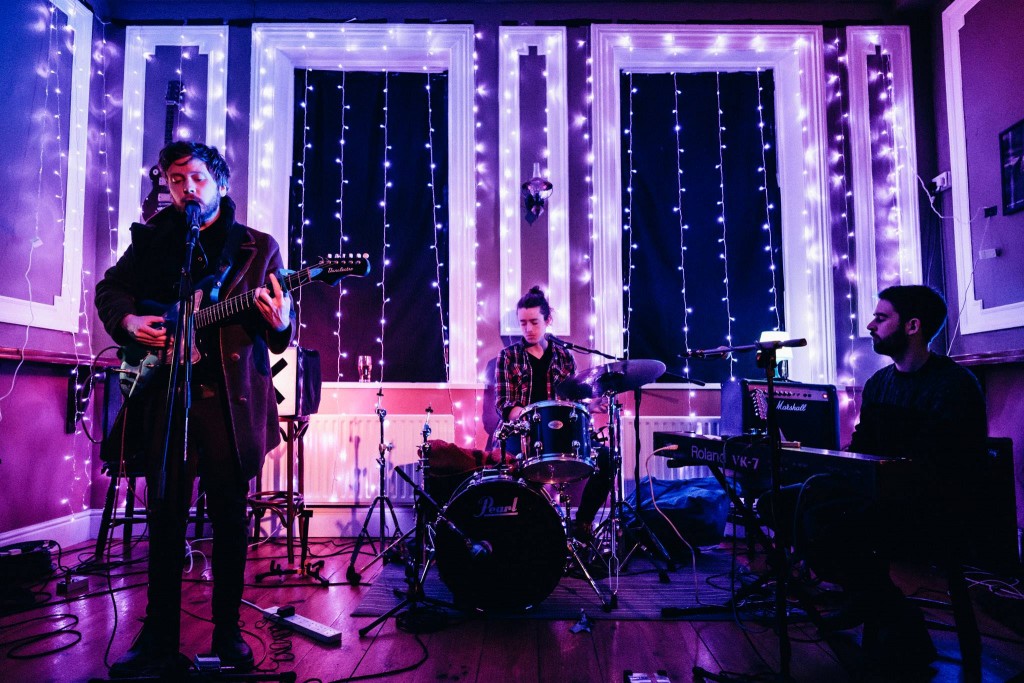 You mightn't immediately peg David Boland AKA New Pope, as a "degenerate romantic", but when delving into his expanding back catalogue, there's enough substance of the sort to confirm that the Galway-based musician has had dealings with nostalgia far more cogent than his youth might suggest.
His is a craft indebted to memory; the bittersweet, the humorous, and the kind that inherently shapes one's outlook – for better and, at times, for worse. To hear it on record is to acknowledge the confessional nature of Boland's songwriting; we become willingly and unapologetically complicit in his experiences – an increasingly rewarding transaction as New Pope continue to create and release their brand of charming, melodic alt-folk.
Having looked back long enough, we chat to Boland to get a sense of where his musical headspace is at now, how he has arrived at this point, and where he's taking New Pope next.
Words by Aaron Drain
It's been just over a year since you released YOUTH, and now LOVE is out and amongst the listening public – was there an agenda to immediately begin working on LOVE after the release of your first LP?
Before I started on YOUTH I had a vague ambition to record an album a year. By April I had settled on the name LOVE and booked an EP launch to demo some of the songs. This resulted in a very hasty recording session with Steve and Colm in the two days before that gig. We managed to record three tracks ('Love', 'In Between' and 'Old Love Song') and later we recorded 'The Claddagh' to try and get a music video out (made by the talented Gavin Martyn). Eventually, beset by technical incompetence and woozy from cream liquor, I managed to finish the thing over Christmas. Myself and Colm mixed it on New Year's eve and put it out into the world at around 11:20pm. Mission accomplished: time to get wrecked.
How has the reaction been so far to LOVE? What would you hope that listeners take away from the record, if anything?
It's been good. People have told me they like it and reviews have been positive. I'm happy with it in that it's mostly made up of quite old songs that I wanted to get down (for posterity) and that it has its own sound. I'm not sure what I would like people to take away from it. To me it is the soundtrack to my hazy mid-twenties. It's not so much about love as about being a self-involved, dramatic and degenerate old romantic. I hope people can relate to being like that in some way at some time in their life.
With regard to the writing of the new album, did you find it easier to settle in to a thematic groove? It feels like you're trying to complete a kind of musical snapshot of personal history through memory, given HOME is due out later this year.
That is definitely the case with YOUTH and LOVE, partly because they're made up of old songs, but mostly, I guess, because that's how I've tended to write songs thus far. I like nostalgia. It is a complex emotion, tinged with sadness but also really pleasant. You can lose yourself in it but also be removed from yourself.  Like looking at that past version of you and thinking "what a silly idiot", in a sort of affectionate way.
I'm excited about HOME because the songs are more recent and not so much drenched in the heavy nostalgia of the first two. The theme is also broader which makes it interesting to think about.
Can you tell us a bit about your recording process? Do Colm and Stephen get involved with the studio side or are they purely live support?
Both Colm and Steve are far better musicians than I and are dreamboats to work with but I haven't even begun to mine their potential. The recording process was all over the place with LOVE and I neglected to tell Steve about the Christmas session until it was too late. Still, his playing on 'In Between' and 'Old Love Song' really makes those tracks. And Colm, well I couldn't have done any of it without Colm.
On your radio show you play a varied selection of homegrown music – stylistically, who would you say out of the artists you feature has had the greatest impact on your own music, and why?
David Kitt, for sure. I had The Big Romance on repeat for about three years in my early twenties. I've played HAL a bit on the show too and that album of theirs also had a huge effect on me at the time. I play a lot of Galway acts from the last seven years or so, bands that I would have done gigs with or got drunk with or admired from afar. Acts like Music For Dead Birds, Rural Savage, Eoin Dolan and Yawning Chasm. It's likely that I've copied them a little bit along the way.
Generally I just play songs that I'm into that week. This week I am mostly listening to 'Rats' by Pillow Queens.
You recently said that Citóg, was your greatest achievement – can you tell us a little bit about that and why it's so important?
Citóg is just a beautiful thing. It's been running nearly every week for nearly seven years and through it I've met the soundest and most talented people I could ever hope to meet, seen some of the best gigs I will ever see and had some of the best nights out that I remember. In a wider sense, I think it helped create a really healthy original music scene in Galway and, through Citóg Records, started a conversation about how local musicians can hope to continue in this crazy upside down industry.
New Pope had a pretty prolific live presence over the past year – are there plans to tour both LOVE and then HOME when it's released?
I'm taking time off gigs to finish these songs and hopefully get better at music. I want to involve Colm and Steve a lot more and record the album right, get it real nice. Of course, if someone wants to pay me to do a gig, I will, no questions asked.
Finally, what can we expect from HOME? Will it be a thematic and musical continuation or are you approaching the record from a different angle?
YOUTH and LOVE have basically taken me up to where I'm at in life now so the songs I'm working on at the minute are more real to me, if that makes sense. It'll be folkier and less nostalgic. I like the idea of making an album that fits this part of the world. Fisherman's Blues evokes the west coast of Ireland in the late eighties and it appeals to me to try something similar with HOME.
Photo by Gary McCafferty