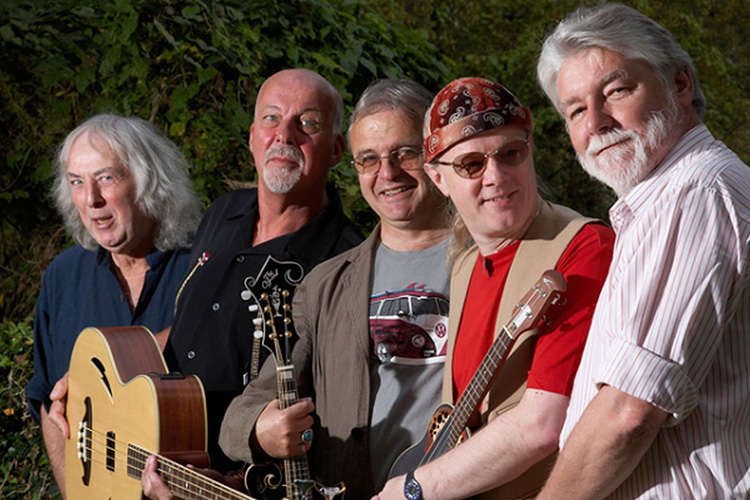 Who knows where the time goes? For Fairport Convention, celebrating its fiftieth anniversary in 2017, and for its legion of fans, Sandy Denny's song and lyric from Fairport Convention's 1969 album Unhalfbricking has never been more poignant, or indeed, more haunting. Where indeed?
Fairport has played just about every town, city and village the length of breadth of mainland UK since its first concert in 1967, but jaunts to this part of the world have been fairly rare, with this being Fairport's first Belfast gig since 2010.
All the more reason then for celebration. Fittingly, this afternoon's matinee gig and that of the evening before both sold out shortly after Out to Lunch announced this year's festival program. Long of tooth and grey of hair the five members may be, but the legendary Fairport Convention is still a significant draw wherever it plays.
Widely recognized as the progenitors of English folk-rock, Fairport Convention has undergone numerous line-up changes over five decades, making singer-songwriter and guitarist Simon Nicol the only original member on the Black Box stage.
That said, there's a continuity and stability in this line-up: bassist Dave Pegg has played the low notes since 1969; Ric Sanders has frayed fiddle strings since 1985, though, in keeping with the wisdom of age, has retired the leaping-off-the-drum-riser routine; multi-instrumentalist Chris Leslie began to broaden the band's musical palette in 1996, and in 1998 Gerry Conway became the seventh person to hold the drum chair in Fairport's long history.
With a back catalogue of some thirty-odd studio albums, selecting a set with broad appeal must be a challenge, but the balance between old and new, vocal and instrumental, ballad and stomp, was finely struck. The mellifluous nineteenth century jig "Ye Mariners All (Jug of This)" gets things off to a fairly lively start.
Fairport classics like "Crazy Man Michael" from 1960's Liege and Leaf – voted Most Influential Folk Album of All Time at the BBC Radio 2 Folk Awards 2006 – and the jaunty singalong "Walk Awhile" from 1970's Full House, are sprinkled among more contemporary compositions.
Leslie's bouyant "The Festival Bell" – inspired by a bell in Fairport's spiritual home of Cropredy – and the rocking "Myths and Heroes", and Sanders' instrumentals,  the jaunty "The Gallivant" and the graceful waltz "Port Meirion", provide elegant proof that Fairport has moved with the times, refusing to stand still and risk becoming, as Nicol quipped "a tribute band to ourselves."
Nicol's vocals are as good as ever, particularly on "John Condon", a moving acoustic ballad about Irish lad John Condon, who was believed to be the youngest Allied soldier to die in World War One. Condon's actual age is in fact a matter of some historical dispute, but there's no escaping the melodic beauty or emotional heft of the song; gentle acoustic guitar arpeggios, harmonica and fiddle combine in plaintively moving anthem to the senselessness of armed conflict fuelled by nationalism.
"The Naked Highwayman" is a bit of a dud – musically repetitive and accelerated – which is a shame, given the guile and wit of the lyrics. More satisfying is "Sir Patrick's Spen", a traditional tune of Scottish origin dating back to the mid-eighteenth century, first recorded by Fairport on the album Full House (1970). Nicol's clearly articulated lyrics, carried on a bobbing rhythm, relate the dramatic tale of a sea storm foretold by "the new moon with the old moon in her hair", which sends the sailors "fifty fathoms deep".
Two contrasting covers pay tribute to folk stalwarts Ralph McTell and Anna Ryder – the gentle acoustic reverie of "Hiring Fair", followed by the old-timey, banjo-driven "Bring Me Back My Feathers."
Eternal Fairport favorites "Matty Groves" –a seventeenth century tale of adulterous lust and bloody revenge – and the anthemic "Meet on the Ledge" conclude the set; the latter will sound many times more epic when twenty thousand voices join as one at Fairport Convention's annual Fairport Cropredy Convention in mid- August – an event not to be missed for all folkies. Tickets, and time, will go in a flash. Ian Patterson