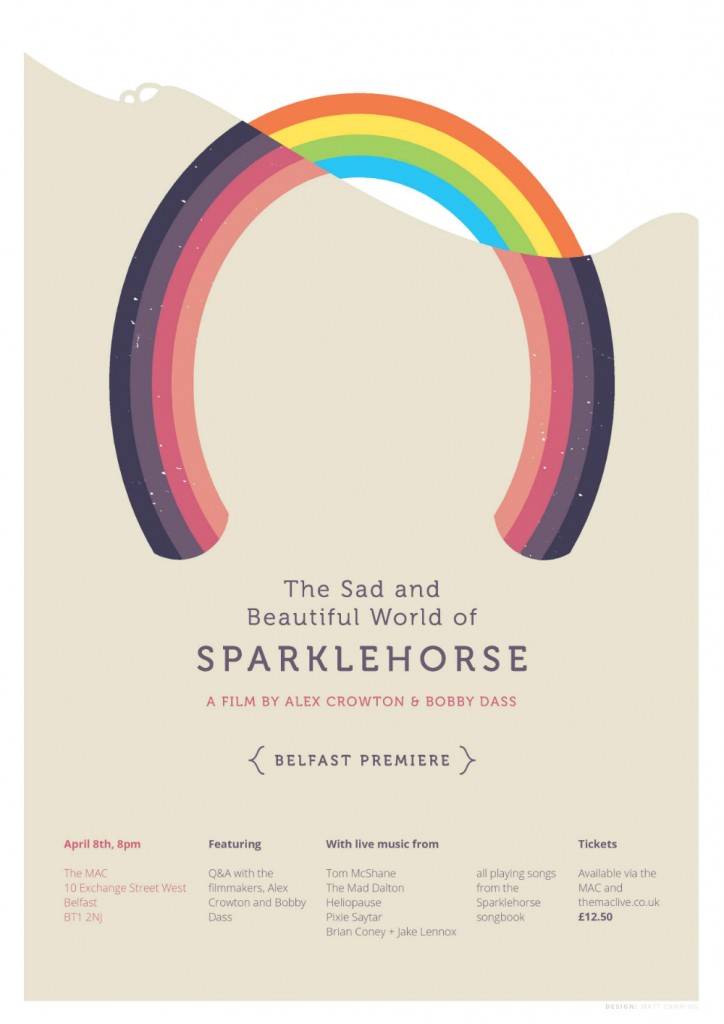 On Saturday, April 8 we will co-host a special, two-part event at The MAC as part of Belfast Film Festival celebrating the life and music of the sadly-missed Mark Linkous AKA Sparklehorse.
Following a screening of Alex Crowton and Bobby Dass' new documentary 'The Sad & Beautiful World of Sparklehorse', the evening will also feature a Q+A with the filmmakers, as well as a live, one-hour performance 'A Night of Sparklehorse' with Tom McShane, Peter Sumadh AKA The Mad Dalton, Richard Davis AKA Heliopause, Pixie Saytar, Jake Lennox and Brian Coney.
Ahead of the one-off event, we chat with the organisers and house band about the enduring legacy and impact of Mark Linkous and his music.
Go here for more information and to buy tickets.

Hi Peter. First off – how did the idea for the night come about?
Peter Sumadh (AKA The Mad Dalton): I've been a fan for many, many years. I was fortunate to see Sparklehorse play in Dublin and meet him there and see the Belfast show, as well. A few years later when he passed away I wrote a piece for my website, which was then more literary-based. The piece was called A Horsey Who Sparkled. I couldn't really imagine the attention it got. Mark's mother came across it, as did former band members like Paula Jean Brown from Giant Sand.
On the night of the Empire show I actually had a video camera. So wanting to do something with the footage after he died, I put that in the article. It was really just talking about how much I had been touched by so many people by Mark's music. When other people got in touch I also found a number of Sparklehorse devotees, including Alex Crowton and Bobby Dass, who got in touch saying there were shooting a documentary. They posted the article on their own page and then we got in touch about how screening it in Belfast. So it's kind of just grown from there.


Pixie – why do you think Mark's music has he affected you so much?
Pixie Saytar: I honestly can't remember when I or even how I started listening to Sparklehorse. I was at the show at the Empire so it would have been at least a year before that. It touched me in a way that a lot of the music I listen to does – music that makes you feel ok about having feelings and expressing them. I think for me as a songwriter it's music like that that inspires me to keep being honest, to keep doing what feels right, rather than what people are telling me is cool or what I should do.
And playing in this band, does it feel like an honour to play Mark's music?
Pixie: Without a doubt. It's something that I never would have thought would happen. Richard (Davis AKA Heliopause) said to me once when we were coming back from a gig I was playing, "Did you like Sparklehorse at all?" and I was like, "Yes!" And that was how my involvement with this started. It's really special to be the "girl" in the way that I don't have any lead vocals for a change. It's kind of nice for me to just throw in some accents here and there, slotting into the music in different ways there. Even on the songs I'm doing barely nothing it feels nice just to be "in" it.
Tom, am I right in thinking you've seen Sparklehorse three times?
Tom McShane: Four – three in the Empire and once at the Olympia in Dublin. The first time was when I had just moved to Belfast, the day before my 19th birthday. It was the Good Morning Spider tour. I'd heard some of Vivadixiesubmarinetransmissionplot before and I'd liked it. But I think it was when they played 'Most Beautiful Widow In Town' that properly floored me. Then I got the most recent album and it completely transformed how I thought about making music.
When I was doing my first solo demos I couldn't have stolen more ideas from Mark Linkous, to the extent that probably the best song on my first mini-album was originally called 'Song For Mark Linkous'. And when I realised it I simplified it to 'Song For M', which I thought was more mysterious in some kind of way, but, yeah – even right down to the second verse it had a Mark Linkous distorted vocal impersonation.
But on a more personal level, aside from all the ideas I stole from, because in my late teens and most of my twenties I suffered quite badly from depression, listening to a lot of his work actually helped me work through that myself. Things like 'Sad and Beautiful World' and 'Happy Man', although they don't go into any huge depth about how he was feeling, the concepts themselves – the fact – that things can be both terrible and beautiful at once – is something I really clung to, and really, really helped pulled me through some very dark times. The reason that I wanted to do 'Happy Man' is because I can just remember listening to that song when I was in a very bad way. That chorus, which is just so simple – there's no dressing it up. It's so brutal in its clarity. It was identifying with that sort of feeling, that gut-wrenching, kind of brutal simplicity that helped me to sort out my own feelings. Not that I'm saying that it was solely listening to Sparklehorse that fixed me, but it was certainly instrumental in getting me to a place where I felt better about things. I feel a real strong emotional attachment to so much of this music. It's cathartic and that's something I strived to do in my own music. When I matured a bit and started writing with my own identity more, it was about writing songs that got something out of me that made me feel better.


Jake, you've performed Sparklehorse material live before. As you're playing drums on this occasion, do you still feel as strong an affinity with the prospect of performing his music live?
Jake Lennox: Oh, man, definitely. Some of the power in the slower ones like 'Most Beautiful Widow', it's still raw emotion and I feel the catharsis playing them. And as a team, I think we're able to fully realise his vision.
Seven years after his passing, one could say Mark's legacy has hit the glass ceiling of posthumous acclaim.  But this is undoubtedly going to a real must-attend event for the people who are there. Does it excite you to know you'll be performing to people who share that same love of Mark's music?
Peter: I feel very excited and safe playing with this group of people, and I think that we're all keeping the fire lit. It's weird because most of us went to that show in the Empire, so there's a huge responsibility there that we take very seriously. And as clichéd as it might be, this is about honouring Mark and making sure that hopefully attendees who haven't fully delved into his music and story will do so and pass on the word. It's an ideal accompaniment to the film but it's also a big responsibility. There's a burdening because Mark's not here to play his songs any more. There are other people who have been playing songs at the film premieres, and I would love to see what they're doing, but I'm not sure there have been bands put together for the occasion elsewhere. So this feels special. I think there's a kinship here and I feel very lucky. It has turned into something bigger than I had ever imagined.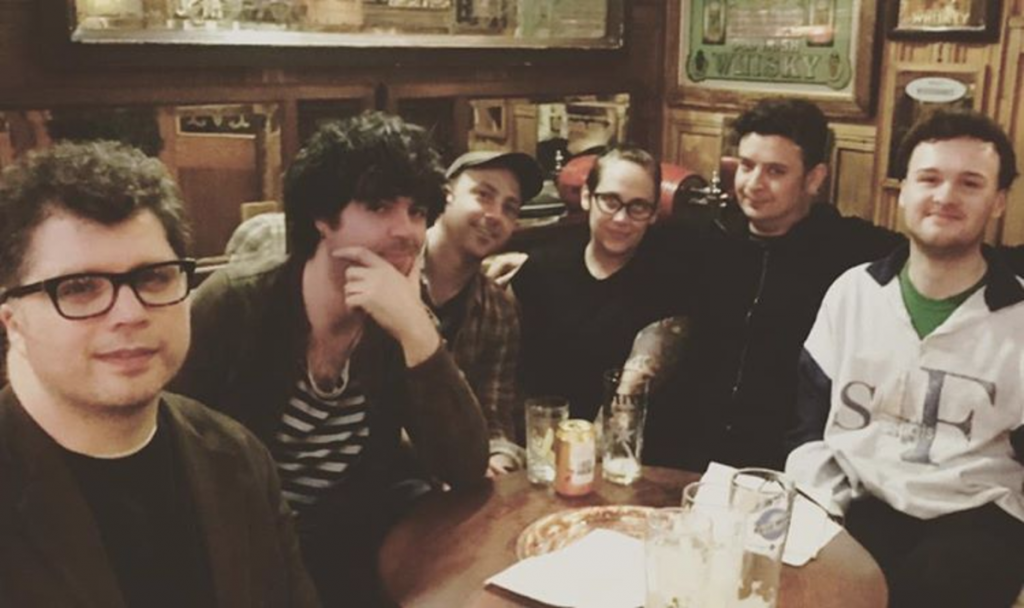 Finally, for those who aren't overly familiar with Sparklehorse but curious to check this out. Why do you think they should go?
Pixie: I hope it doesn't sound egotistical but this has been a very magical and unexpected group. There isn't a bad apple in the bunch. Maybe this is a way to be exposed to the music that you won't get to. I'm not saying it's the closest you'll ever get but I think if you want to learn about somebody who has touched so many people, being able to watch that film and have this experience, it's a one-off and it's going to be magical and respectful and loving.
Peter: I think that people are going to see a really unique celebration of Mark from different perspectives, from people – including the filmmakers – who care very deeply about Mark's music and that will take care of the presentation of that.
Tom: As much as what we're doing with the music is great and everything, the film is also such a great opportunity to see Mark's story, as well as hear his music and context. With all those shows that we've talked about around the UK and the States, it's an opportunity – you talked about the glass ceiling of posthumous praise – to burst that through word of mouth, via the film, and people like us playing the songs. There's a chance that Mark might receive the recognition that he didn't fully receive in life. There are more people that need to know about him and his music and that's why I think people should come.
Jake: Yeah, I think it'll add power to the music that he created. Even if it somebody wasn't massively into them, it'll encourage them to join with other people that do have a deeper appreciation.
Peter: I also think it's really important to thank the filmmakers, Alex Crowton and Bobby Dass, for effectively giving us permission to do this. It's a huge leap of faith from them. They deserve an enormous amount of credit for making this whole thing happen.