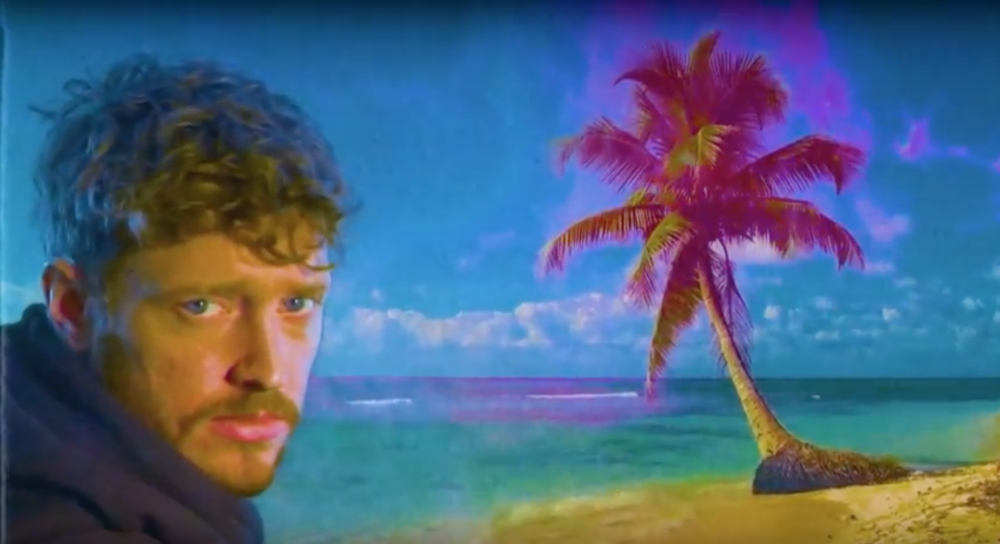 Ever since the release of their self-titled debut EP (one of our Irish releases of 2015, no less) we've been keeping a close eye on Dublin's Cat Palace. The music-making moniker of David Blaney, his output to date has struck a keen balance between perfectly sardonic social commentary and coded personal revelation, framed by his incredibly listenable brand of darkly alt-folk ruminations.
With a band in tow, Blaney has returned with another stellar offering in the form of 'Peddle It', a single whose tropical, a e s t h e t i c-soaked visual accompaniment is perfectly at odds with the single's shadowy tone and sway. According to Little L Records – who will put out the band's forthcoming debut album, Why Don't You/Why Don't You, Go Off, on April 1 – the track is "Informed and inspired by guttural feelings of devotion and loss. The album's intent is to build upon and expand the textures presented in the first two releases, simultaneously delving further lyrically into the trappings of mundanity and interpersonal relationships – never failing to see the humour in either."
Also touching on feelings of futility of making and pedalling one's art in an industry full of pitfalls and closed doors, the single evokes the shrouded restraint of such Louisville, Kentucky luminaries as Slint, The For Carnation (a band featuring Slint's Brian McMahan, who Blaney calls to mind here) and – perhaps most notably – Bonnie 'Prince' Billy. Tellingly, Why Don't You/Why Don't You, Go Off was written during time spent between Dublin and Louisville and recorded at Ailfionn Recording Studio in Drumcondra.
As ever, this new material – sees the band draw influence from the likes of The War On Drugs, Cass McCombs, Spoon, Mac De Marco and Leonard Cohen – finds Blaney working with longstanding collaborator and bandmate, producer Christopher Barry and drummer Oisín Trench (Enemies, The River Fane).
Cat Palace play alongside Des Garvey & The Fresh Hell at Dublin's Workman's Club tonight.
Have an exclusive first look at Nathan Fagan Guimond's video for 'Peddle It' – easily one of the best Irish tracks of the year thus far – below.