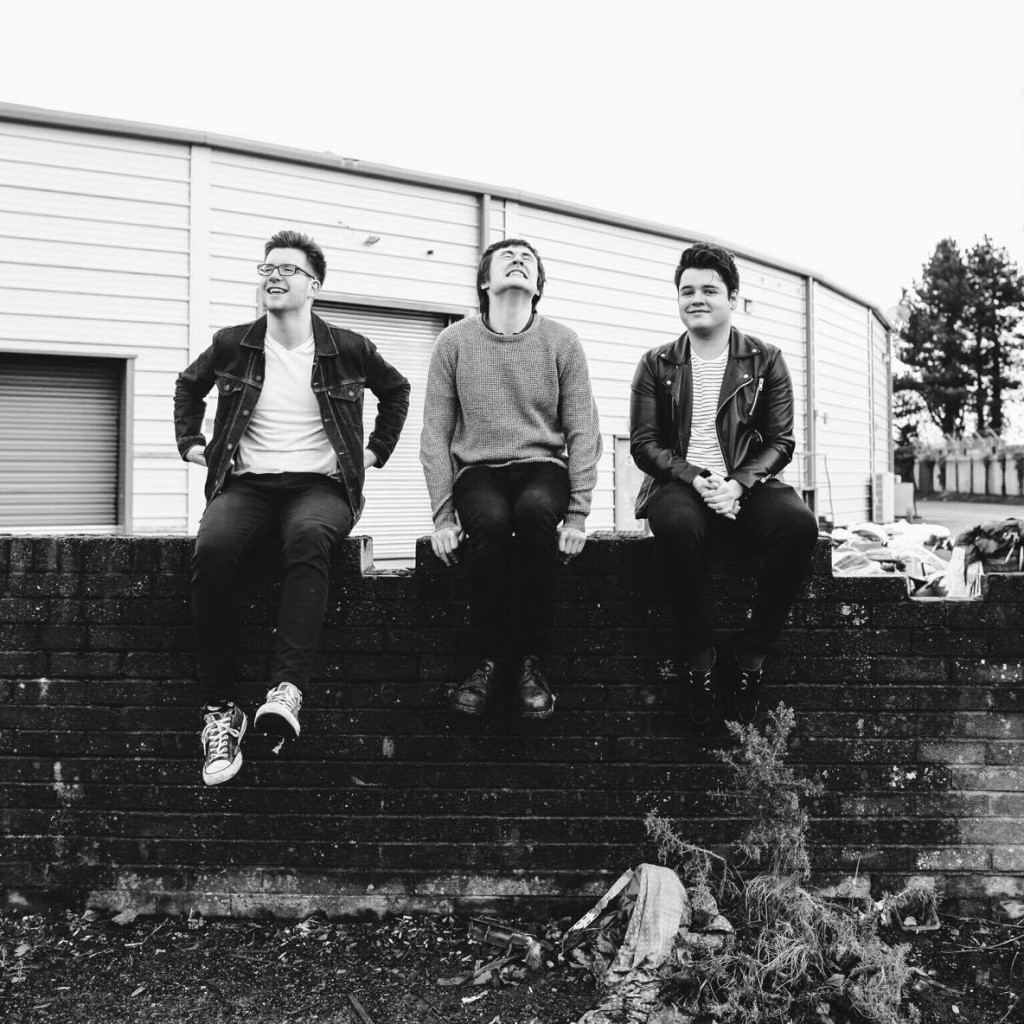 Derry three-piece TOUTS have wasted little time transitioning from a cover band to an uncompromising punk rock band in the past year.  Having just wrapped up in the studio, they have two E.P.'s tucked in their back pocket, with the first set for release in April*.
After meeting at the Brandywell, home of Derry City F.C., the line-up has changed over time, with the current trio consisting of Matthew (singer/guitarist), Luke (bassist), and Jason (drummer).  As a band, their taste has evolved, from mod and pub rock beginnings, to punk rock usurping all other influences.
They appear to have the same youthful exuberance as The Undertones, but whereas Fergal Sharkey's iconic voice was fit for the Dhoíre Féis, Matthew has a grown-up growl with an aggressive disposition that defies his years.  They are very much a throwback to the likes of Stiff Little Fingers, even veering into the territory of American Hardcore punk, the frontman's blood-stained guitar evidence of the ferocity at which they play.
Some bands distance themselves from politics, but we're entering an era of abnormal instability with politicians on both sides of the Atlantic scaremongering, scapegoating and building walls rather than bridges.  New tracks from TOUTS, Political People and Bomb Scare (addressing the refugee crisis) show a band that has been sharpening its political axe.  The time for cogitation has passed, and TOUTS are amongst a group of bands raising their voice in recalcitrant rage.
Their rise has seen them support household names, and this summer they will share a stage with the likes of John Cale, Peaches, Metronomy and The Kills, at Liverpool's Sound City.  In 2017 TOUTS may galvanise Derry's place on the punk rock map, as they emerge as young successors to hometown heroes The Undertones.
Tickets are on sale now for the E.P. launch on April 29 at Anne Street Event Centre in Derry.  Support comes in the form of Foreign Owl, Lost Avenue, 1980 Something and S.L.T.
#FuckTouts
Matthew took some time to talk about the origins of the band and their plans for 2017.
You all seem quite young so I was wondering how yourself, Jason and Miceál met, and went about forming cover band, The Blue Jeans, originally?
The current line-up is Matthew, Luke and Jason.  Miceál was the former bassist for the majority of the bands life and played a very important role in our development but unfortunately had to leave due to other commitments, but every cloud has a silver lining so out of Miceál's absence came Luke our new bassist.  I'm (Matthew) 16, Jason is 17 and Luke is 19.  I've known Luke longer than I've known the rest of the band.  I do'no' we just came to know each other from Derry matches at the Brandywell.  Me and Miceál met through mutual friends and later on he introduced me to Jason.
When did you form The Blue Jeans, and what was the spark for starting it?  Would it be correct to say this was a cover band in a similar vein to The Strypes, who I believe you toured with?
The band originally formed as the Blue Jeans in late 2014.  I've been in bands since I was 11.  I just fell in love with music; I think it was because of Guitar Hero 3. There was some fucking tuneskis on that I was p4 when I got it so that's what started me musically, then I moved house. I must've been about 13 when I got into the mod thing I seen this ginger boy wearing desert boots and thought he seemed sound. A friend of mine from school Michael, knew Miceál at the time and used to just jam with him.  One day I was walking past Miceal's house when he said to Michael go and ask him to come in.  So I came in and we chatted for a while they were playing and asked me to play so I went to my house and got my guitar.
What songs would have comprised your sets back then, and was your taste in music informed by family members, friends or something you were naturally drawn to?
The first thing I can remember playing is 'She Does It Right' by Dr Feelgood.  From then we decided to form a band. It consisted of five people originally then literally the week before our first gig supporting Luke's old band The Turning, our guitarist left.  After that Miceál and myself made some admittedly harsh decisions to throw the drummer and singer out of the band.  We then took a break for a while.  Miceál kept talking about this drummer who he plays with in school who's "fucking class" so we got him in for a practice and it was love at first sight.
We worked our balls off for about three months and then began gigging in June of 2015.  It's fair enough to see that at the start The Strypes did have a big influence on us.  It was just class to see boys close enough to our age who's into the same music just going out a fucking doing it. Fair play to them!
When did you decide to form TOUTS, and was it part of a conscious decision to start forging your own identity with songs you'd written yourselves?
Back in 2014 it was just a lot of really cringey cover stuff.  Still all brilliant songs like 'In the City' by The Jam, a few Beatles tunes and a few early Stones covers that we covered again because we're ballbags as well. 'Alternative Ulster' was in there somewhere too if I remember right.  Then in 2015 when we started with Jason it was a lot more sophisticated and better thought out.  We had the likes of 'Walking the Dog', 'I Can Tell', 'Casbah Rock' and 'Gloria'.
But this time we took the same approach taken by most bands we were into Dr Feelgood, The Strypes, The Undertones and even The Stones.  We took old songs we liked and sped them up and made them sort of our own.  I think for us it all happened naturally I can't speak for Miceal but for me it 100 percent started with guitar hero 3 the game.  I just got the music bug this was back in primary 4 and haven't really stopped since and with things like YouTube it was so easy just to get into music that you haven't heard before.
You've secured some high-profile support slots already, which must be a real vote of confidence for the band at such an early stage.  Has there been a moment so far in which you've had to pinch yourself: either supporting a certain band, playing at a particular venue or recording the E.P.?
We changed our name to TOUTS because we realised that the Blue Jeans just didn't really suit what we wanted to do as our music taste developed we starting getting more and more into punk.  Stiff Little Fingers was a big one for us in terms of a band then, of course, The Clash.  Us writing new songs wasn't really a conscious thing.  Covers are brilliant when you're starting a band I think that they're very important they teach you a lot both on stage and when practicing and writing.  We sort of just got sick of playing a lot of them day in day out and also covers can only take you so far. However, 'Marty' really did forge our identity. I'd say just the idea of not taking ourselves too seriously resonates a lot with Luke, Jason and myself.
Not as such because while we're very blessed to be in the position we are we are constantly working so you get so engulfed in it all and more and more news about exciting stuff happening keeps coming to you so you nearly build up a tolerance to it.  It's only when you stand back and actually look at it from an outsider's point of view that you think "fuck me hi, what's happenin'."
I understand you're in the process of making an E.P.  Would your sets nowadays be split evenly between covers and your own material?
We have two E.P.'s made and ready to go. After Miceál left, Jason Luke and me went flat to the mat with writing literally every day of November writing.  At this moment in time we have enough originals to more than fill a set but there's some covers that are just hard to get rid of people like them too much and so do we so our set has two covers in it still but around 85 percent of the set is original at the minute.
You've been recording at Start Together Studios, how have you found the recording process and working with Rocky O'Reilly, who I remember as a prominent musician in his own right when he played with Oppenheimer?
Yeah, rocky has got around he was in a fairly successful band called Oppenheimer.  Rocky is brilliant to work with, he does his research.  The gear he has is outstanding. The whole recording process is good craic, it's just lethal to be able to hear your song professionally recorded at the end of the session.  That's when you can take a bit of a breather it's like a big weight lifted off your shoulder if you like how it sounds. But to be honest we enjoy the live side of the band better.
What songs can we expect to see on the E.P. and has a date been proposed for when it will be released?
Songs off the first E.P. will be fairly well known at this point from people who go to our shows, the second E.P. has some lethal stuff on it that were really proud of, in terms if a release date it'll be soon enough.
Are you able to say anything about the subject of the songs or a possible E.P. title?  I noticed in a previous interview you said that as a punk band there was a slight pressure to make a political statement.  Would you say you're politically-minded as a band or are your songs informed by other subject matters, Marty for example?
At this stage we have a few politically influenced songs that obviously goes hand in hand with the punk thing but it's not a conscious decision to write political songs.  We just write stuff we can get behind. Like 'Marty' isn't political at all and believe it or not the main inspiration for the actual song wasn't a purple double ended dildo of the same name.  Marty is about just useless trends sort of… I don't know, it's hard to describe. It's about stupid stuff that people follow and get obsessed over but in reality it's stuff that means fuck all and shouldn't really rule people's lives.  Not that anyone would understand because trying to work out the lyrics is like deciphering fucking hieroglyphics.
Finally, what's in the pipeline for 2017?
As for 2017, a lot of big massive exciting stuff that we probably don't deserve seeing as "we are a covers band until we prove otherwise." –Voice of reason within the Derry music scene.
But aye loads of stuff coming up, really exciting stuff, stuff that we can't talk about yet but all in all 2017 is hopefully going to be a huge year for us.
So aye, good health to all reading this and all that.  Go raibh míle maith agat!