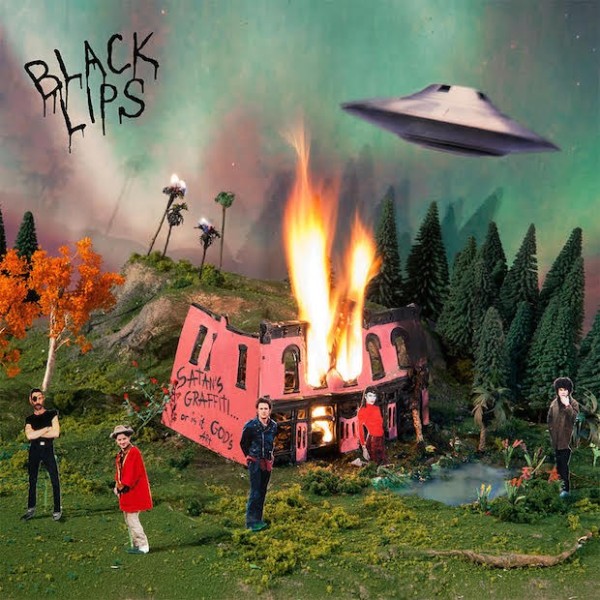 Satan's Graffiti or God's Art is the eight album from garage rock stalwarts Black Lips. The Atlanta, Georgia natives have been ploughing this furrow since 1999, undergoing various lineup changes and becoming well known for their raucous live show, all thrown guitars and downed beers. While the band remain impressive in the live sphere, their studio albums took a decline around the time of 2011's Arabia Mountain, primarily produced by Mark Ronson. The subsequent album, 2014's 'Underneath The Rainbow', continued the decline and this year's effort unfortunately doesn't quite buck the trend enough, despite the recruiting of the mighty Sean Lennon on production duty .
While the Black Lips have always been rightly hailed for their live performances, they have also proved themselves as quality songwriters over the years. The core of their set to this day relies on tracks from Let It Bloom and Good Bad Not Evil like 'Dirty Hands', 'O Katrina' and 'Bad Kids', songs with melody and hooks galore. Satan's Graffiti or God's Art?, while not lacking in its very strong moments, lack enough of these qualities to shape up to former standouts.
The album opener, 'Occidental Front', is touted as featuring Yoko Ono but her contribution is buried in the mix on a track that resembles a theme tune to a Western. 'Can't Hold On' follows this and doesn't improve much on the template. 'The Last Cul De Sac' is an excuse to shout the title phrase over and over again.
There is relief and great success five tracks in with the woozy sixties reminiscent 'Crystal Night', with Swilley and Alexander harmonising as well as they did on previous albums and with Zumi Rosow's vocal making it a truly excellent cut that tells a tragic story of love amidst impossible, desperate circumstance. 
'We Know' hearkens back to the scuzzy garage rock sound of previous efforts, augmented by a Wurlitzer organ. 'In My Mind There's A Dream' rides a steady drumbeat and the heavily processed lead vocals and idiosyncratic backing vocals cause the song to stick in your mind as many of their strongest songs in the past have done. But major problem on Satan's Graffiti or God's Art? is in its length. The album clocks in at fifty-five minutes and stretches over 18 tracks, including five interstitial moments labeled as interludes. Two of these are full songs, while three come in around a minute in length. These add little to the collection's overall ideas, bloating its core to an unreasonable length.
It's a shame to watch Black Lips course toward what seems like a gradual stagnation. They're still a fantastic live band, with enough energy and flair to captivate any audience. But unfortunately it seems that their recorded output is in terminal decline. Whether they're able to arrest it remains to be seen. Darren Keane