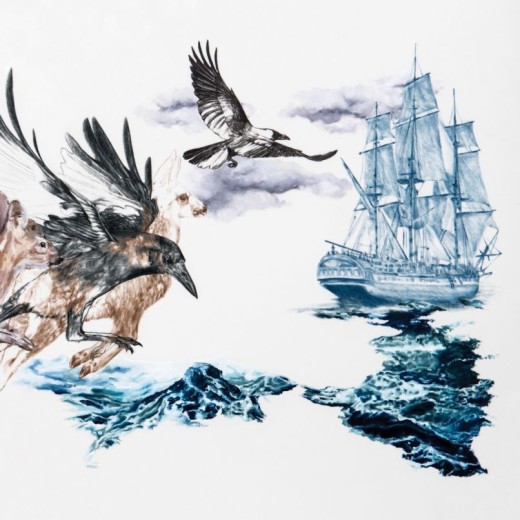 Do Make Say Think were always careful to differentiate themselves from their peers in the nineties instrumental rock boom. More subtle than Mogwai, less doom-mongering than Godspeed You! Black Emperor, more instrumentally varied than Explosions in the Sky and Comets On Fire, Do Make Say Think have always ploughed their own jazz-influenced furrow.
As a result of this, the Toronto outfit have always seemed a band apart, one more interested in broadening their palette than sticking to one particular sound. This inquisitive spirit may be the reason for their somewhat sporadic output over the years, as various members pursue side projects, most notably multi-instrumentalists Charles Spearin and Ohad Benchetrit's involvement with indie superstars Broken Social Scene. As a result it's been eight years since 2009's Other Truths, with only a few live appearances to fill the gap in between albums. The release of Stubborn Persistent Illusions goes a long way to making up for that gap.
The opening track, 'War On Torpor', is probably the most aggressive and exuberant track the group have ever released. After beginning with a tentative synth line, the drums take over, driving the track ever onward with dizzying fills until two minutes in. Then there's a period of relative calm while guitar arpeggios chime over a steady backbeat before the track takes off again, whisked away on a wave of snare rolls and cymbal crashes.
'Horripilation' follows, a much more meditative track, with token interlocking guitar lines on full display, joined during the track by various twinkling keyboards, horn parts and, later, a slide guitar. It's a track that moves throug its movements smoothly, never drastically changing in mood but serving as a relaxed foil to that which precedes it. 'A Murder Of Thoughts' closes out this side, all slide guitar and reverb, almost resembling Yo La Tengo's more contemplative moments.
The next track, 'Bound And Boundless', is presented as one piece on vinyl but is divided in two on digital formats, for whatever reason. 'Bound' begins with tasteful guitar and synth lines augmented by drum crashes for emphasis, before the angry synth pulse of 'And Boundless' interrupts proceedings. It's a track of many twists and turns, with the drifting sequence from five minutes on proving to be one of the more beautiful moments on the album before the synth buzz from earlier interrupts and the track comes to a close.
'Her Eyes On The Horizon's first half is a pastoral piece for guitars, bass and drums, fading out while droning horns announce the transition to a drum driven second half, with instrument building on instrument in a confirmation of the melody. 'As Far As The Eye Can See' is of a piece with the rest of the album and feels like it go far past its almost eight minute runtime, such is the momentum it builds towards the end.
'Shlomo's Son' is the shortest track on the album, with a melody picked out on the higher registers of a piano while drones swirl around it and a brushed drumbeat gives the track some backbone. 'Return, Return Again' begins with backtracked guitar that turns back around on itself before the drums crash in to join it and the albums rushes towards its close, fading out on a drone of synth and horns
It's astonishing that a band could return after eight years of relative inactivity with such a cohesive statement but in this case the band have done just that. Stubborn Persistent Illusions is a fantastic addition to their stellar catalogue and an album that cements Do Make Say Think's place in the instrumental rock firmament. Darren Keane