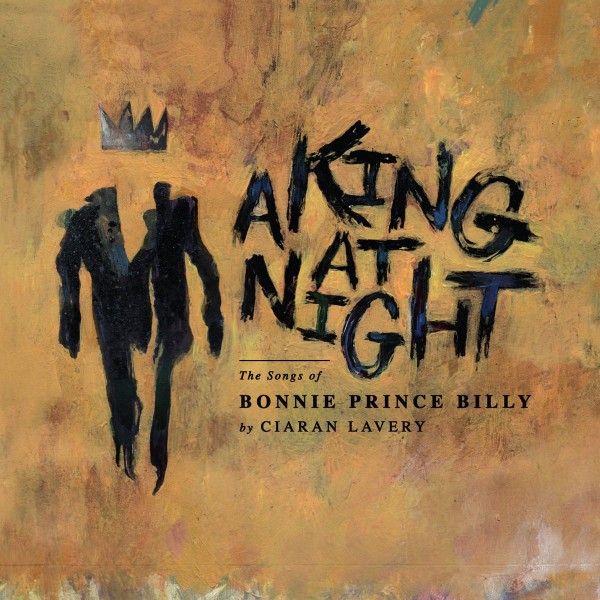 Will Oldham, aka Bonnie 'Prince' Billy, releases his new album Best Troubadour this month, a collection of covers of songs by Merle Haggard , who Oldham describes as his "forever hero". Yet the prolific Oldham is something of a hero himself to many, name-checked in songs by Half Man Half Biscuit and Jeffrey Lewis, cited as a primary formative influence on a young Arab Strap and covered by the likes of The Frames, Mark Kozelek and even Johnny Cash, yet he remains firmly in the "cult favourite" bracket, where in a more fair and just world he'd surely be subject to the same kind of tributes himself on a regular basis. Well, step forward Ciaran Lavery, who has taken up the task with a five track tribute EP that was specially released for Record Store Day – A King at Night: The Songs of Bonnie Prince Billy.
Lavery's career-spanning track choices mark him out as a devotee, with three tracks dating back to the mid 90s when Oldham was still going by variations of the Palace moniker. Oft-covered opener 'New Partner' is the most well known inclusion here, and Lavery avoids the easy route of just picking up an acoustic guitar and pressing record, instead opting for a detailed yet sparse arrangement featuring quietly strained strings, minimal guitar and choral backing vocals, something that carries on into a slowed down, piano led 'Horses', where a jazzy trumpet outro replaces the lo-fi guitar soloing of the original. It's a track with such a distinctively Oldham-esque melody that it immediately gives away its writer no matter who's performing it.
'Bad Man' is an inspired choice, the standout from BPB's low key, self-titled and self-released 2013 album, a short acoustic track that here begins in the same vein as the original before stomping percussion and a jagged electric guitar riff come crashing in to bring it life. Meanwhile 'Beast for Thee' from the 2005 Superwolf collaboration with Matt Sweeney here segues cleverly into the chorus of Oldham's best known track 'I See a Darkness' in its final minute, before a short, minimal take on 'Miss Me When I Burn' brings it all to a close.
Of course it goes without saying that the original versions of these tracks certainly remain the most essential. Lavery's vocal talents are undeniable, his crooning Tom Waits rasp being very much a key to his success, winning him plaudits and awards like the NI Music Prize for most recent album Let Bad In. But of course Oldham's own vocal limitations are a large part of his appeal, the way his voice tends to strain and crack lending it a naked honesty that even Lavery's passionate, intense delivery can't rival. This is of course true of most covers, as even the finest Dylan covers can't match the unmistakeable identity of their originals.
But for what could have been a simple thrown together acoustic covers collection, the effort Lavery has put into reworking the tracks with his usual lavish arrangements is admirable. Oldham is an artist who often revisits and reworks his own past material, usually for the worse, and this record is certainly much more welcome than the country renditions on 2004's Greatest Palace Music, a collection that shares three tracks with this one, or his incongruously jaunty 2012 rework of 'I See A Darkness', so it's probably best if he leaves the job to others like Lavery. Let's hope the tributes keep flowing. Cathal McBride