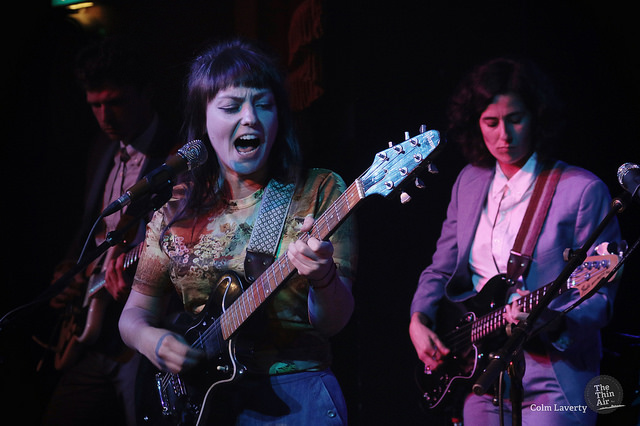 The one and only Angel Olsen and her band, live at Dublin's Vicar Street and Belfast's Empire Music Hall. Words by Joey Edwards and Ross Thompson, photos by Aaron Corr and Colm Laverty.
Vicar Street, Dublin
With Vicar Street nearing capacity, Angel Olsen's return to Dublin tonight shows just what a difference three years can make to a fan base. Doubling up as her first show on Irish shores since releasing her new LP My Woman, the stage is modestly dressed with falling silver streamers that lace the back wall. Olsen and her backing band – who casually pick up their instruments wearing spectacular matching blue suits, white shirts and bolo ties – are just about the slickest looking outfit imaginable.
There is total silence after the roaring applause that follows opener 'Intern', as they slide into 'Heart Shaped Face' from the new record. The tight, reverb filled rim shots off the snare and tremolo soaked guitars envelope around Olsen's sweet, powerful vocal. A Friday night crowd can be difficult to keep hushed for quiet numbers, but Olsen's first breathe kills any chatter. They launch into 'Hi-Five' a single from her 2014 album Burn Your Fire For No Witness, which rhetorically asks "Are you lonely too?" with a magnetic alt-country feel evoking Jefferson Airplane.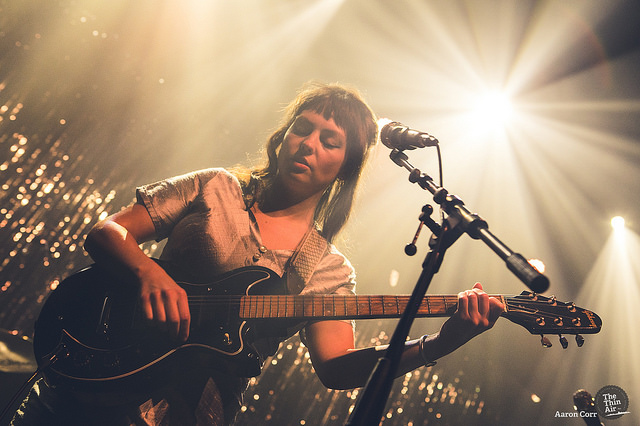 As they attack the latest single 'Shut Up Kiss Me' it's apparent the style of the material is echoing 60s pop and country, and doing so with great confidence. This is clearly a fan favorite which shows how comfortable Olsen is to launch her mammoth voice through the theatre. Despite a sudden slip up in 'Give It Up', which finds the band falling in and out of time with each other as they share a couple of nervous glances and laughs, Olsen offers up an "Oops" before they carry on with the job.
The most notable thing about watching renditions new and old tracks in the set is just how comfortable Olsen and her band are with each other on stage, to the point that it almost looks like they are just going through the motions. Although there can be no real criticism on the band's playing, they could use a shot of adrenaline to get them moving a little more. Olsen, however, is quite energetic and seems in high sprits talking about how she was jogging around Dublin and enjoying some Jameson earlier in the night (and how she is planning on more later on).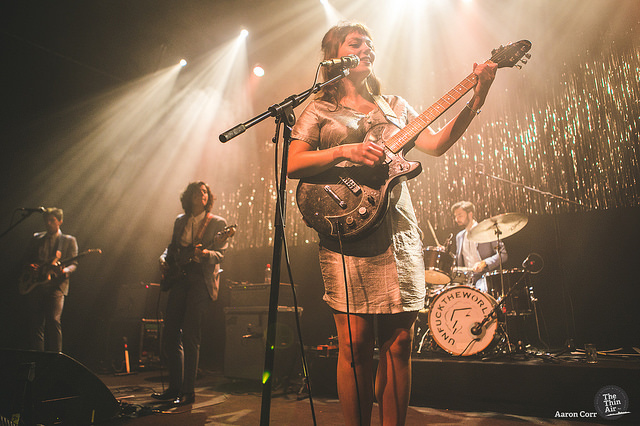 Following the likes of highlights 'Sister' and 'Woman', the band walk off stage before Olsen treats us to the ever popular 'Unfucktheworld', the opening track from her second record. This is the most intimate point in the show as it is the first time it is just Olsen and her audience, which makes for a very a powerful moment. There is a strong sense that you should simply not mess with Angel Olsen – she takes no prisoners. The band rejoin her on stage and play reworked versions of tracks from her first album Half Way Home and finish up with an energetic performance of 'The Waiting', which solidifies the folk and country style of the band. Angel Olsen has a lot of character in her playing and the way she conducts herself with the crowd. Tonight, her witty remarks and tales draw the listener in and sells the songs without any hesitation that she isn't feeling every word she sings. Joey Edwards
Empire Music Hall, Belfast
It takes a certain amount of bravery to open a show with one of the slowest, quietest songs in your back catalogue… but that is exactly what Angel Olsen does at the outset of her return trip to Belfast. 'Heart Shaped Face', one of the standout tracks from Olsen's exemplary album My Woman, is a beautifully crafted piece of music, a breathy, soulful lullaby that perfectly sets the tone for this evening. Deliberately textured to feel almost uncomfortably intimate, it is as if the audience is prying on a private conversation, or listening in on personal moments by holding a glass up to the adjoining wall between two bedrooms. Yes, there are songs when Olsen and her band, dressed as normal in matching pastel suits, let loose and rock out, or whatever the young folks are saying these days. There is the extended jam that rounds out 'Not Gonna Kill You', the scuzzy one-two sucker punch of 'Forgiven/Forgotten' and 'Hi-Five', and the hook-filled 'Shut Up Kiss Me', in which Olsen pauses to casually rinse an overenthusiastic member of the audience. "Do you want to come up and sing with me?" she says, before smiling impishly and seguing into the next verse.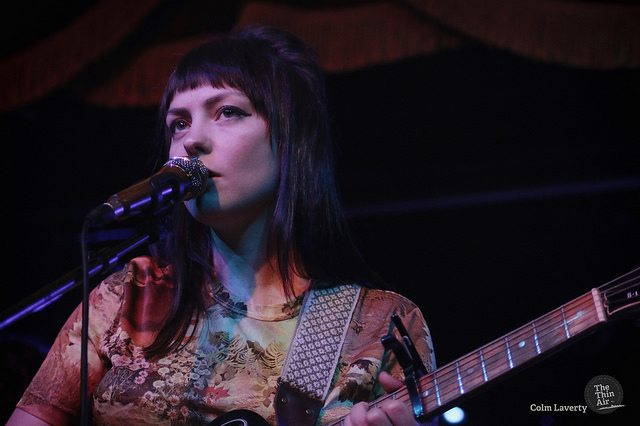 However, what charms most about tonight's performance is the quieter moments, particularly those songs taken from the second half of My Woman: the elegant suite of 'Sister', 'Those Were The Days' and 'Woman'. Here, the power of Olsen's voice, so textured and rich with emotion, is truly evident. Freer and fuller perhaps than on record, and certainly less raw than on earlier performances, it soars and trembles, filling the ornate and gilded corners of the Empire. It really is all about that voice: at times, it is a fragile whisper, and at others it is a howl – not in terms of a lack of tunefulness, but rather a letting go of emotion. The contrast is deeply affecting, but again it is on the softer ballads where Olsen's vocals, which convey the sensuality of her lyrics, are given rightful prominence. The set proper is closed with a splendid cover of The Motels' 'Total Control', a 50s pop meets new wave gem in which Olsen makes the most of the suggestive, longing lyrics whilst mischievously holding eye contact with the rapt crowd, daring us to look away. On the evidence of this evening's show, the song title is entirely apt. Ross Thompson