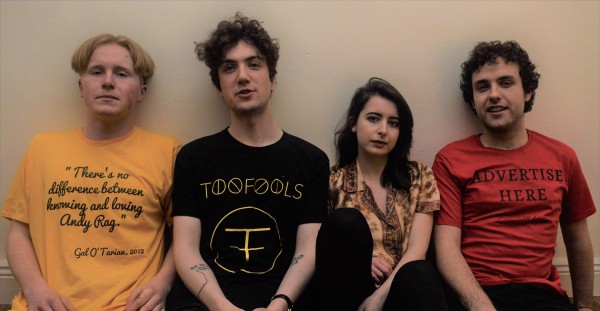 Dublin young bloods Rabble Babble have shared the first of a trio of singles documenting the misadventures of protagonists Joe and Gal and their associates on a night out in Dublin.
'Joe's Bust' is a straight spoken narrative written by bandleader Pa Ski and delivered by Molly Callan Cassidy detailing your standard undercover cop drug grab in a nightclub with enough fists flying and twists to keep us gripped, like we're hearing the story through giddy ears on the next day's rollover, mulled over a slow Guinness.
Sonically it's an affair that has as many funk and neo-jazz nods as it does post-punk and garage rock. It's a style that seems to be bubbling quite excitably on the Dublin scene at the minute with similarities to be spotted between this track, the previously unveiled 'You Know Joe, Gal and Fran' and acts like Toofools , Spudgun and the ever-daft Tongue Bundle. Whatever this trend is, we're enjoying it. More please.
Rabble Babble will be launching 'Joe's Bust' on Friday 9 June at Anseo on Camden Street, Dublin. We reckon you should go, and bear witness to the story of "the guy that filmed himself kicking Bertie Ahern in the bollocks before licking his face and shouting 'Had to get my money's worth man!', before running home and uploading the video onto YouTube."