With doors open at a very early 6:30pm and a no-alcohol policy to boot, the gig may have advertised itself as rather low-key in scope to anyone new to The Big Moon. This train of thought would've been a fatal mistake as the London band thundered their way through a blistering set that surely won over everyone present in Academy 2 on the night.
Irish band Pillow Queens got the night off to a lively blend of music aligned somewhat to 90s pop-punk, playing music from their 2016 EP Calm Girls alongside future releases. The crowd are energised by their performance, which is at its best at some of the more punk-tinged moments, reminiscent of Desperate Journalist. They closed their set with their most popular track 'Rats', a song that curiously pays tribute to Nickelback's 'How You Remind Me', and they leave a very impressed crowd in their wake.
English/Swedish outfit Francobollo (Italian for stamp) then took to the stage and launched into their first song 'Wonderful'. Math-rock elements gave me the impression of a rather Foals-influenced band, with a psychedelic undercurrent that recalls MGMT. Any doubts that the band might quash the momentum built up by Pillow Queens were assuaged halfway through the opener – this band should be on any ones-to-watch list, already so technically accomplished even without their debut album out yet.
One of Francobollo's greatest strengths is their versatility, with any song liable to make an unexpected turn at a given moment, such as the outstanding 'Sense', oscillating between melodic indie rock to heavier moments that recall Royal Blood, and retaining a gripping tension between both styles. Set highlight 'Kinky Lola' takes its initial lyrical cue from that Kinks song, though it is a wildly different song in style; imagine basslines a la Forever Dolphin Love-era Connan Mockasin fronted by a growling frontman à la The Wytches, layered with very high guitar notes. The frontman, self-styled as Sean Bean, is markedly confident for a band still in its fledgling state, entirely comfortable with stopping a song to deconstruct it comedian-style – 'this part sounds really Scandinavian'. This could wear on the audience if not handled carefully, but it works, boy it works tonight. If ever a support band has left an impression on an audience, Francobollo may have knocked it out of the park tonight.
How then, to follow up Francobollo's electrifying performance? The Big Moon came on to the stage with intent, and ploughed straight into the intriguingly-titled and hook-laden single 'Silent Movie Susie'. The refrain "come back for the summer" was shouted back emphatically at the band by the song's end. 'Nothing Without You' and new song 'Happy New Year' then consolidated the band's credentials as a force to be reckoned with on the indie music scene. The Big Moon were not here to play the songs and head home; the band members interacted with the crowd frequently throughout the show, first telling us how good it was to be playing to a bigger crowd than that at their gig in The Workman's Club last year and later starting questioning why an egg mayonnaise sandwich was lying at the foot of Jules' microphone stand.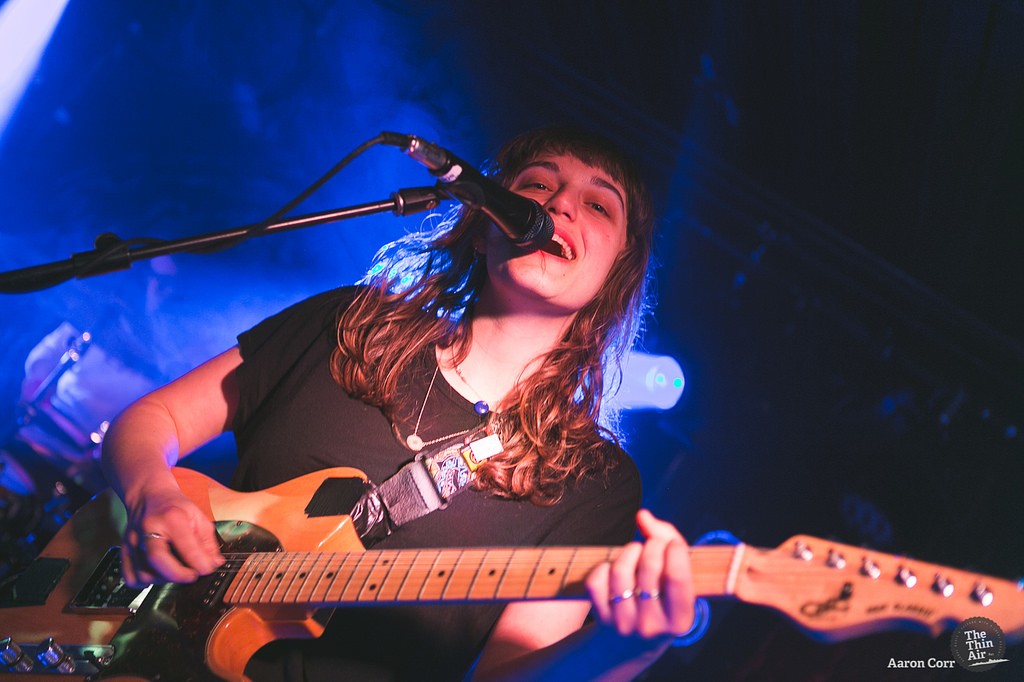 Excellent song 'The Road' feeds into one of the band's biggest singles 'Cupid', which emphasises to anyone watching why the band should be playing to much bigger stages. This single really was the perfect song to show just how technically proficient each member is, from guitarist Soph to bassist Celia, singer and guitarist Jules and drummer Fern, providing the set's percussive elements along with the keyboards. Elsewhere, 'Love in the Fourth Dimension' allows us to gain some semblance of normality, and the sandwich lying on stage is now offered to the audience. Jules further sells us the bizarre prop by informing us that the egg is touching the plastic. Whether part of the act or not, it lends the night some humour alongside the excellent music, and opening support act Pillow Queens got in the act by acquiring themselves an overdue lunch. Just before new song 'Zeds', Jules encourages us to take a deep breath, and chill out. Having performed some of the most vibrant alternative rock songs that have been released of late, the song itself shows an entirely different side to the band, venturing into dream-pop à la Beach House.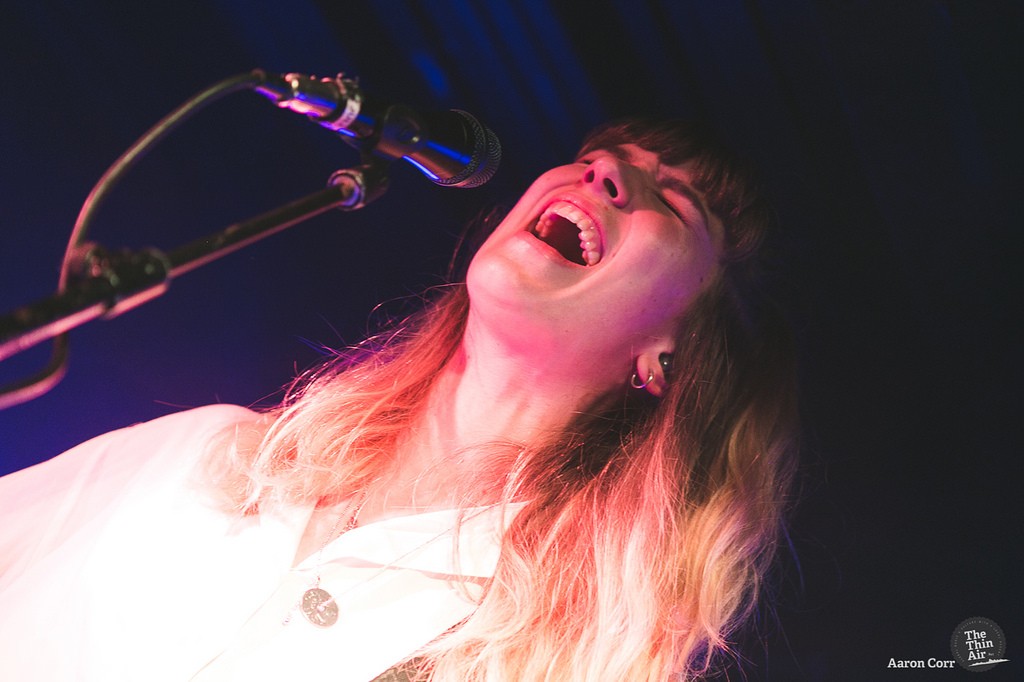 The next song 'The End' thrills the audience further, and thankfully the band announce they have four more songs up their collective sleeve, along whit a "treat" for us. The name of the next song 'Formidable' aptly describes the band's performance on the night, and then Soph leaves the stage so the remaining three can perform 'Something Beautiful', an electronica staple that echoes the vibe of 'Zeds', for the very first time live. The song is performed impeccably, with both bassist Celia and drummer/keyboard extraordinaire Fern providing keys. With Soph back on stage, the band can power into 'Bonfire' – one of the most fun songs on the new album – 'we'll start a bonfire, to make the time fly'. So fun that Jules leaves the stage several times to join the crowd, breaking into an eye-staring contest with a few fans. 'Sucker', the opening track on their debut album, closed out this outstanding performance from the band, and it was clear to everyone in Academy 2 that The Big Moon will be having it their way on the indie scene from now on. Sam Keenan
Photos by Aaron Corr